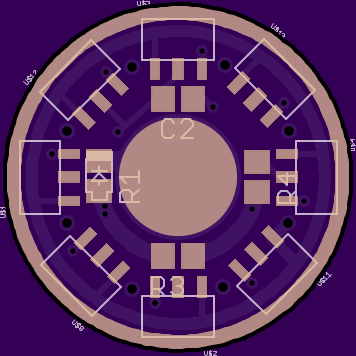 This driver is 22mm in diameter. It is sized specifically for the new monolithic-head (no-pill) F13 flashlights such as the Ultrafire F13. The retaining ring threads on top of the 7135 cases. The 7135's on top of the board have a setback such that the cases should clear the ledge inside the head, although the tabs may not. This should ensure good ground contact. I used ~20.5mm for the ledge.
On top of the board is space for the MCU, an SOD-123 package Zener diode, and a 0805 package offtime cap. On the bottom of the board are places for a 0805 voltage divider, a 0805 smoothing cap for Vcc, and a protection diode or 200Ohm resistor. The copper pour in the center is 8mm in diameter, but the exposed copper is only 7.5mm - scrape if you need that little bit extra!
Two special 7135 placements must be considered:
one for the GND trace for the smoothing cap - there are 4 possible choices
one for the GND trace for the top of the board - there are 2 choices and both are on top of the board
If you don't want to use those placements you must manually bridge GND.
UPDATE:
See post #38 for v016 (initial release) and pictures of my 12*7135 build. And see post #54 for v021, the current version.