NANJG 105A 2800mA 4-Group 6 mode Driver
Reviewer's Overall Rating:
★★★★

☆
Summary:
| | |
| --- | --- |
| Size: | 17mm |
| Voltage: | 2.6-4.5V |
| Regulation | Linear Regulator |
| Current: | 2800mA |
| Modes: | 6 in 4 groups |
| Price Paid: | $4.70 |
| From: | |
1) This one was ordered early dec.2010 and seems to be a successor to the NANJG 105.
Pros:
Well regulated and efficient driver
Has memory
Has a 3-level group with no nonsense and good spacing
Has a high PWM frequency giving a steady light at low level
Cons:
Change of group only by soldering
Memory kicks in 2 secs after switching on (would prefer after switch off)
Can only be used with 1 Li-Ion cell
Features / Value:
★★★★

☆

Mode Groups

The groups are as follows:

default: High(100%) - Medium(35%) -Low(4%) - Fast Strobe(14Hz) - SOS(decent speed)

1. High(100%) - Medium2(20%)

2. High(100%) - Medium(35%) -Low(4%)

3. High(100%) - Medium2(20%) - Fast Strobe(14Hz)

The PWM frequency is high at 4.5kHz.




Mode switching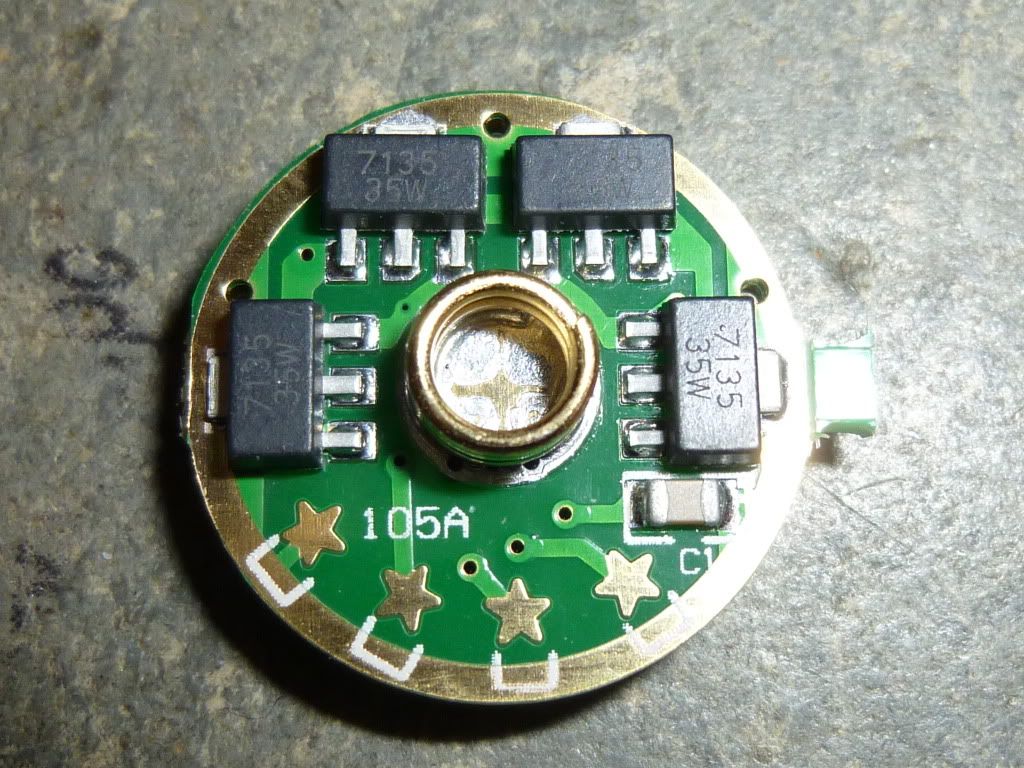 The NANJG 105A has stars on the bottom side to select group by connecting one of the stars to the outer ring. Select group 1, 2 or 3 by connecting star 1, 2 or 3 (counting from the right) to the outer ring or to star 4 which is connected to the ring.
There are no further groups to choose by combining stars as star 1 takes precedence over 2 and 3 and star 2 take precedence over star 3.
Mode Memory
The mode memory snaps in abour 2 seconds after a mode switch (no indication). I normally prefers memory after switch-off so I do'nt have to tap twice to shift level, but this approach normally needs three more components.
Build Quality:
★★★★★
NANJG has a fine build quality and can withstand normal soldering with a fine tipped soldering iron.
This one runs with a MCU PIC12F629 instead of the NANJG 105's ATtiny13. This has hardly any influence on quality but NANJG has managed to make it run like it has PWM although the PIC MCU does not include PWM (or am I wrong here?).
Battery Life:
★

★

★☆☆

Linear regulators with 7135 devices normally are well regulated and efficient. At lower battery voltages the drive becomes direct with a very little loss. The high current is hard to the battery and demands a quality type battery (low internal resistance).
Light Output:
★★★★☆
The output current 2.8A is fine to drive XM-L, P7, MC-E LED's. The high current could heat up the light too much but then it is fairly easy to remove one or two of the 7135 on the bottom side (giving 0,35A each) with a heat gun for removing old paint (use a narrow nozzle cone accessory).
The driver has no boost capability so it must be expected that the output falls at lower battery voltages where the drive becomes direct with no regulation.
The driver comes complete with a (rather thin) red and a black lead to connect to the LED.
Summary:
★★★★

☆

The group no. 2 has a very usable spacing of 100% - 35% - 4% and maintain a constant output as long as the battery voltage is higher than the LEDs forward voltage, all the time with good efficiency. Then there are the possibilities to make just a 2 level light or include the normal blinking stuff with a really irritating strobe and a nicely timed SOS.