Tank007 TK-737
Reviewer's Overall Rating:
★★★★

☆
Summary:
| | |
| --- | --- |
| Battery: | 1x18650 or 3xAAA |
| Switch: | Rear Clicky |
| Modes: | High > Med >Low > Strobe > SOS |
| LED Type: | Cree XR-E |
| Lens: | Glass |
| Tailstands: | Not out of the box (can be easily modified) |
| Price Payed: | $16.20 |
| From: | BestOfferBuy.com |
| Date Ordered: | 02-APR-2011 |
Pros:
Attractive, practical, clean design
Rotating zoom can't be changed by accident
Perfect mode memory
Good build quality
Affordable price
Pretty good runtime on low
Compatible with AAA batteries in a pinch
Cons:
Worthless flashing modes
Outdated emitter
Features / Value:
★★★★

☆

I've had my eyes on the Tank007 TK-737 ever since a user here asked where to buy it at the best price. To me, the design is extremely attractive and practical. And it features a relatively rare rotating zoom. So, I spent several evenings looking for the best price. It should be noted that there are several versions of the TK-737 floating around out there. There is a 3-mode version which usually costs a bit less, but I wouldn't recommend it because it doesn't have a low mode. The 5-mode version is quite hard to find. After ordering it from a store who later realized that it was no longer in stock, I decided to try BestOfferBuy.com for the first time. The BestOfferBuy.com experience was rather slow, but I finally have in my hands the 5-mode Tank007 TK-737. And as an added benefit, BestOfferBuy.com sells it at by far the best price. The TK-737 arrived with a spare red switch boot and some spare O-rings, which is a nice touch. I was very glad to see that it has perfect functioning mode memory. After quickly turning it off and on again with less than 1 second of delay, it remembers the last mode. Very well done. This is hard to find in budget lights, and even more so in a zoomer. Unfortunately, it includes the ubiquitous annoyance of strobe and SOS modes. But at least the perfect mode memory means that the user doesn't have to tangle with those modes as often. The mode order goes from highest to lowest, which some might prefer but which I do not. The TK-737 doesn't tailstand out of the box, which is disappointing. However, I was able to modify it with a considerable amount of hand-holding from our excellent members here. The Tank007 product page doesn't mention anything about the lens, but it appears to be good quality glass. The emitter appears to be an XR-E:
It also comes with a nicely labelled Tank007 carry strap. Apart from this, there are no other unique features. The useful low mode, the rotating zoom, perfect mode memory, and the relatively low $16.20 pricetag are major strong points for the TK-737. The outdated XR-E emitter is less than impressive, though. Overall, I would declare this to be the current best value in zooming 18650 lights. It receives a strong 4-star rating for Value.
Design / Build Quality:
★★★★★
The Tank007 TK-737 impresses with very good overall build quality. The threads are silky smooth. The rotating zoom mechanism also feels pretty good, although there are a few degrees of turn that feel a bit coarse. The glass lens is crystal clear, and there is no grime inside or out. Tank007 claims HAIII anodizing, which I personally doubt. But at any rate, the finish is good, with only one tiny nick visible in the finish. The barrel is entirely crosshatched. I would have preferred a diamond knurl. But to my eyes, this overall design is extremely professional. Like a nice pair of classic shoes, this design will continue to look good for a long time. It's even marked with a serial number on the head. Mine is S/N102370033. The head is also marked with numbers around the lower edge, which correspond to a vertical scale on the body.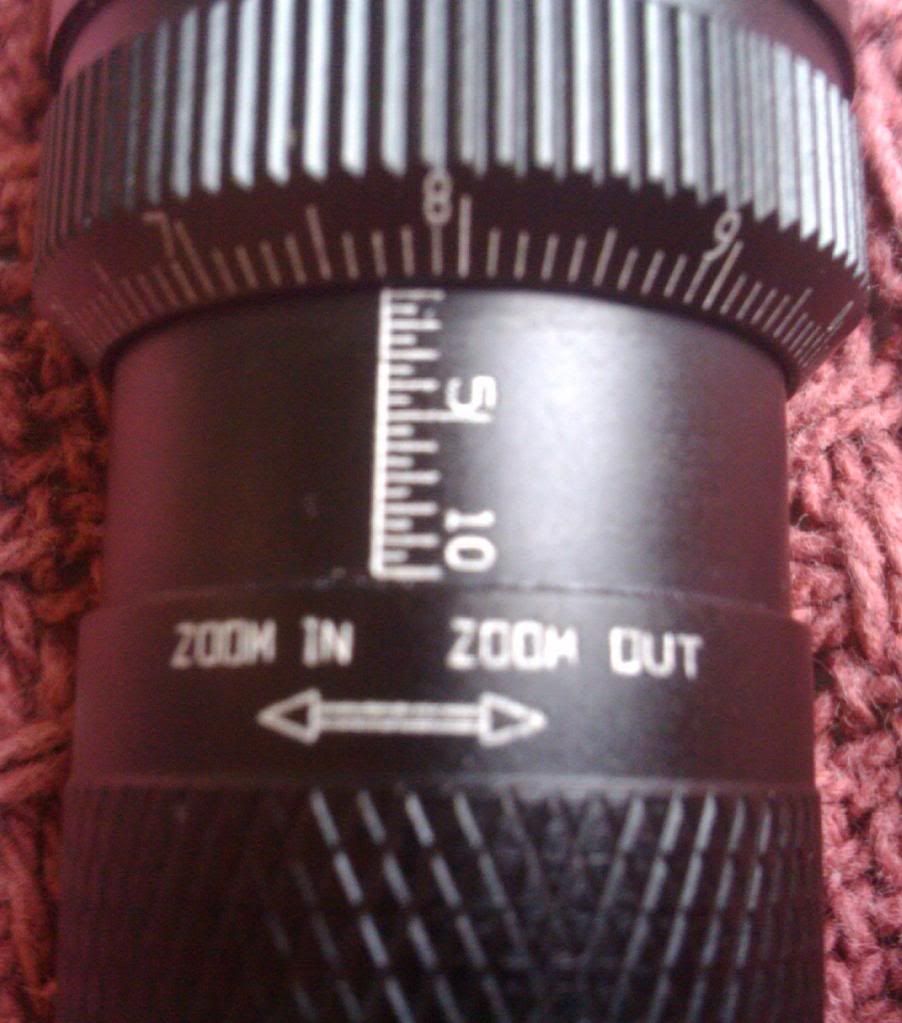 Quantitatively speaking, I can't imagine that these numbers represent anything. But they are helpful for setting it to a precise zoom level. Humorously, the "ZOOM IN ZOOM OUT" label is backwards. Rotating to the left makes it zoom out, not in. But I must say that I greatly prefer a rotating zoom to a push/pull zoom. The rotating mechanism just feels more precise, and it prevents the zoom level from changing by accident if the light is stored in a backpack or duffel bag. Another small detail that contributes to the quality feel of the TK-737 is the small accessory bag that contains a spare switch boot and some O-rings. This is very rare to see on a flashlight under $20. The clicky switch feels very nice, making a high pitched moderately loud click. There are no signs of flickering so far. Unfortunately, as mentioned above, the switch boot protrudes slightly from the end, preventing it from tailstanding. However, by inserting some rings of metal wire before inserting the switch, I was able to raise the switch up enough to make it tailstand perfectly. The TK-737 has one strange feature, which, albeit uncommon, works well. As can be seen in the first picture of this review, there is actually a short 12mm tube extender for use with an 18650 battery. This segment must be removed to use it with the 3xAAA battery carrier. At first I thought that the light was damaged when it didn't work with the 3xAAA configuration, but then I noticed that the extender was present. I don't know why they didn't just make the 3xAAA carrier longer, but at least the light is appreciably shorter with the 3xAAA configuration. I personally won't make much use of the 3xAAA option, but at least in a pinch AAA batteries are easier to find than an 18650 battery. On paper the extender sounds like a bit of a hack, but the final product is very well assembled so that the extension is hardly even noticeable. In fact I though it was all one single tailcap unit until I discovered this. It should also be noted that the TK-737 is compatible with the slightly longer 18700 battery style. The tailcap screws down flush. Overall the TK-737 is worthy of a 5-star rating for its excellent build quality.
Battery Life:
★★★

★

☆

Battery life with the Tank007 TK-737 is quite good. The product page advertises 50 hours on the 12-lumen low mode. I tested mine on low with a good XTAR 18700 Sanyo-inside battery, and I would say that figure is approximately correct. After about 40 hours the output started to fade a bit. At 50 hours it was almost completely dead. So we can safely say that the TK-737 gives a solid two-day battery life with a decent Li-Ion battery. This is good, but not earth shattering. Two days is probably longer than most people would ever use it without charging, but it might not be the best option if you plan on being trapped in a coal mine. On the 3xAAA configuration, the TK-737 managed a fairly impressive 12 hour runtime with some truly awful AAA cells that cost me $0.50 for 4. I imagine it would be considerably better on AAA Eneloops or decent alkalines. I'm pretty happy with runtime on the TK-737. It receives 4 out of 5 stars on this important criterion.
Light Output:
★★★

★

☆

Despite its dated XR-E emitter, the Tank007 TK-737 puts out a lot of light on high. This combined with several very useful zoom levels combine to produce a very useful flashlight. On high with an XTAR 18700 cell, it appears to be at least twice as bright as my reference Trustfire F20 on an Eneloop. The full brightness can really be appreciated on full zoom, which produces a painfully bright 25mm hotspot at 80mm away from a white wall. This same zoom level throws effortlessly to a great distance at night, albeit an extremely limited field of view. The hotspot is clearly defined, but it does have a lot of much dimmer auxiliary rings. To the other extreme, when fully zoomed out, it produces a 105mm circle of light at 80mm from the wall. This floody setting is wonderful for illuminating an entire room or for walking around outdoors. In between these two extremes, there are several other zoom levels that also produce a good combination of flood and throw. Although the TK-737 is outshined by the mighty XM-L lights for almost the same price, it still holds its own against them and even bests them by being much more flexible thanks to its superb rotating zoom function. Taking into account all these factors, it receives a strong 4 out of 5 star rating.
Summary:
★★

★

★☆

In summary, I really enjoy using the Tank007 TK-737. It impresses with its fashionable clean styling, smooth operation, useful runtime, and flexible zoom configurations. All for a very reasonable price under $17. I highly recommend the TK-737 as the best 18650 zoom light in the budget repertoire. It receives an average overall rating of slightly better than 4 out of 5 stars. My only regret is that by publishing this review, there will probably be a run on this product at BestOfferBuy and they will either run out of stock or raise their price. ;)

Do you own the Tank007 TK-737? If so, please give it your own star rating below!