p=. UPD 5000K version in stock! Hurrraaa, finally!
UPD2 You cannot buy XHP35 version now, but only SST40. It is has some less throw, but better sidelight.
UPD 3 added runtime charts for SST40.
---
I`m surprised that somehow i didnt posted review of this excellent model here at BLF, so here it is. Even after almost a year since release, this flashlight is stll #1 for me, when it`s about budget flashlights, this model is definetely way better when old-time king - Convoy C8 and it`s new offspring - M21A. So, i decided to fix my mistake and share my opinion about this model as it definetely deserves it.

*you can buy Sofirn C8G Sofirn Official Store at:
➤ Aliexpress
➤ Banggood
➤ Amazon
➤ Flashlightgo with sitewide discount code lumeniac
i marked here mistakes in specs, with real rutime numbers. i believe that was occasional mistake of Sofirn. that is around 1600-1700 lumens instead of 2000 and around 2 hours instead of 4h50m in High.
PACKAGE AND APPEARANCE
Everything is as usual: a beige cardboard without the slightest hint is of design. So, it`ll not be good as a gift. But when it is bought for personal use - who cares. Inside is all that is needed: 18650-21700 conversion tube, lanyard, pair of o-rings, manual. If you take full set, then you get 21700 battery and charger as well.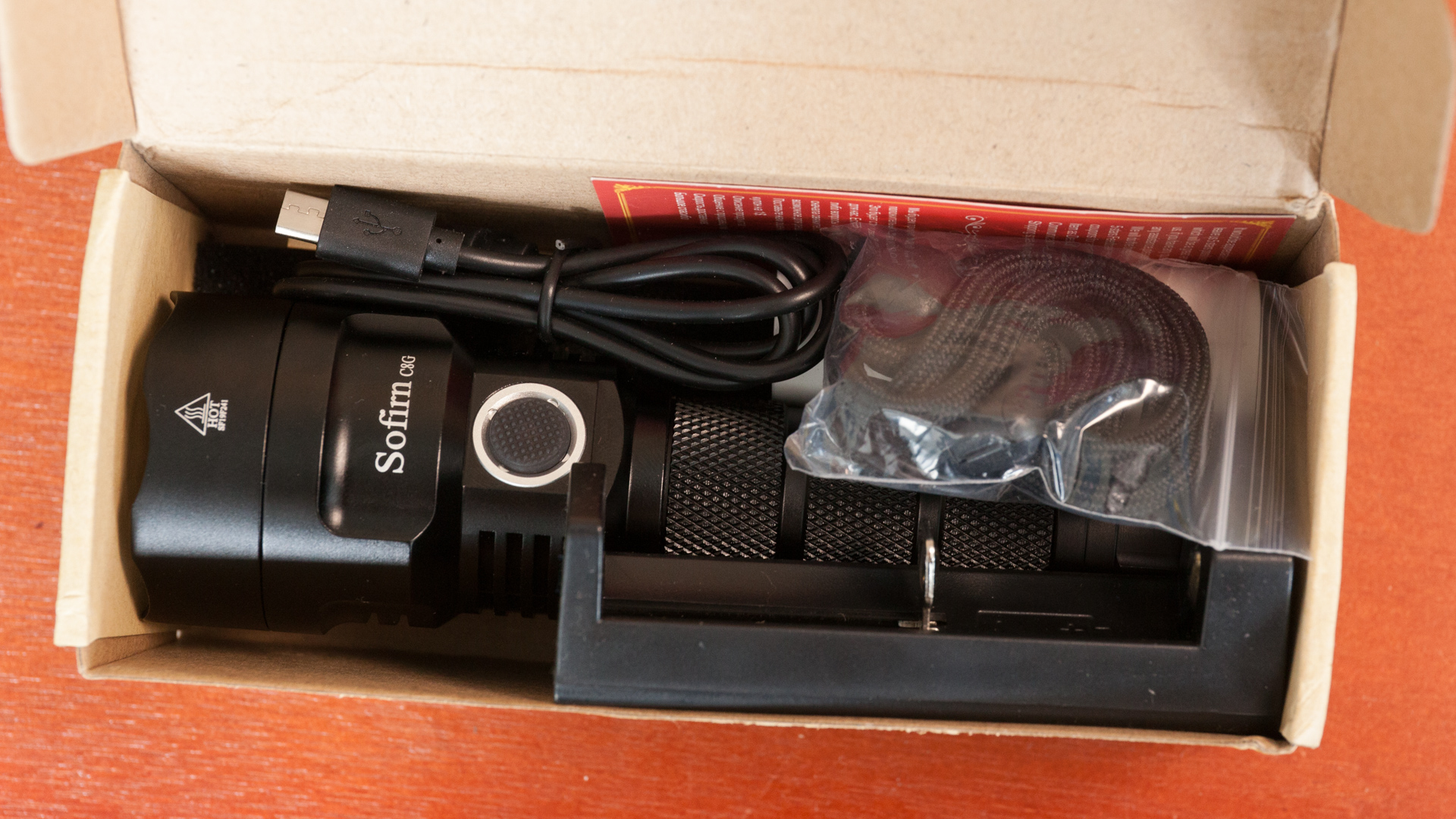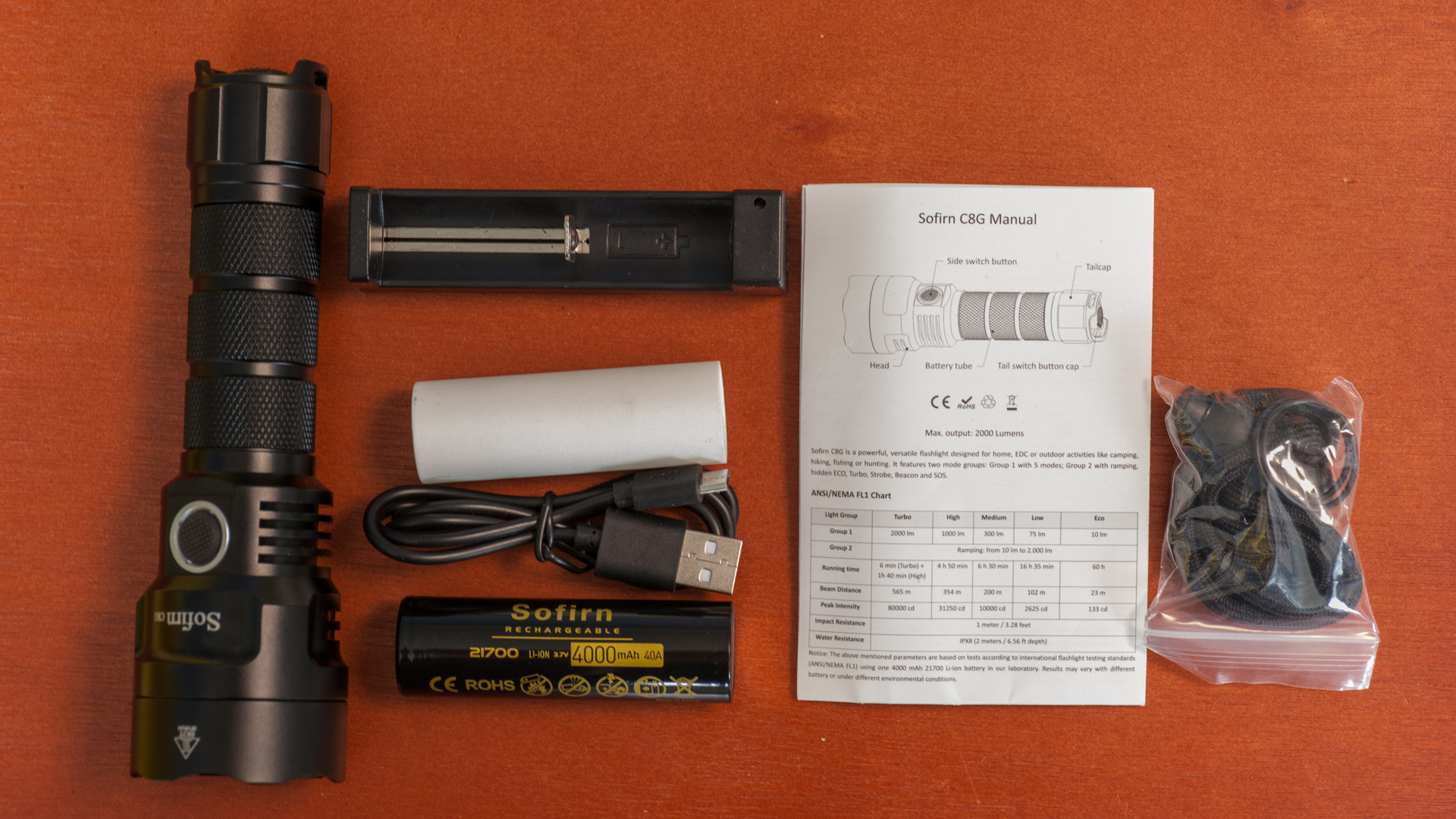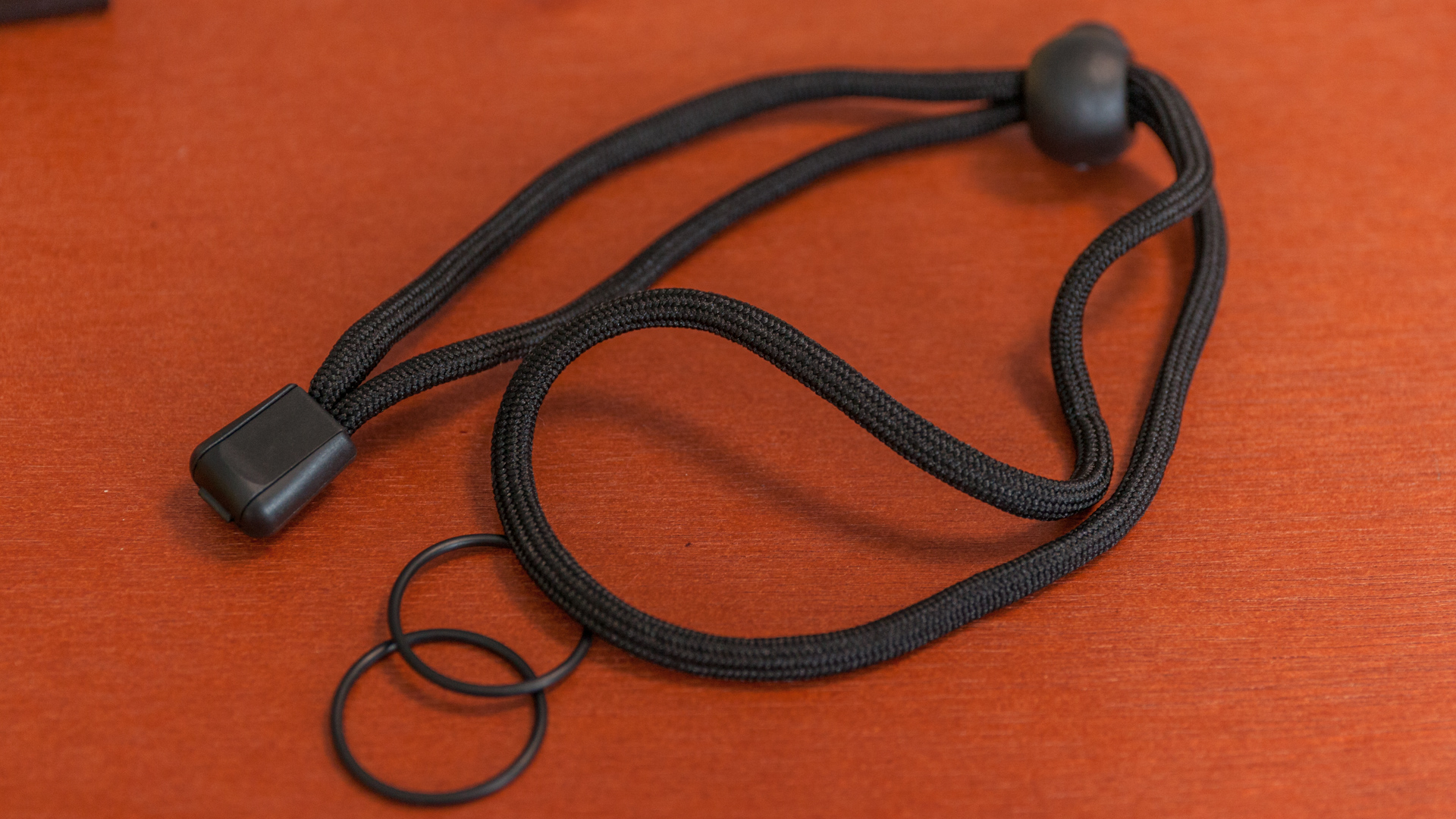 Flashlight design is very simple. Like almost all other Sofirn models, there are no any trace of high design refinements. I think that the target audience doesn't give a damn about it, as long as you can buy Sofirn flashlights without breaking a gap even in a skinny wallet. But when you hold Sofirn C8G in your hands, you don't feel any no-name cheapness either. Just the expected appearance of a budget flashlight.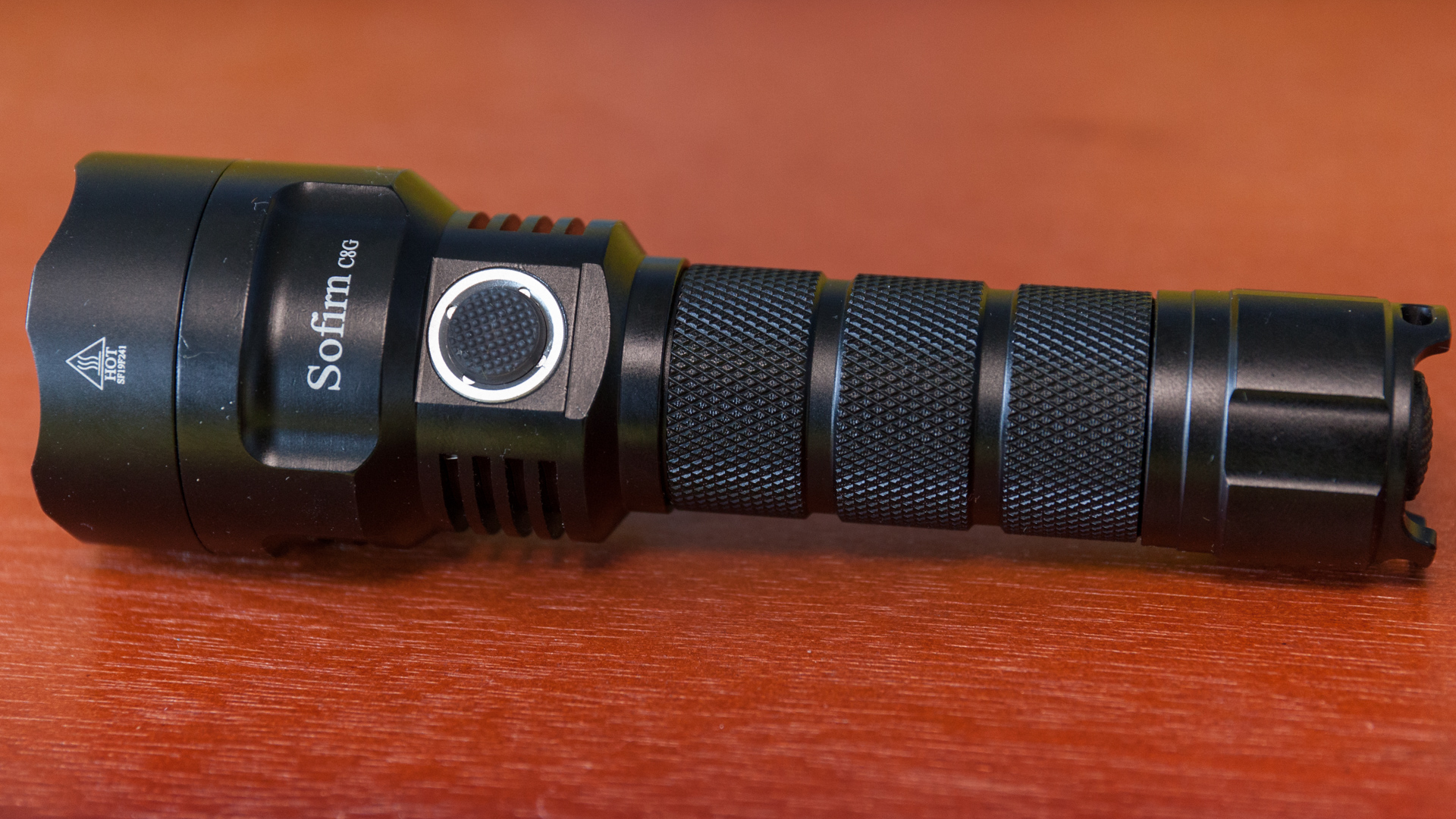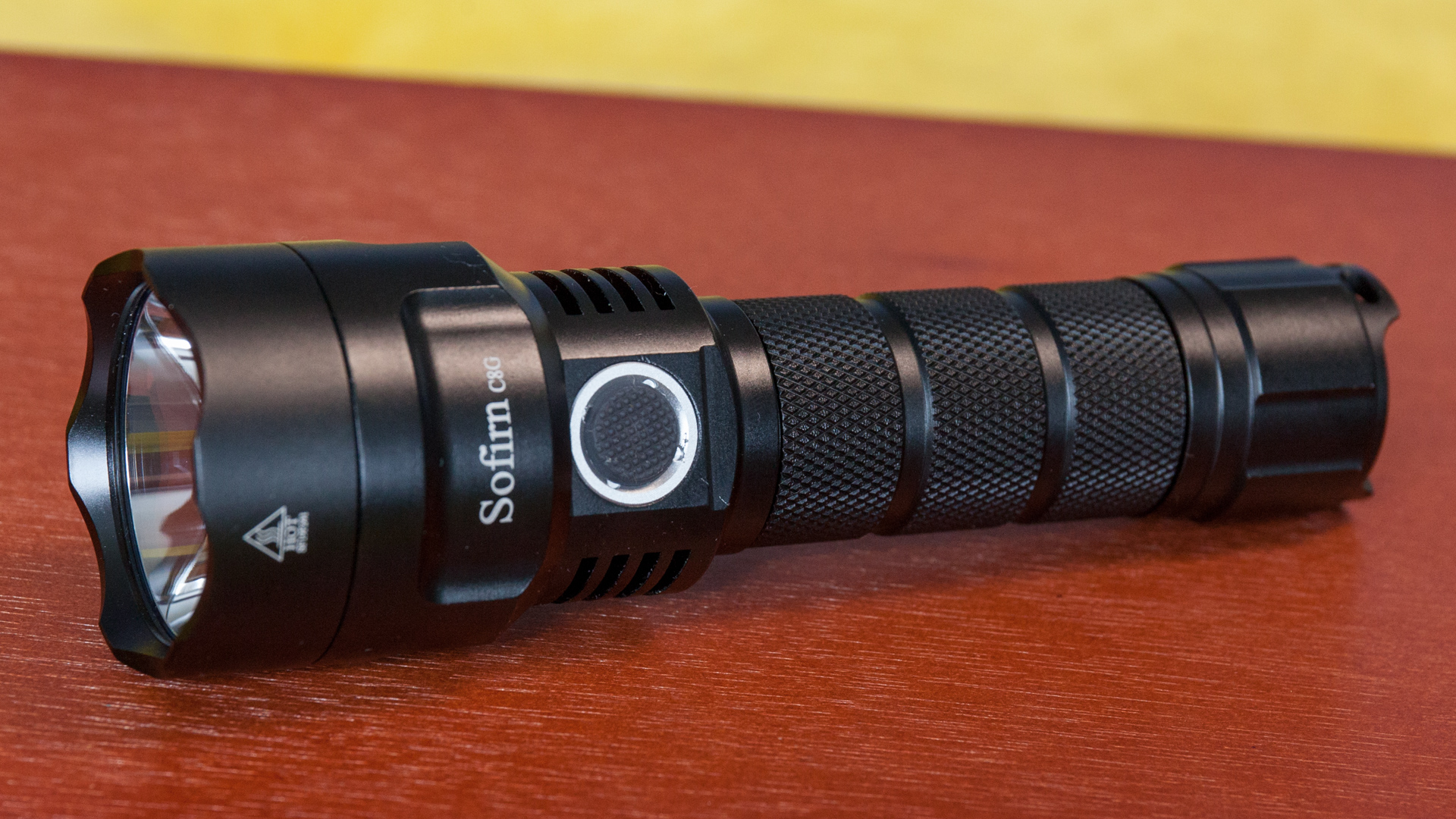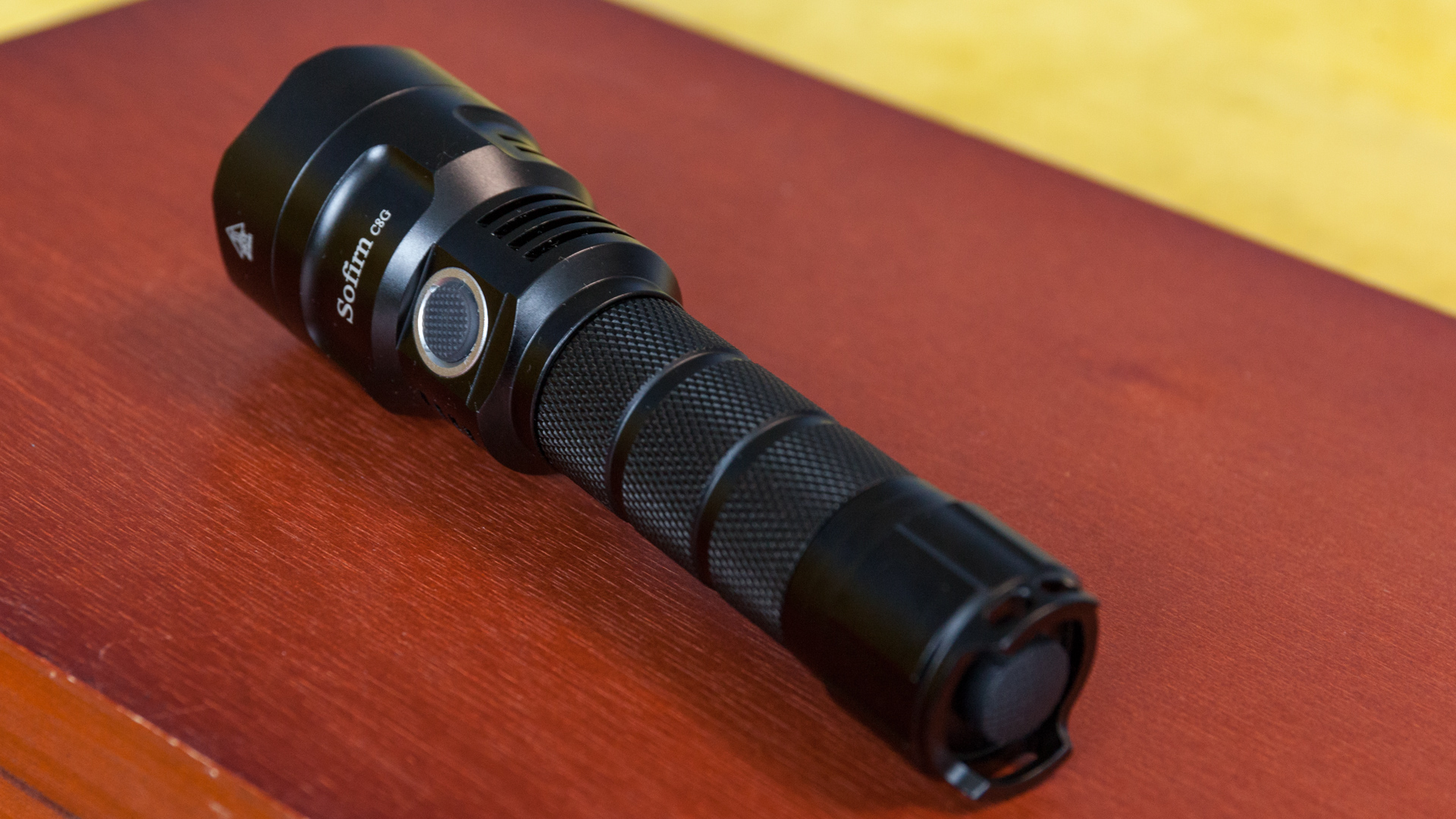 As you can see, the flashlight is absolutely comparable to Convoy C8 + , and C8+ uses much less capacious 18650 batteries. And this difference is expressed only in 2 mm of the additional diameter of Sofirn`s body, which can be frankly neglected. Well, that way 7.5mm the difference in length also does not play any significant role.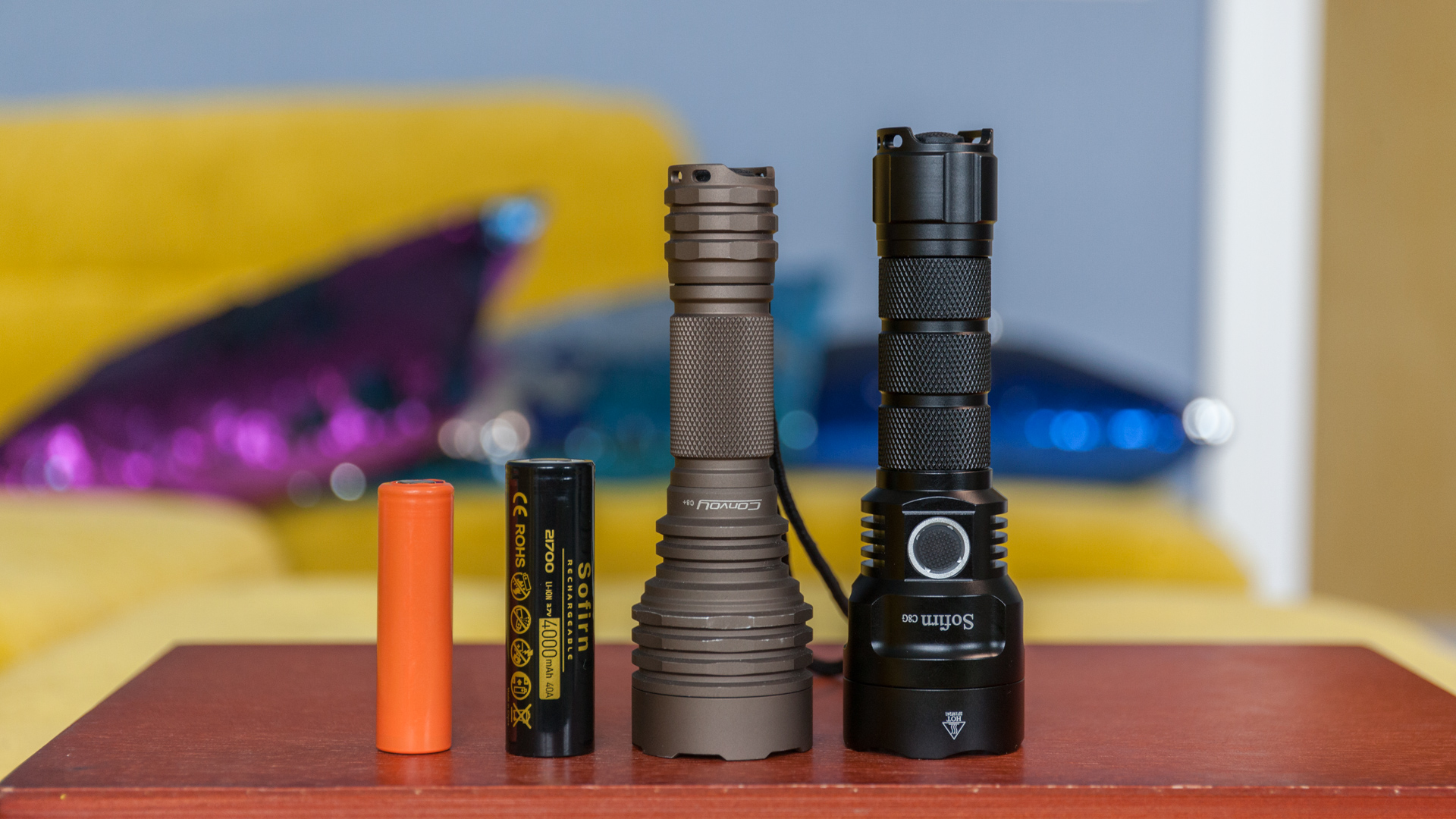 But the layout here is different, and this difference is advantage os Sofirn, which has a side button as well as the one in tailcap. The latter moves moderately tight, with a noticeable click. Nothing, again, in fact, different from Convoy.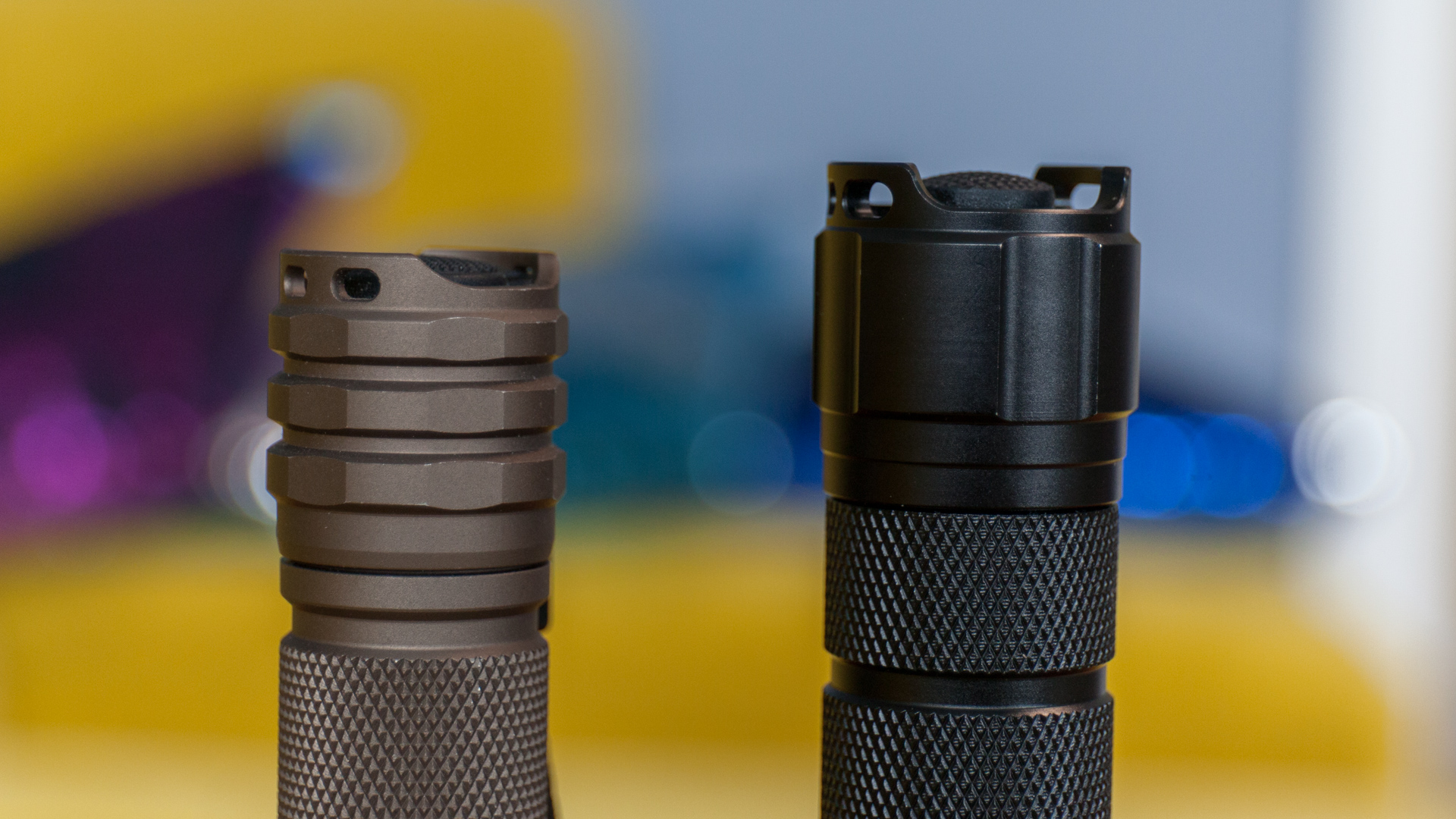 But the springs are fundamentally different. Sofirn C8G is twice as bright as convoy C8 +, so it's logical that the spring is thicker. In addition to the diameter, it is also a double spring, actually.

The trapezoidal thread is badly lubricated. Well, tail-cap moves softly, there are some traces of graphite grease here, but I would still add the usual "fat" as well.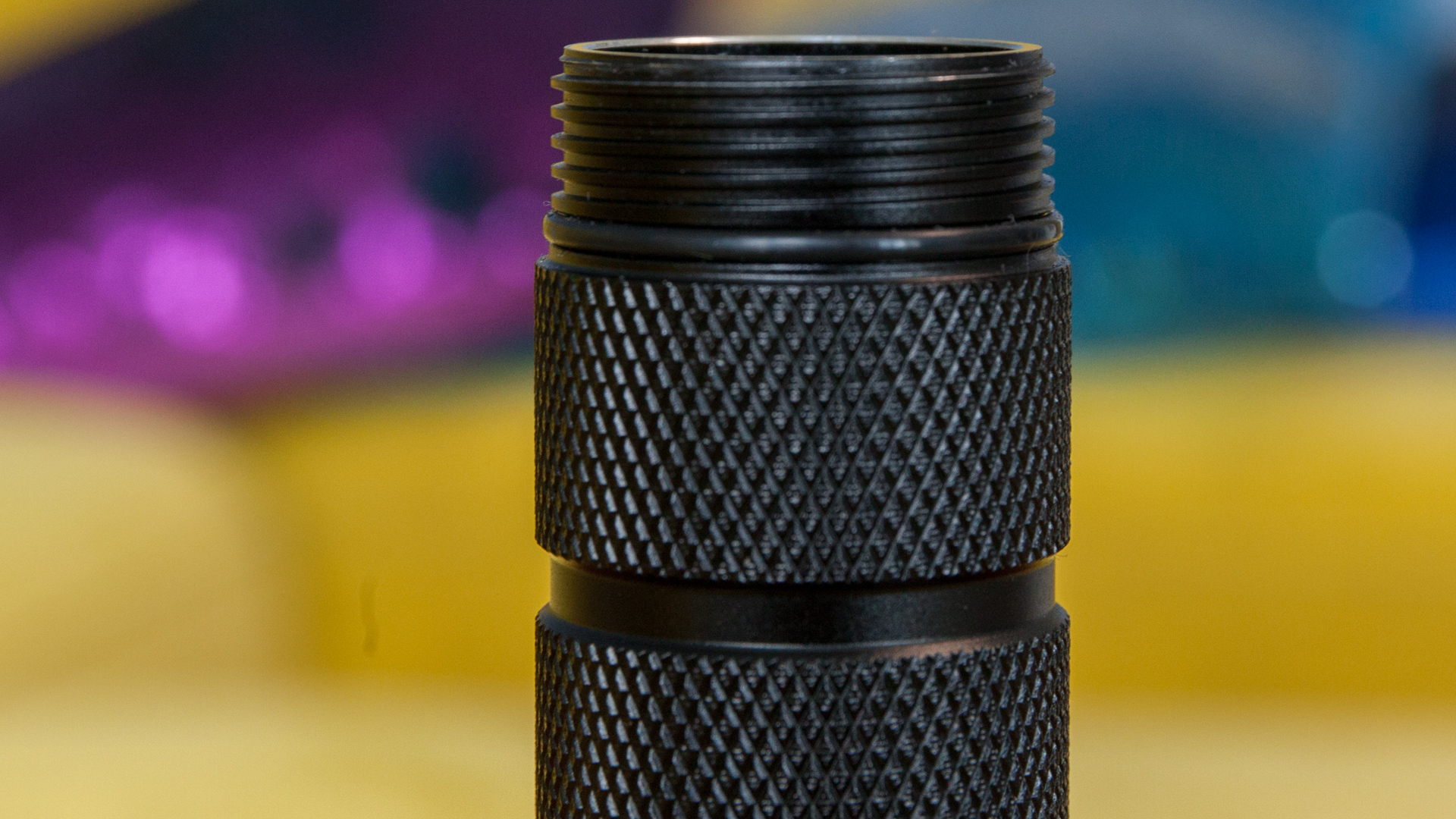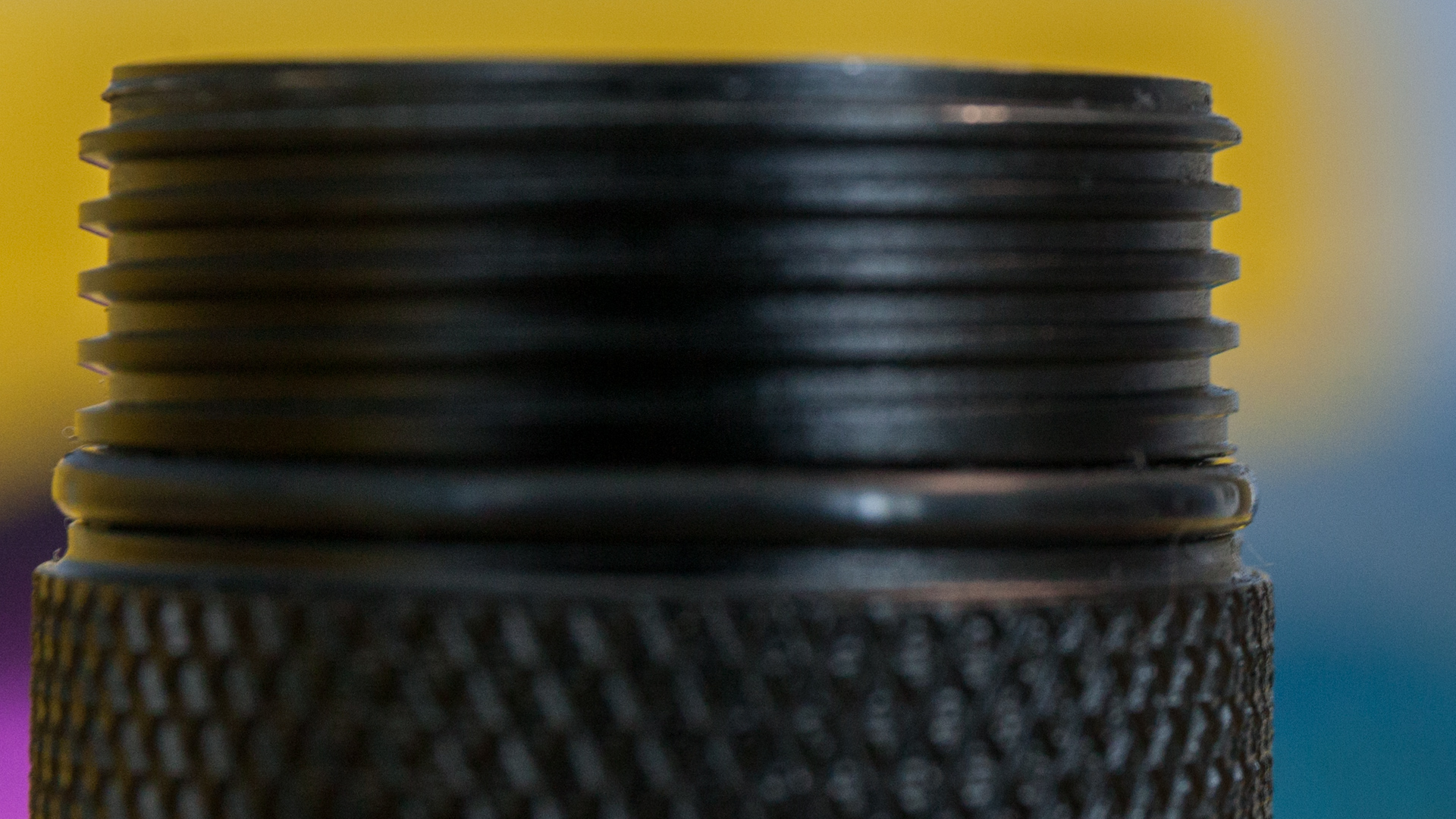 Classic, small knurled diamonds interspersed with grooves. Their depth somewhere in 0.7mm is sufficient to be felt with a grip, making it more reliable.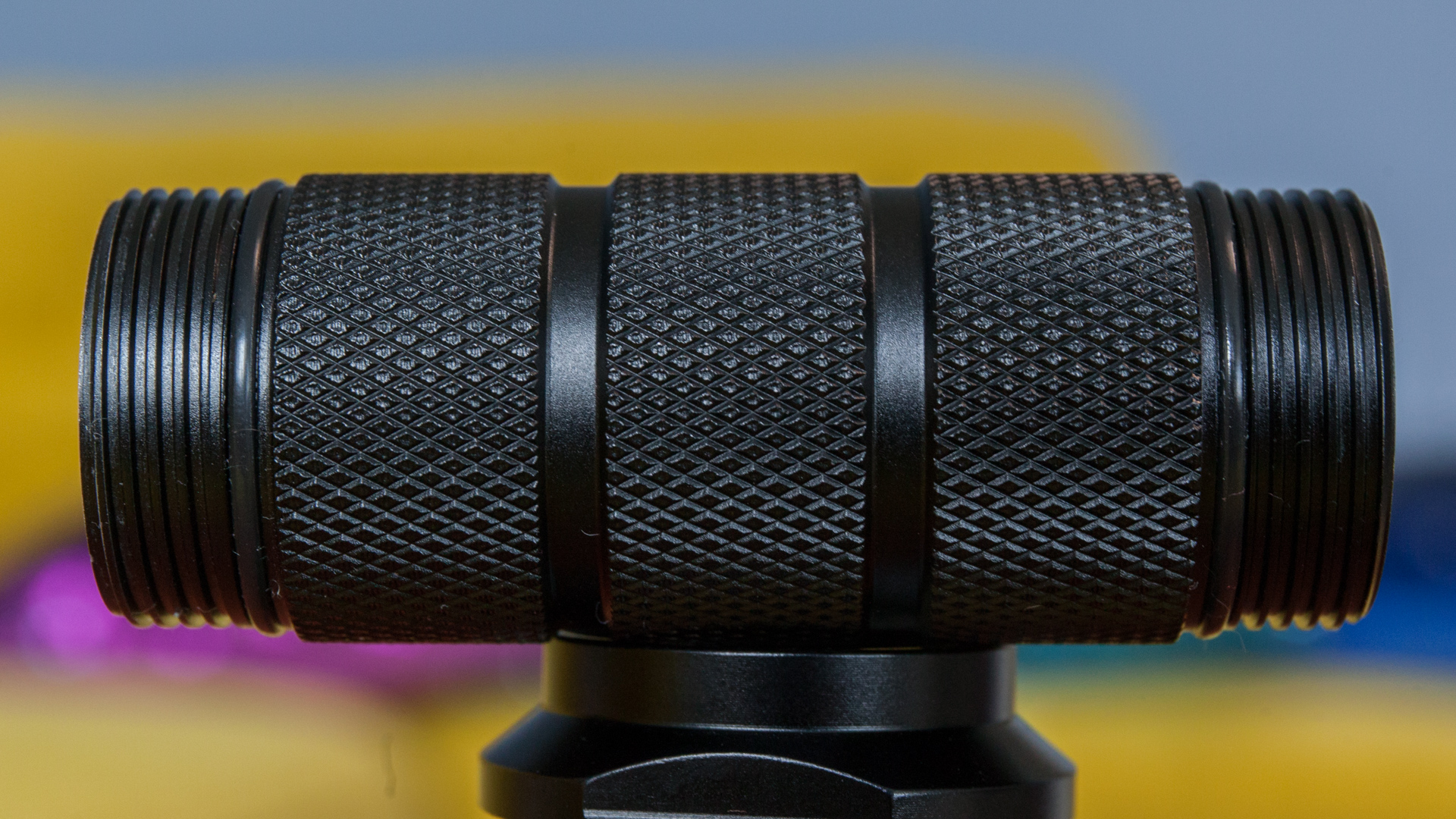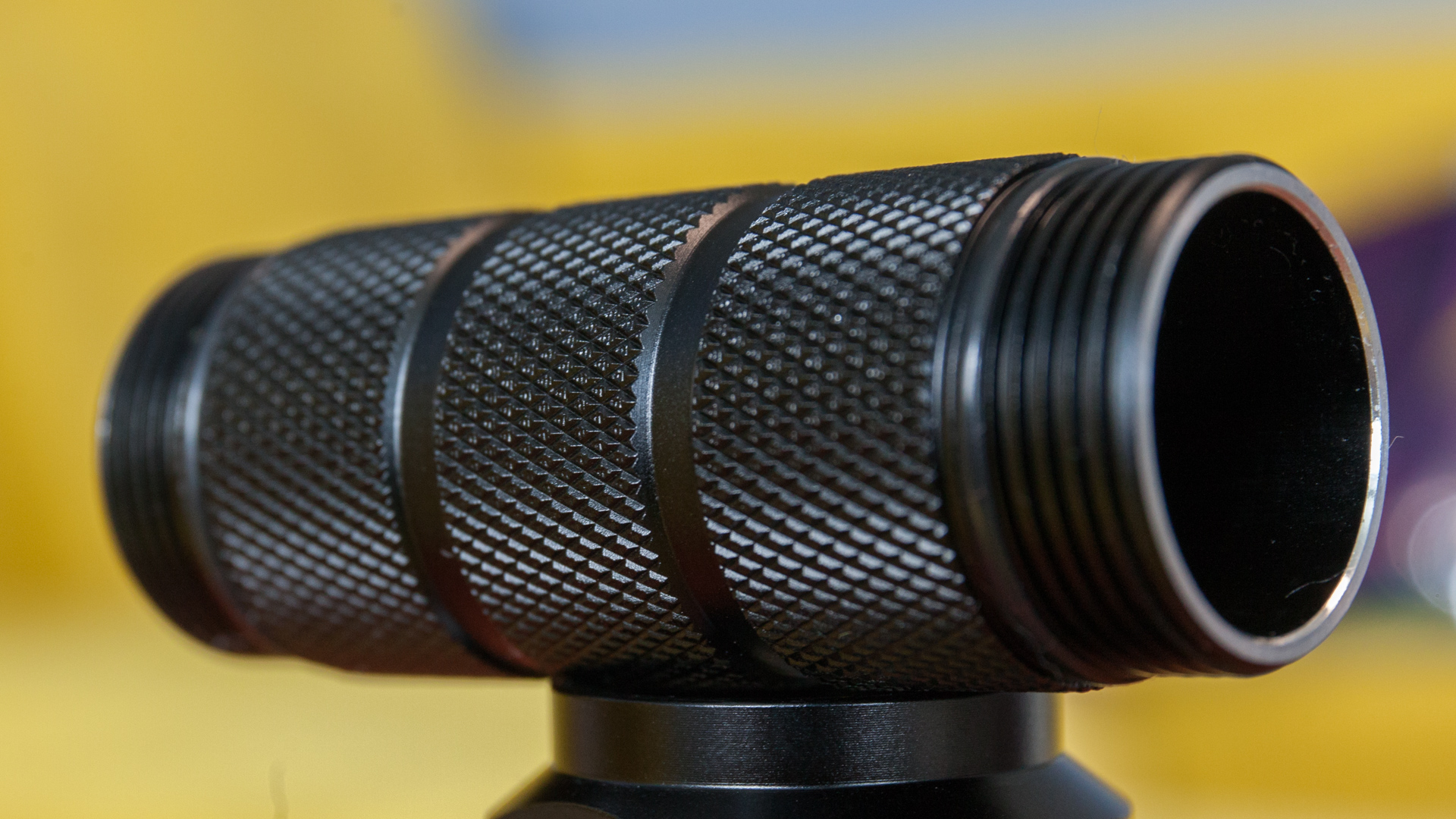 The grip is comfortable, and if it differs in anything from the C8 , it is only more tenacious due to these grooves. If you had a chance to hold C8, then, in general, you will not feel anything new.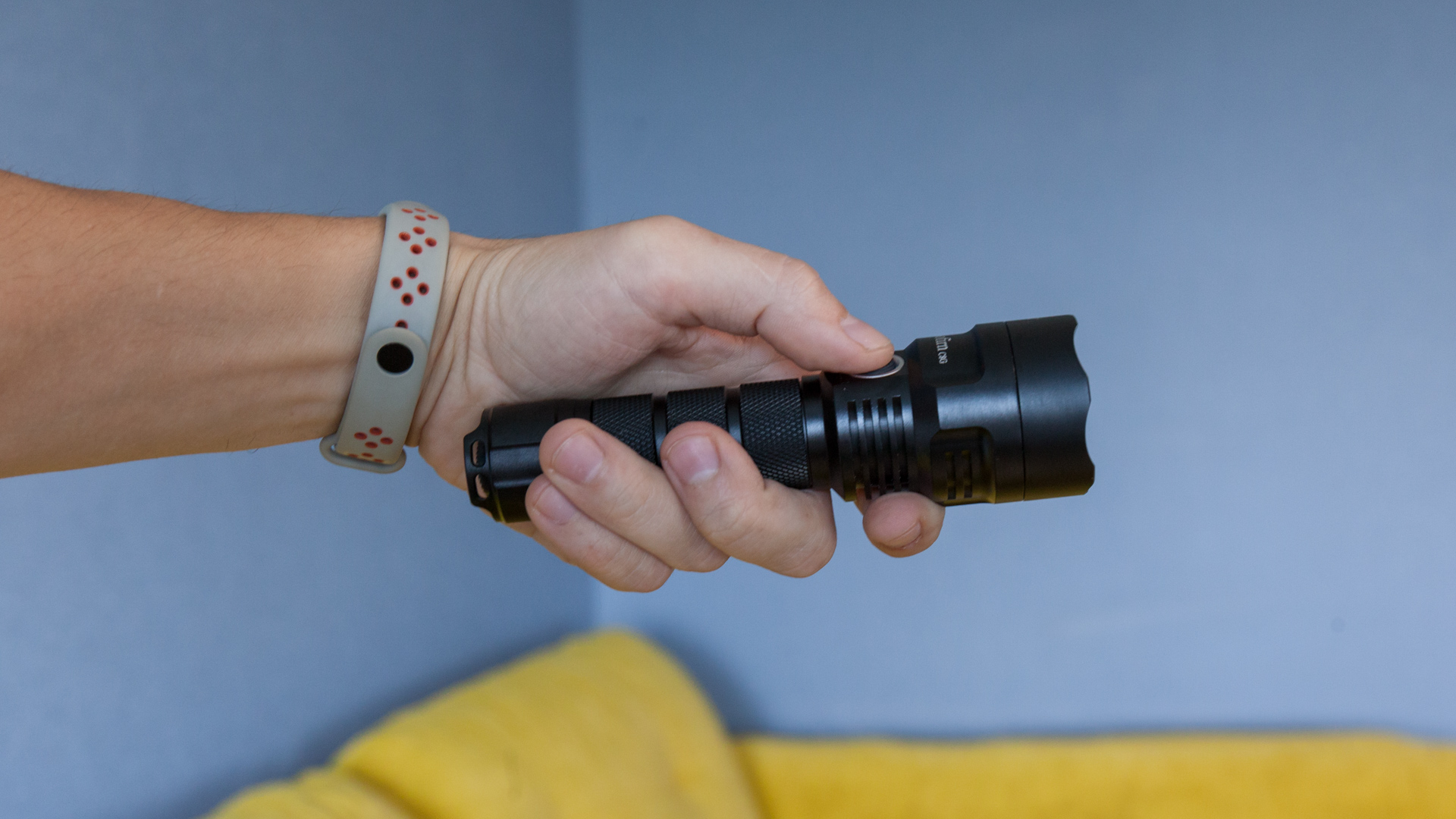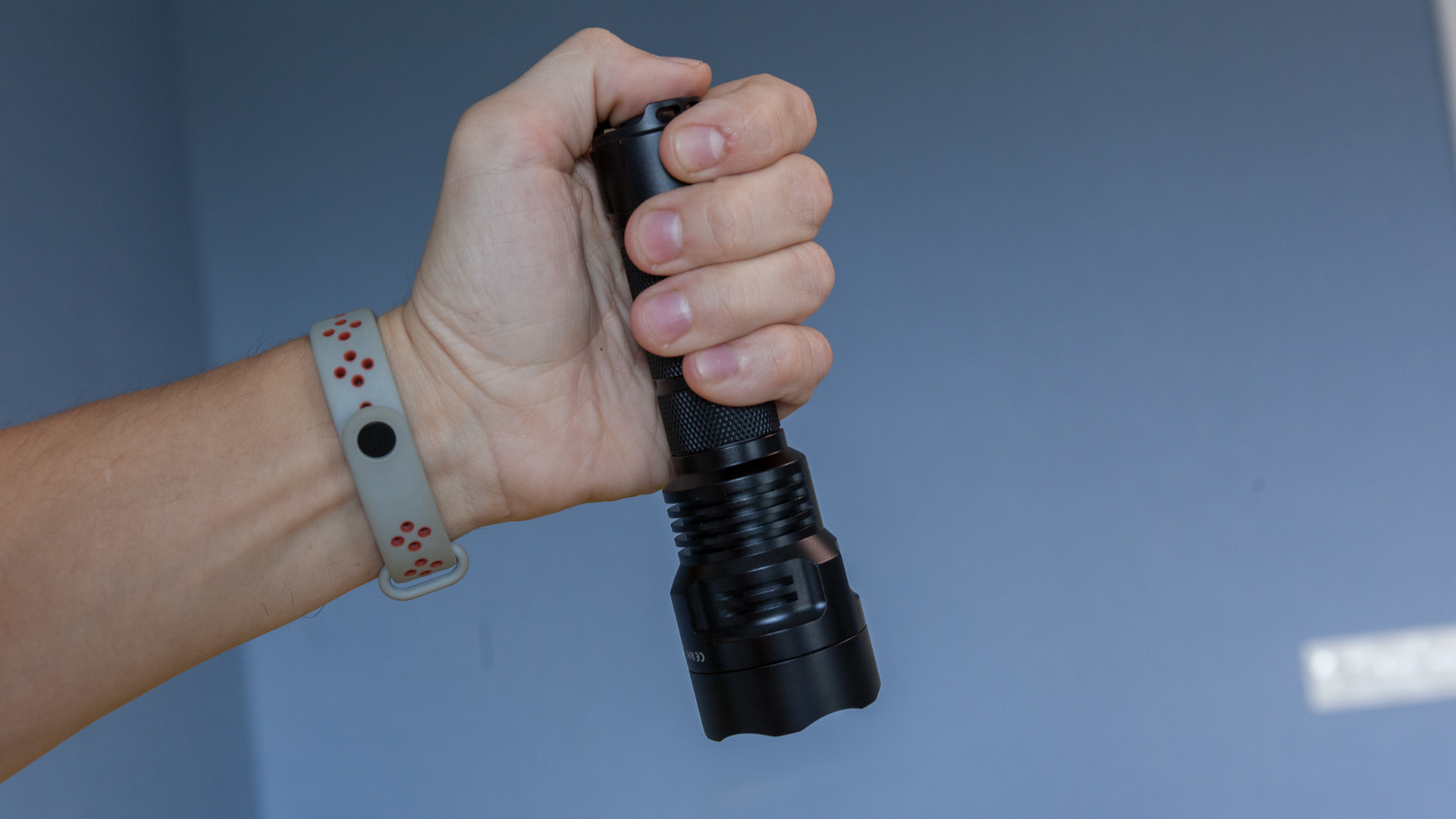 The spring from the side of the head is thicker.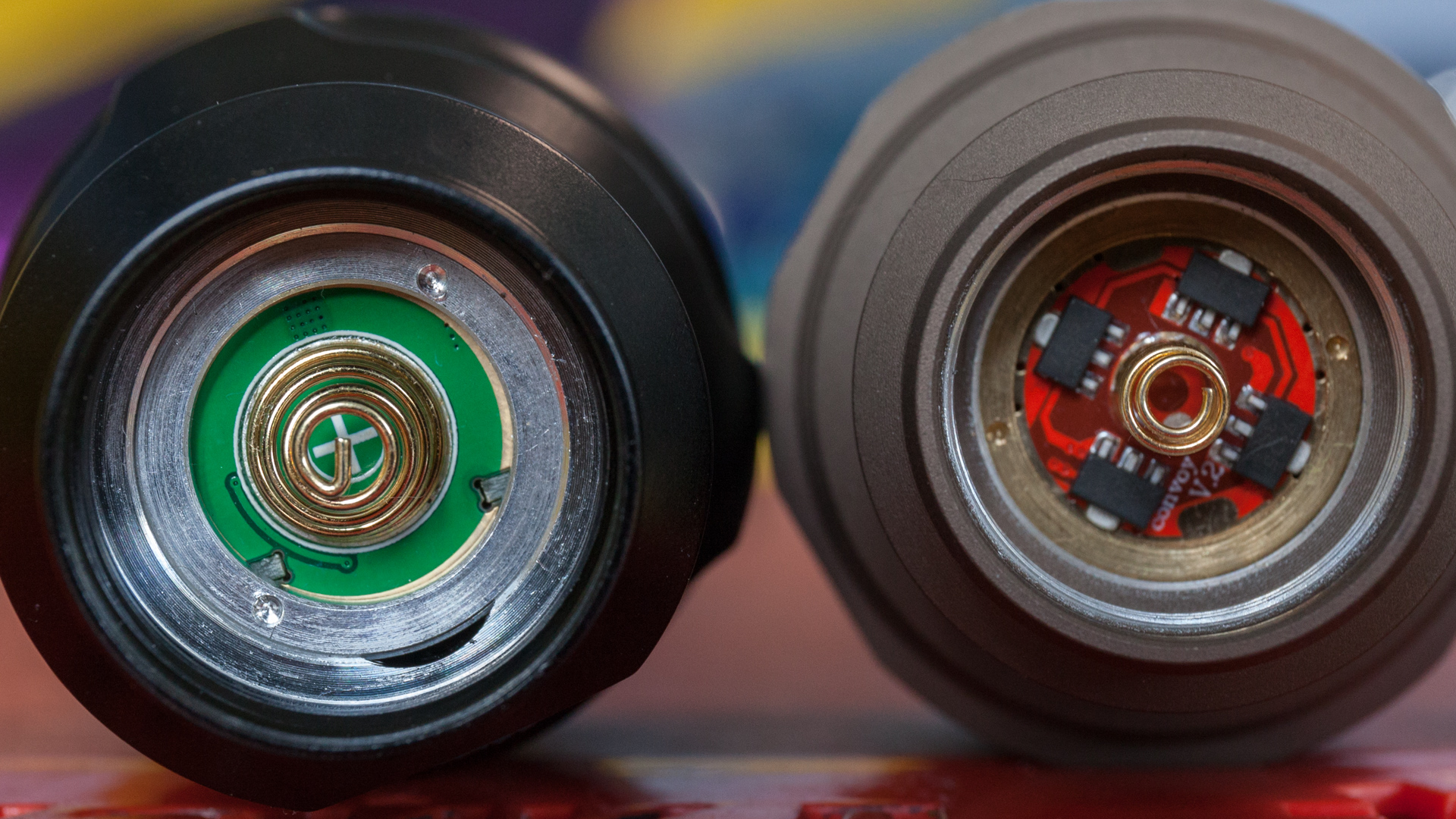 There is no difficulty to get to the driver.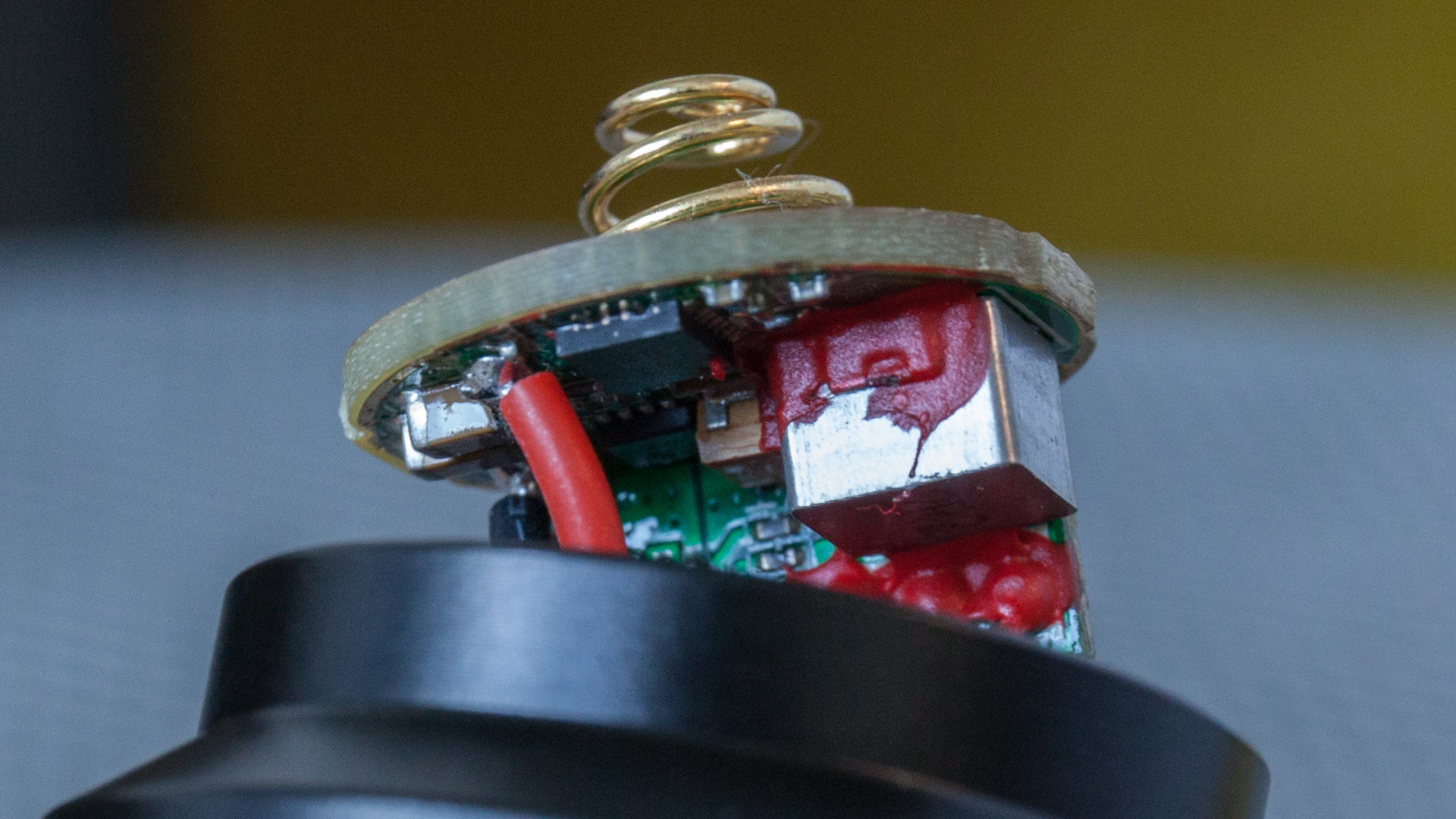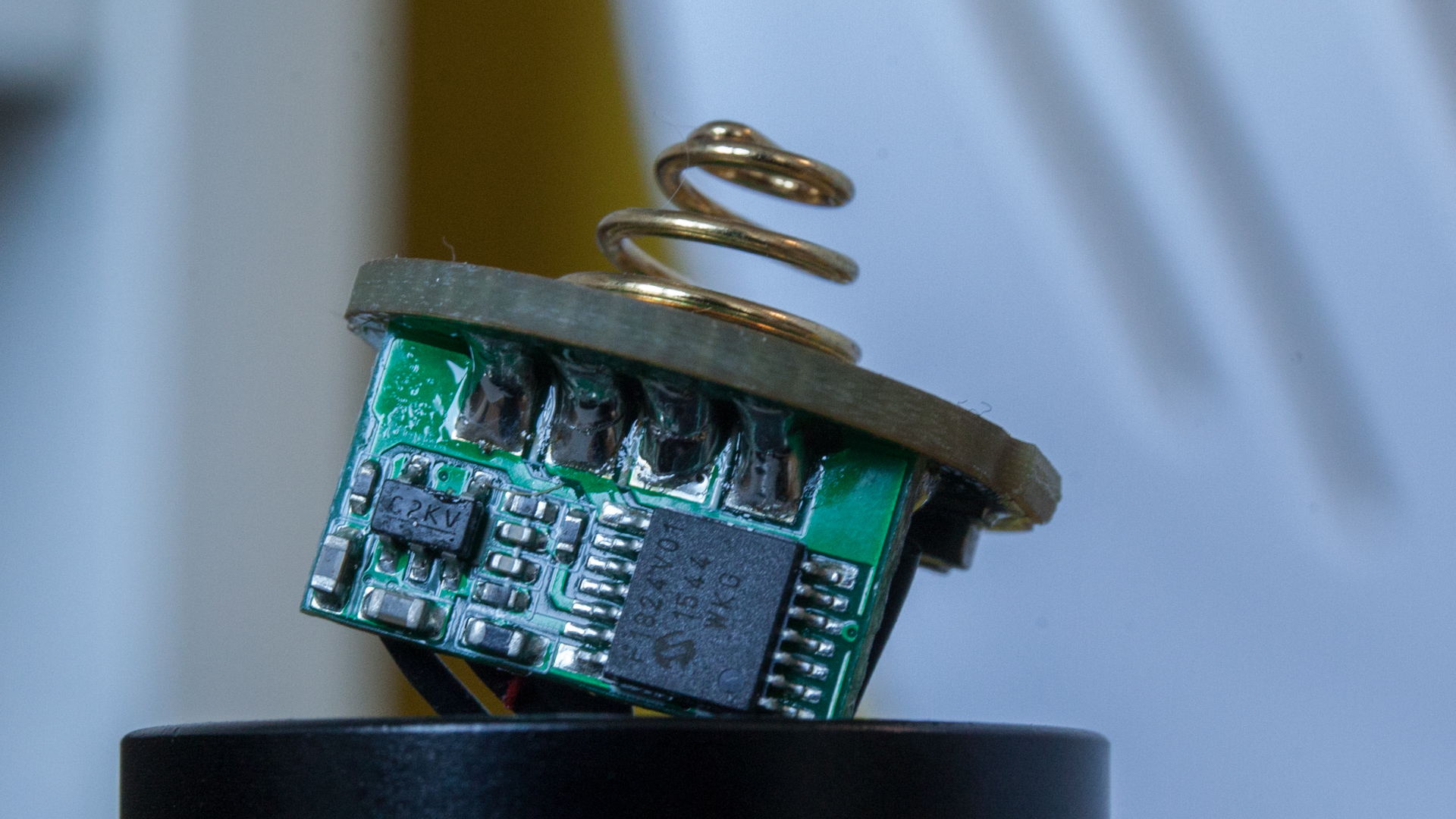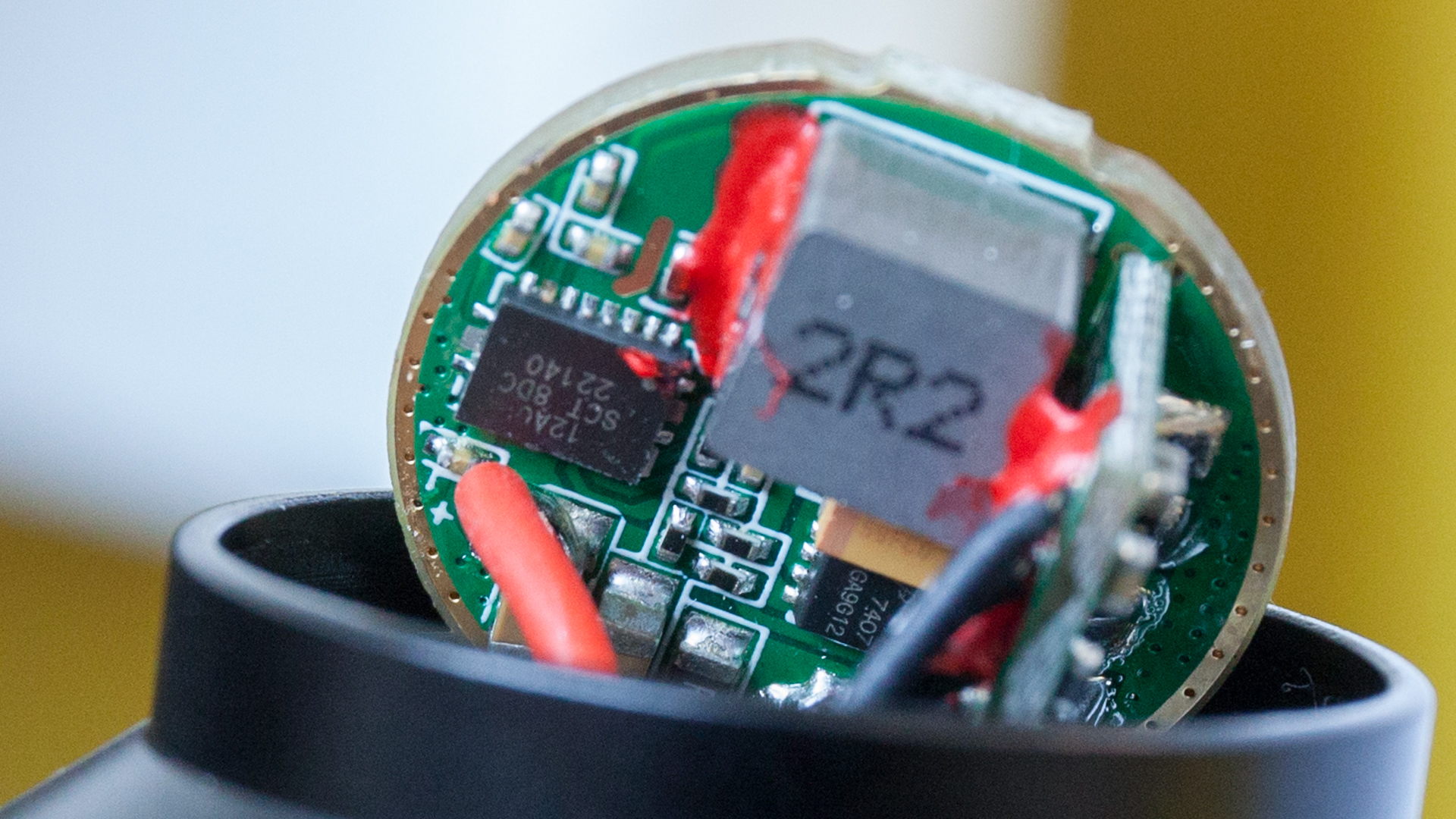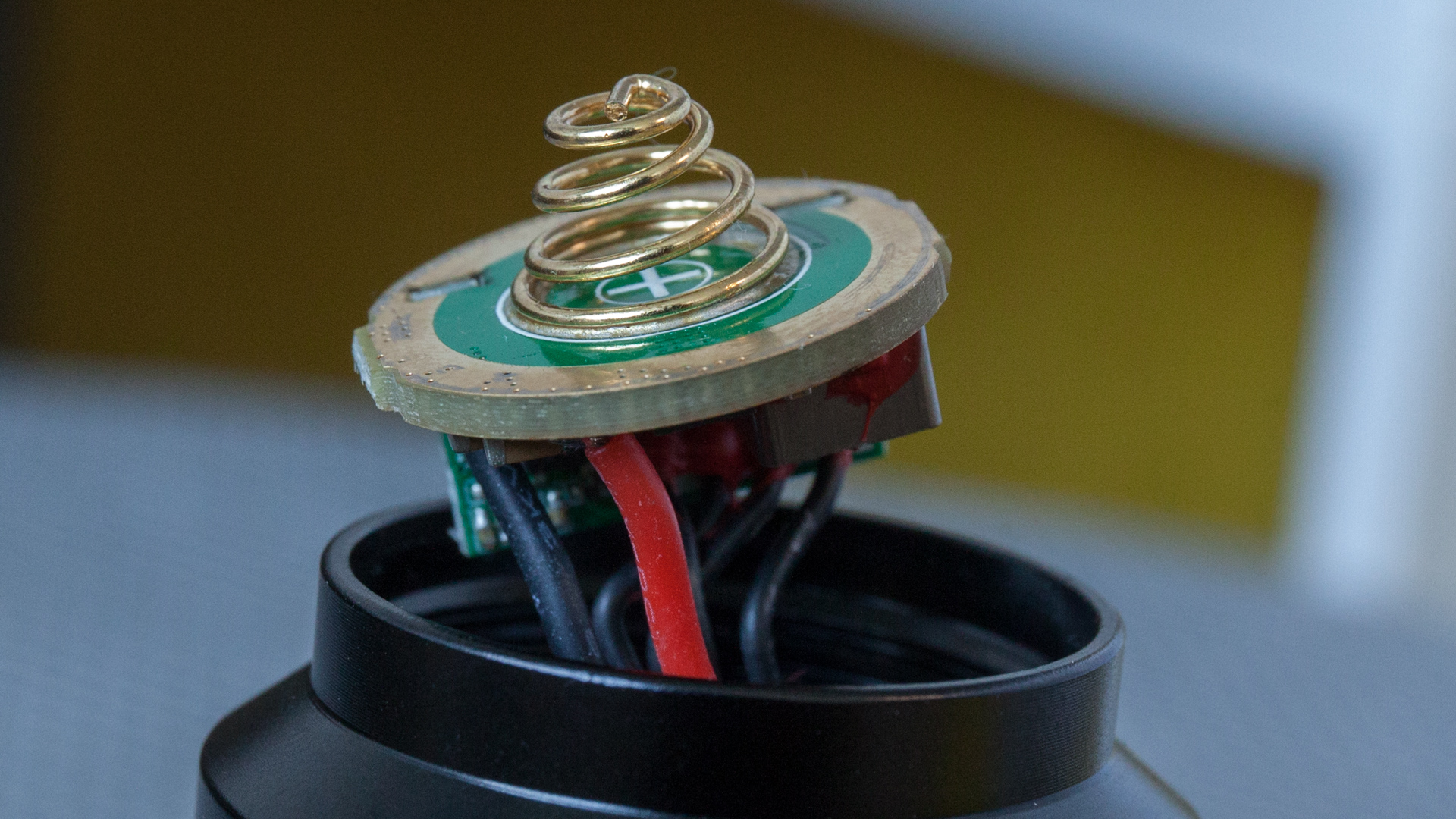 Both Convoy and Sofirn have numerous cooling fins. Everything is ok here.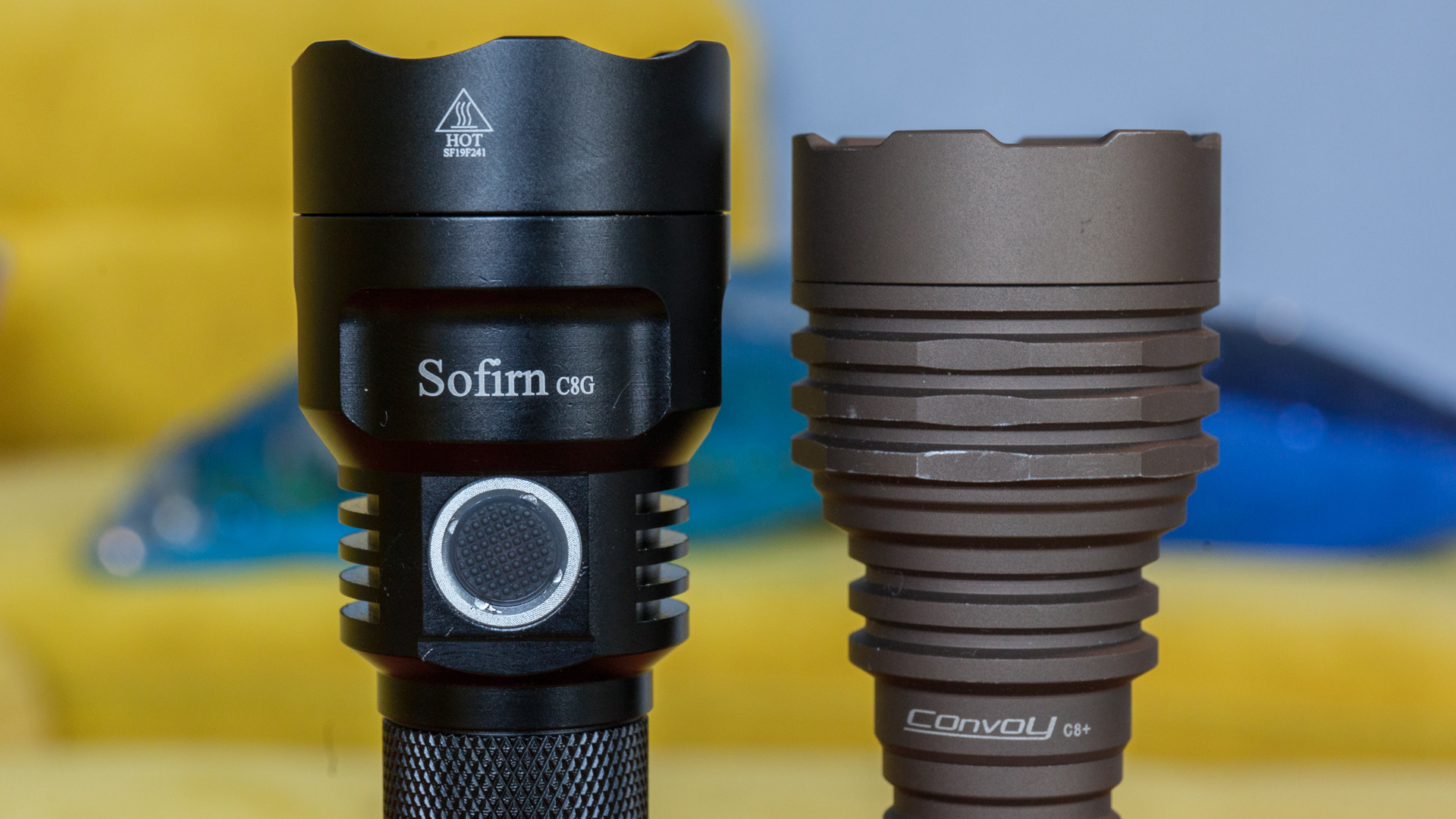 The button is soft. Move is shallow with a pronounced click. Button is located on a flat platform, blindly searching is very convenient. There is a charge indicator. Up to 3.2v - green, 3.2-3v - red, below 3v - blinking red.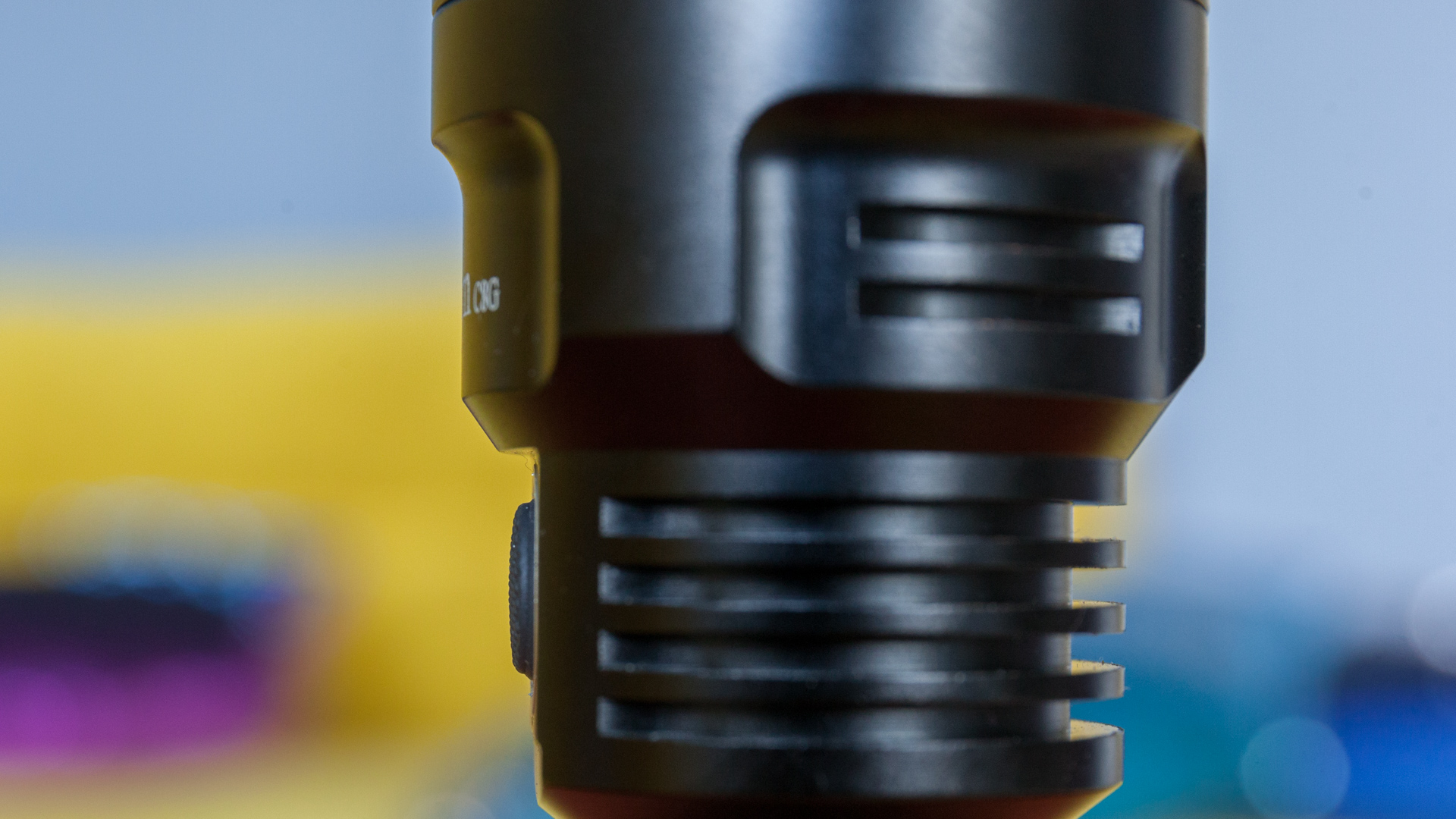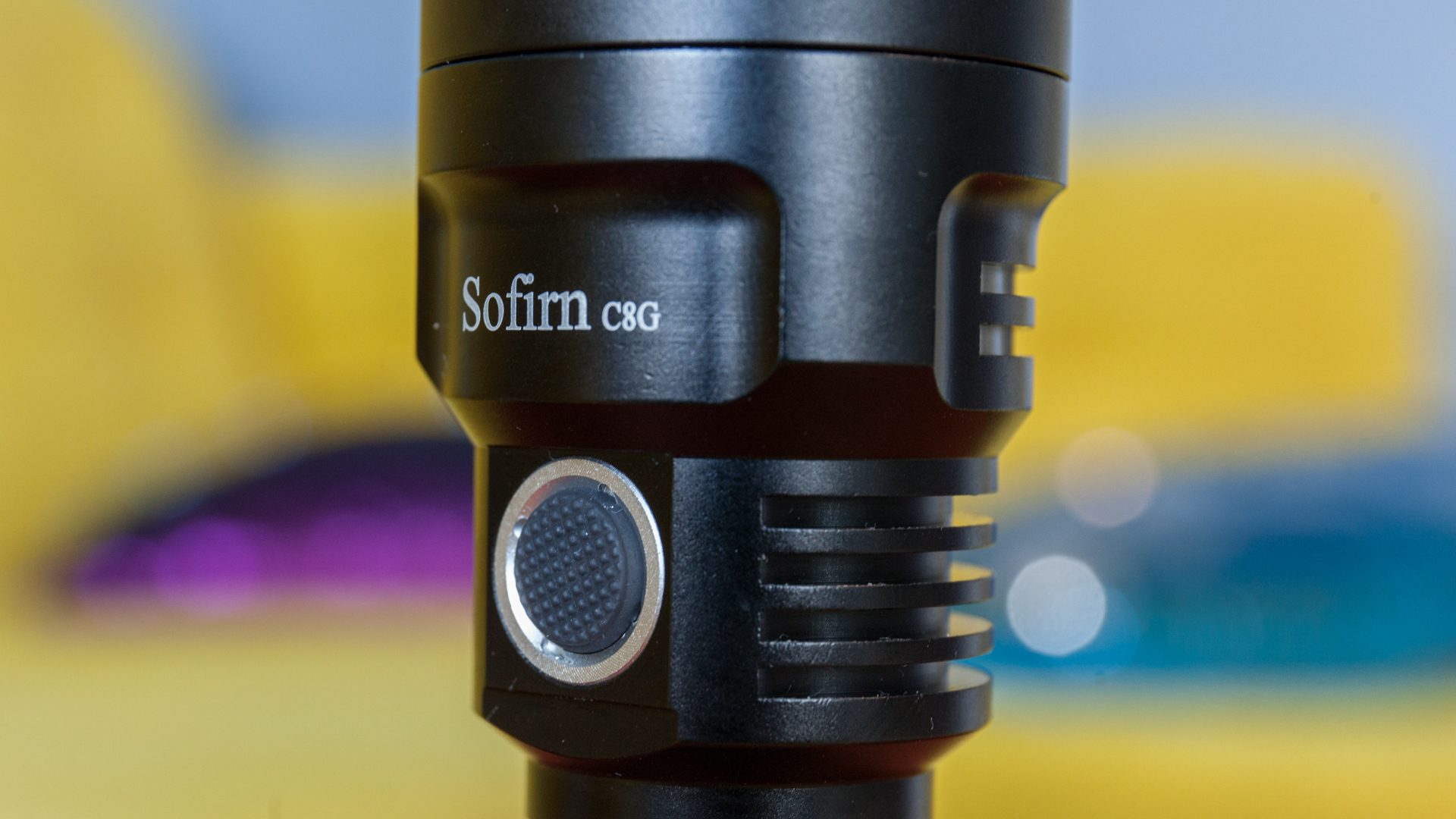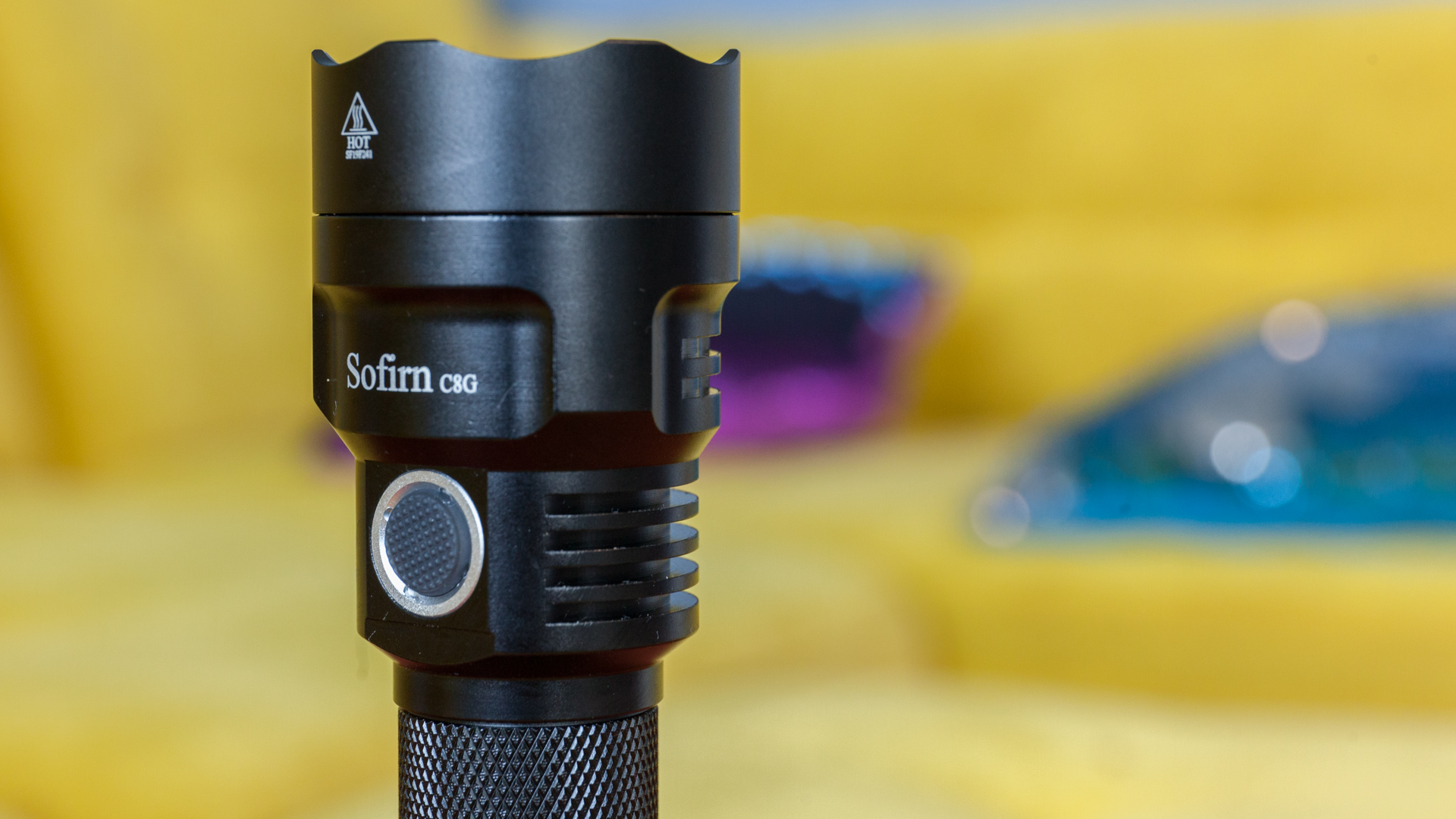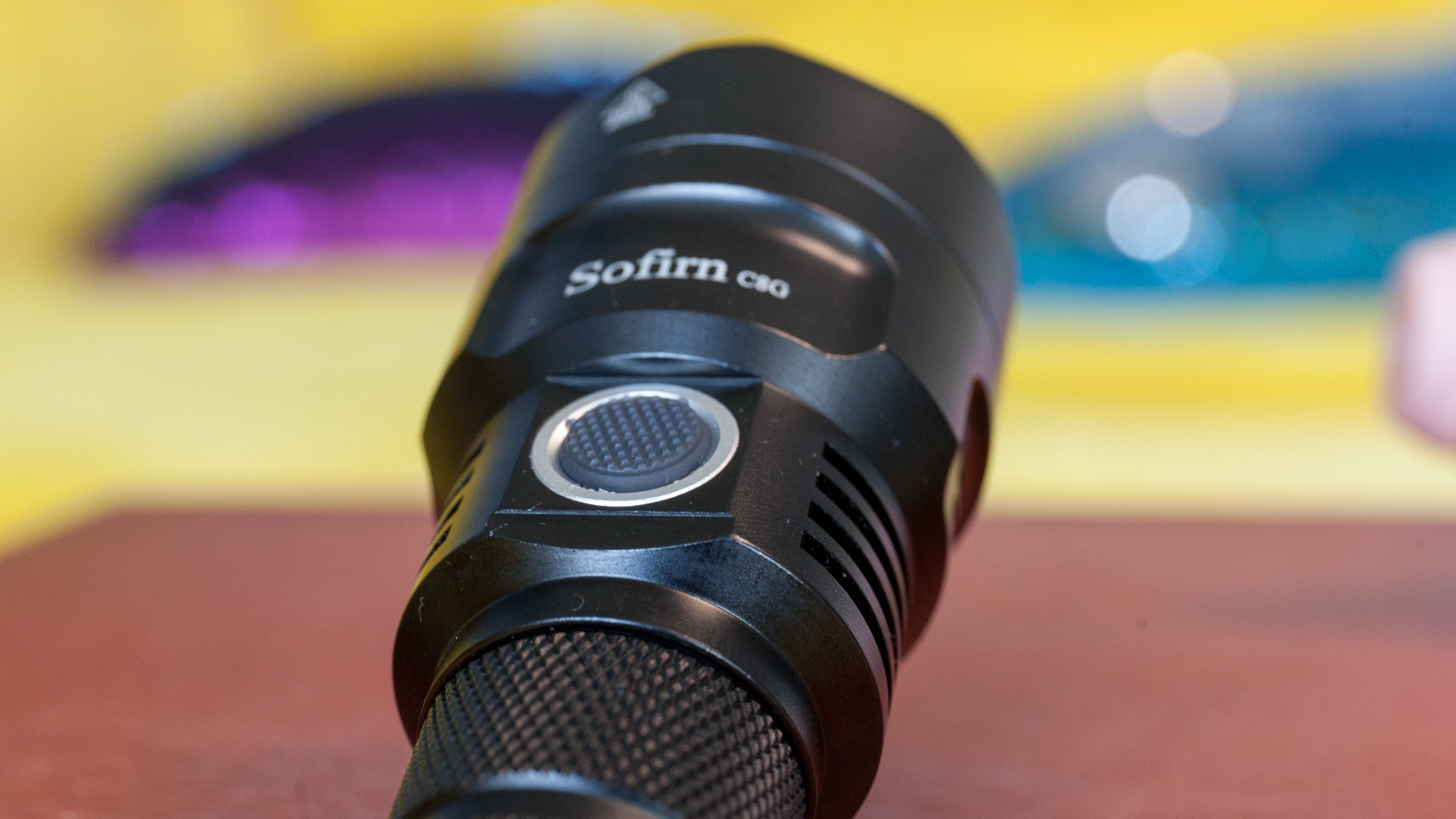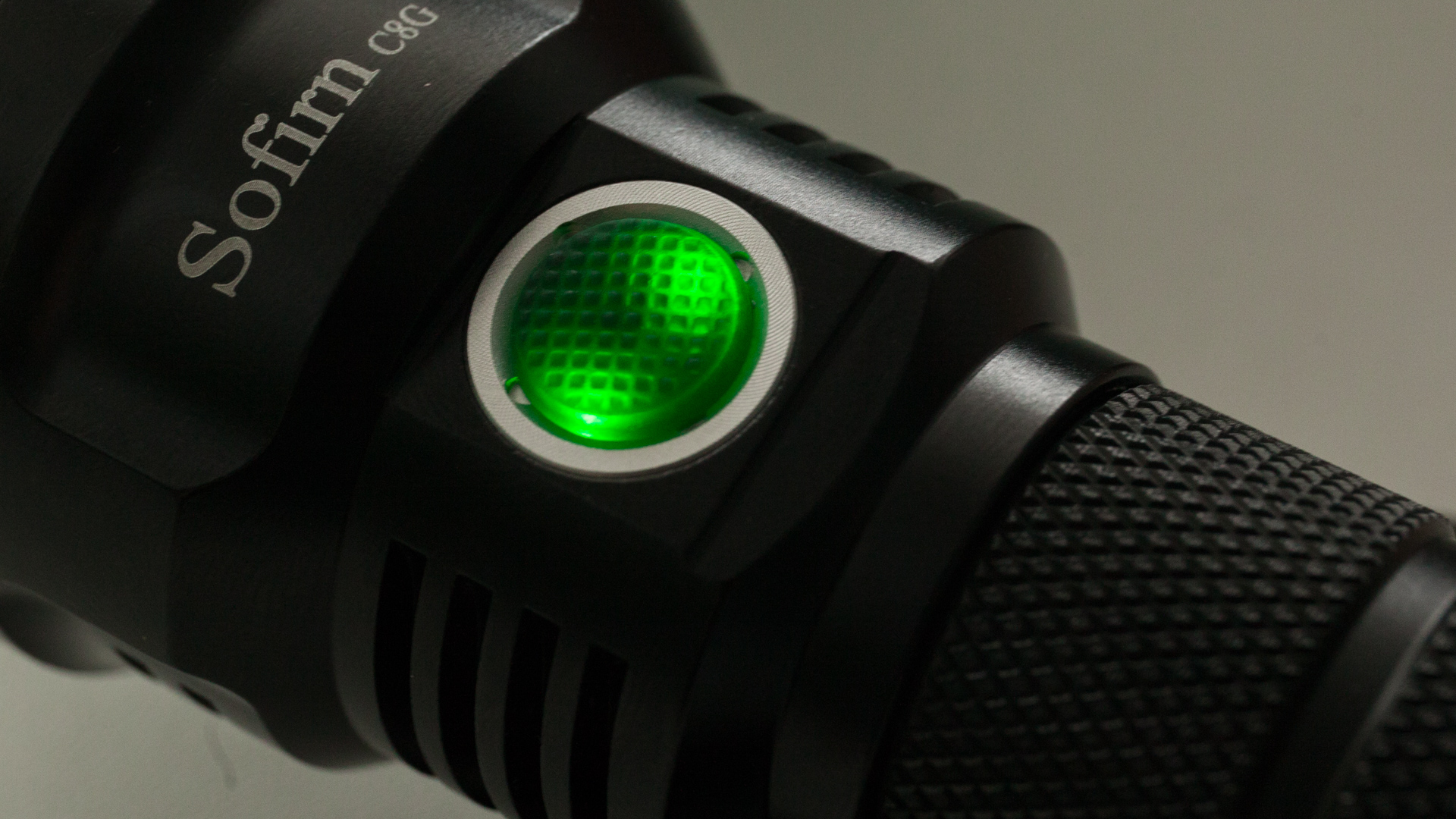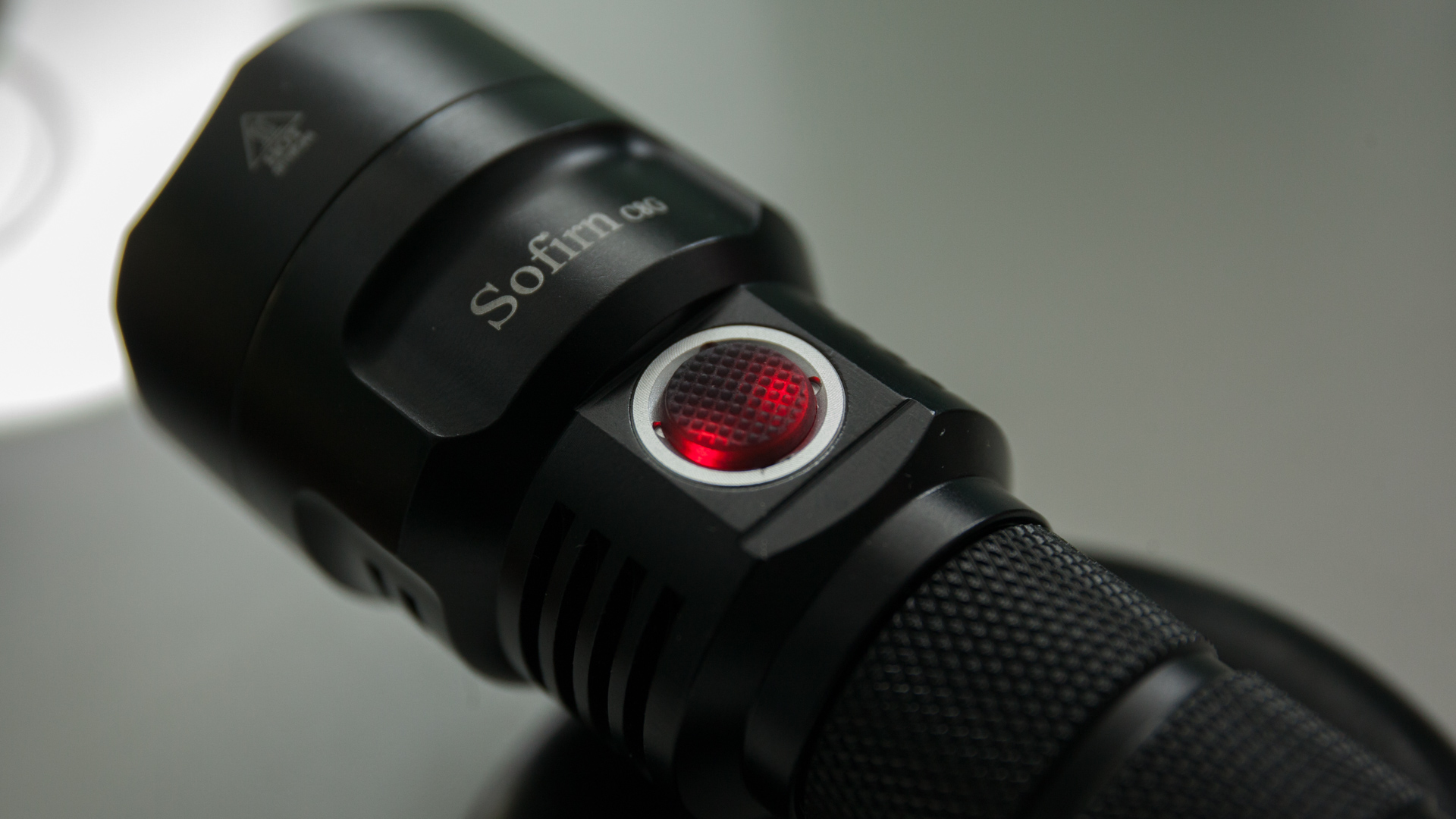 You can twist off bezel easily. Glass has anti-glare coating. Reflector is, of course, smooth. In my case, there were two tiny scratches on it. There is XHP35 HI (Convoy C8 + has less powerfull XPL-Hi) at the bottom. The head is one-piece, which improves heat dissipation.Diameter \ Depth of Reflector 38 \ 35mm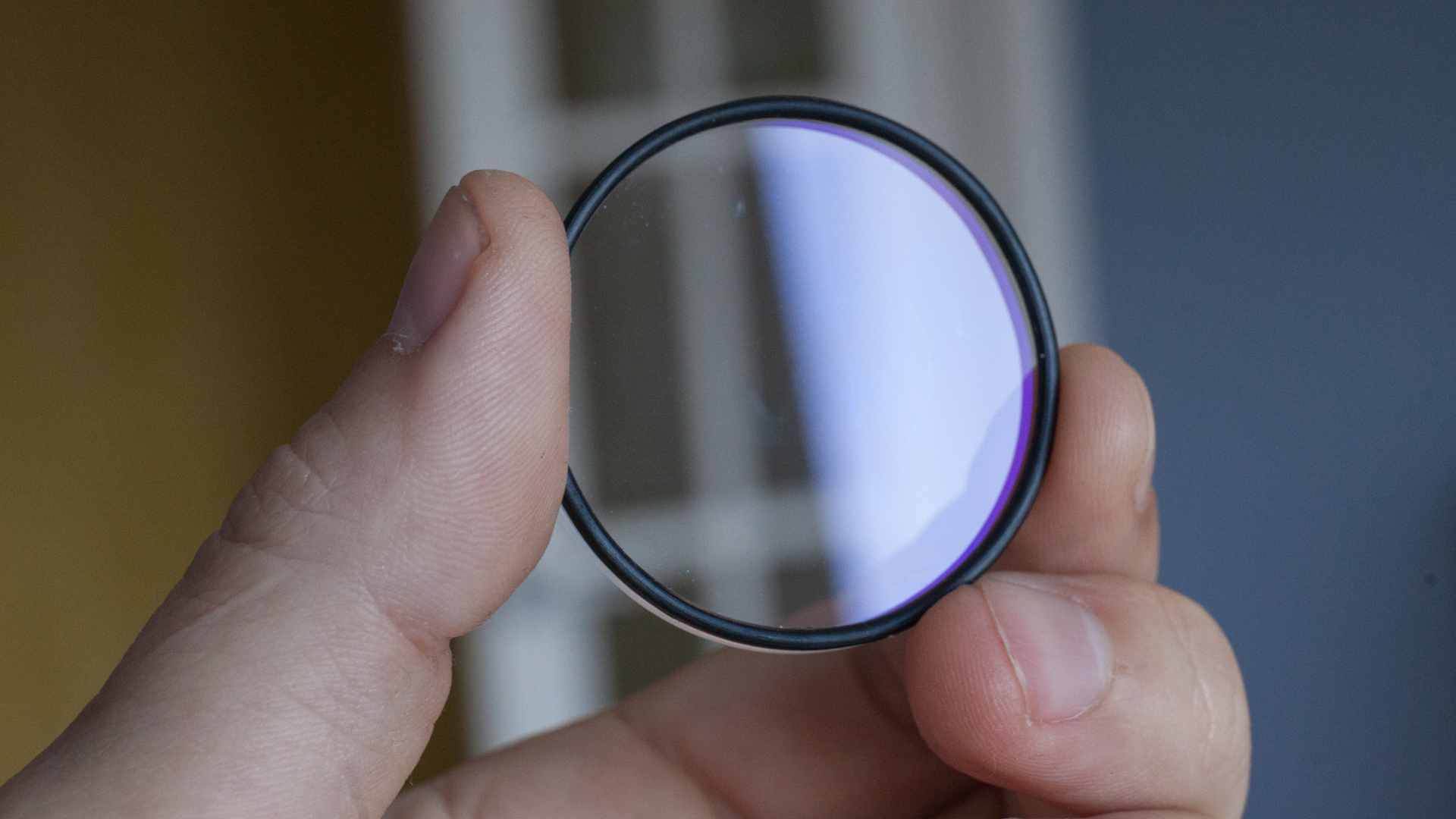 That's all. I do not see any obvious complaints about the build quality.
UI
Tailcap button click - on/off the
Side button - mode switching when click in stepperd mode (Low > Mid > High > Low > ) or hold in ramoing mode
Mode-Group change: 4x clicks.
Turbo: 2x clicks.
Moonlight: 2x clicks while in Turbo, or hold button when you turn flashlight on.
Strobe: 3x clicks.
Blinky mode cycle: Long press ( Strobe - Beacon - SOS).
HOW Sofirn C8G SHINES
As you can expect light is cold white, 6000K, which is not that good for long-range needs, 4000K \ 5000k would be much better. and here C8+ wins. -
UPD 5000K version in stock! Hurrraaa, finally!
Light distribution is a typical "awl", with a bright center and dim side light. Here, by the way, you can see on the beamshot that the convoy is better focused and at the same brightness it will have better throw. On the other hand, C8G, due to its greater brightness, negates the difference in focusing and in turbo it is radically better than Convoy.
There is no visible PWM flicker in any mode.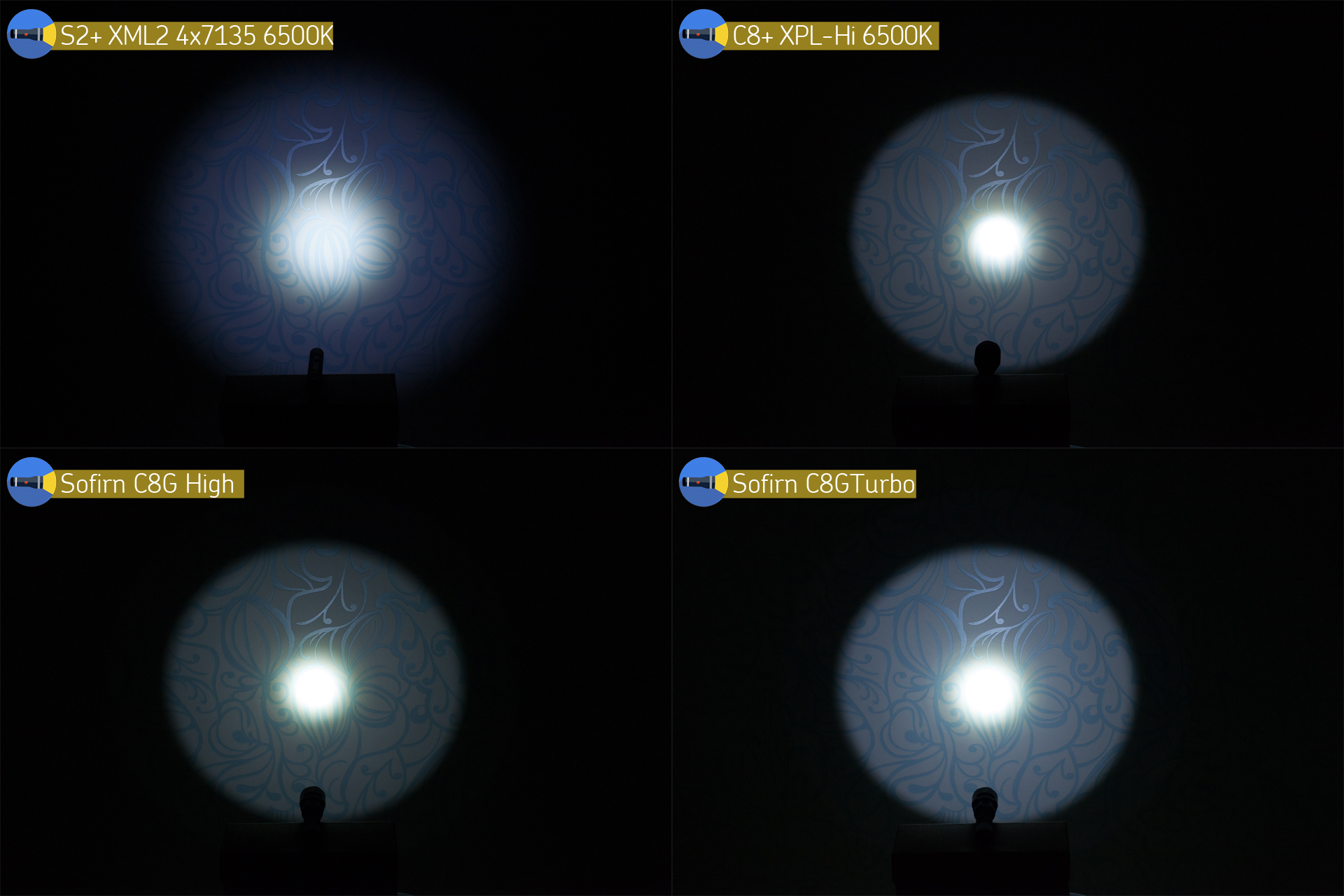 Manual declares thermoregulation. Dont believe everrything here. As for rutume , in fact, you get this:
1) Turbo is long lasting , it will last enough until initial stepdown to see everything around (and then, actually, in after stepdown level).
Despite the fact that turbo can be turned on time after time, this will not work with bare hands, because the body is heated to a temperature painful for the hands. Wearing gloves and wind blowing will make this easier.
Accordingly, in the latter conditions it is possible to count on a higher brightness. Brightness drops to high from turbo when Sofirn C8G has some cooling. Without it there is a stepdown to some lower level. The difference will be palpable, like 20%. As you can see, this logically translates into a difference in the rutime as well, 2 hours before next stepdown against 3 hours.
2) the simplest calculations show that the promised two thousand lumens is now what you get. It is worth counting on somewhere 1600-1700 lumens, which, in general, is definetely good.
3) Runtime in high , according to specs, is slightly less than three times less than the time in mid. And turbo has correct time. It looks modes and rutimes were mixed up. But i give you correct numbers )
In any case - even without cooling and less real brightness in turbo , this brightness and thrown will definitely be enough for you, everything is better than you can get from convoy.
In short, regardless difference with the specification, stabilization and rutime of thermoregulation left me with an exceptionally positive impression.
UPD 2021 once i got SST40, i update runtime charts. i cannot correctly compare their brigthness, so i just set turbo to 100% in chart. overall, it gives a clear idea what to expect from Sofirn C8G.
Re-enable turbo (with cooling or without ) give the same runtime and stepdown.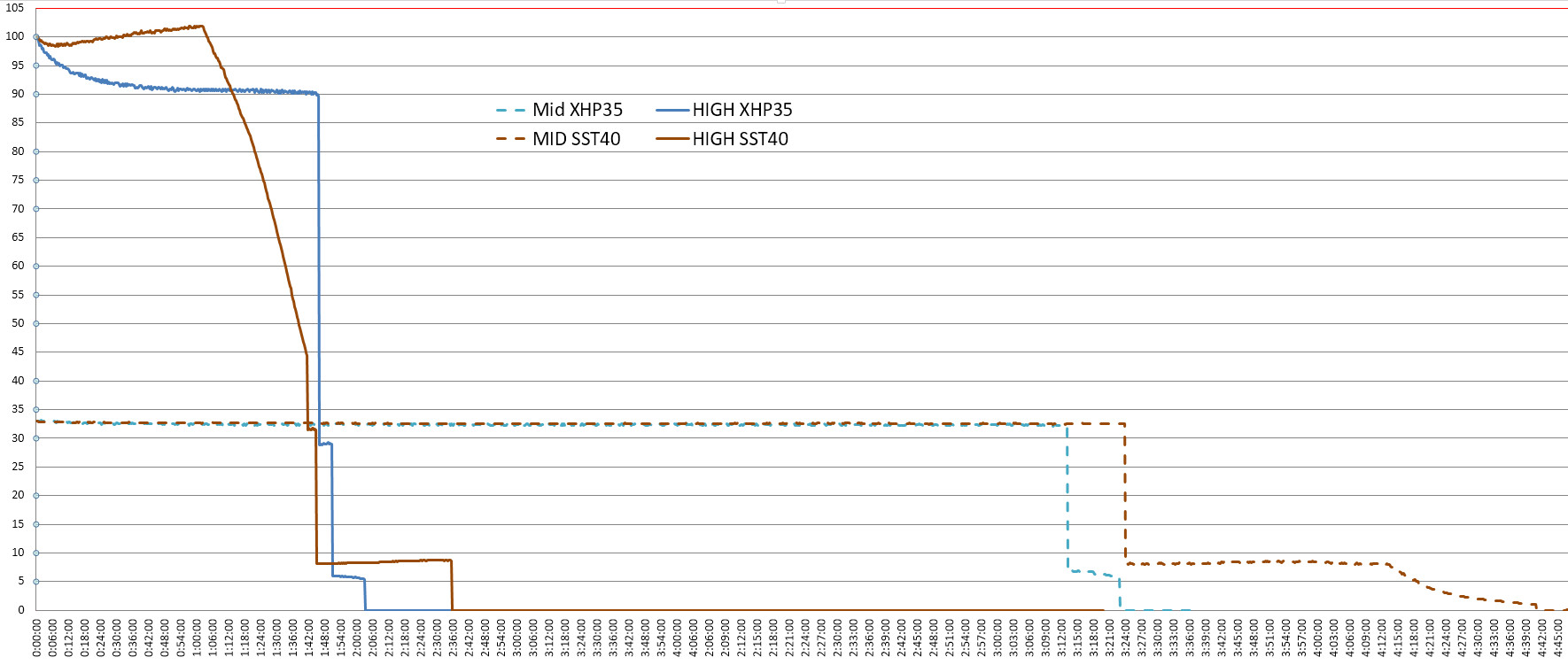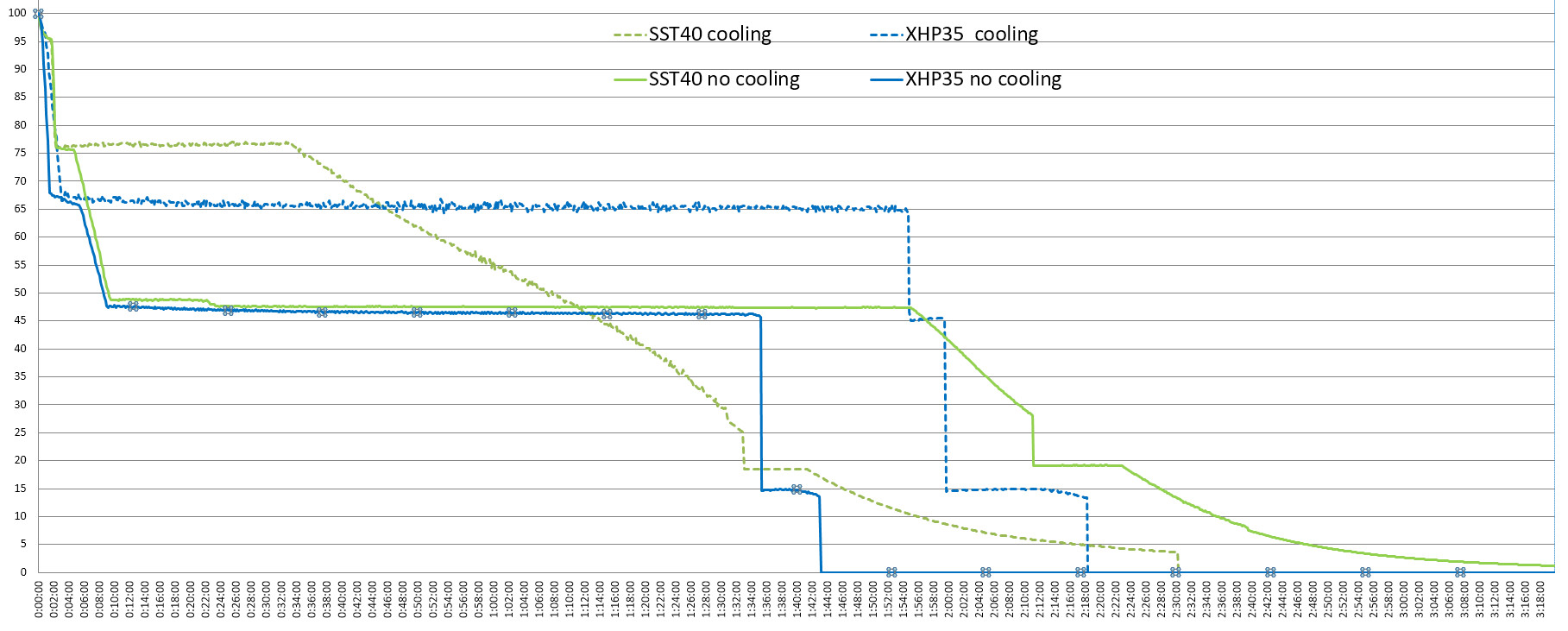 here, for comparison, runtime of convoy c8 +


Agree, the difference is exceptional
The flashlight turns off somewhere at 2.8v.
Well, the most interesting.
Once again - on a full charge at a comparable brightness, the convoy will be better. The question is that in case if C8+ this 100% brightness will decrease as it discharges, and it is stabilized for Sofirn C8G .
Sofirn C8G proved to be an excellent compact long-range flashlight. If you do not take into account only cold light, I think that it is the best in size. Well, suppose the Lumintop GT mini will shine at the same level, only much shorter (and with worse stabilization).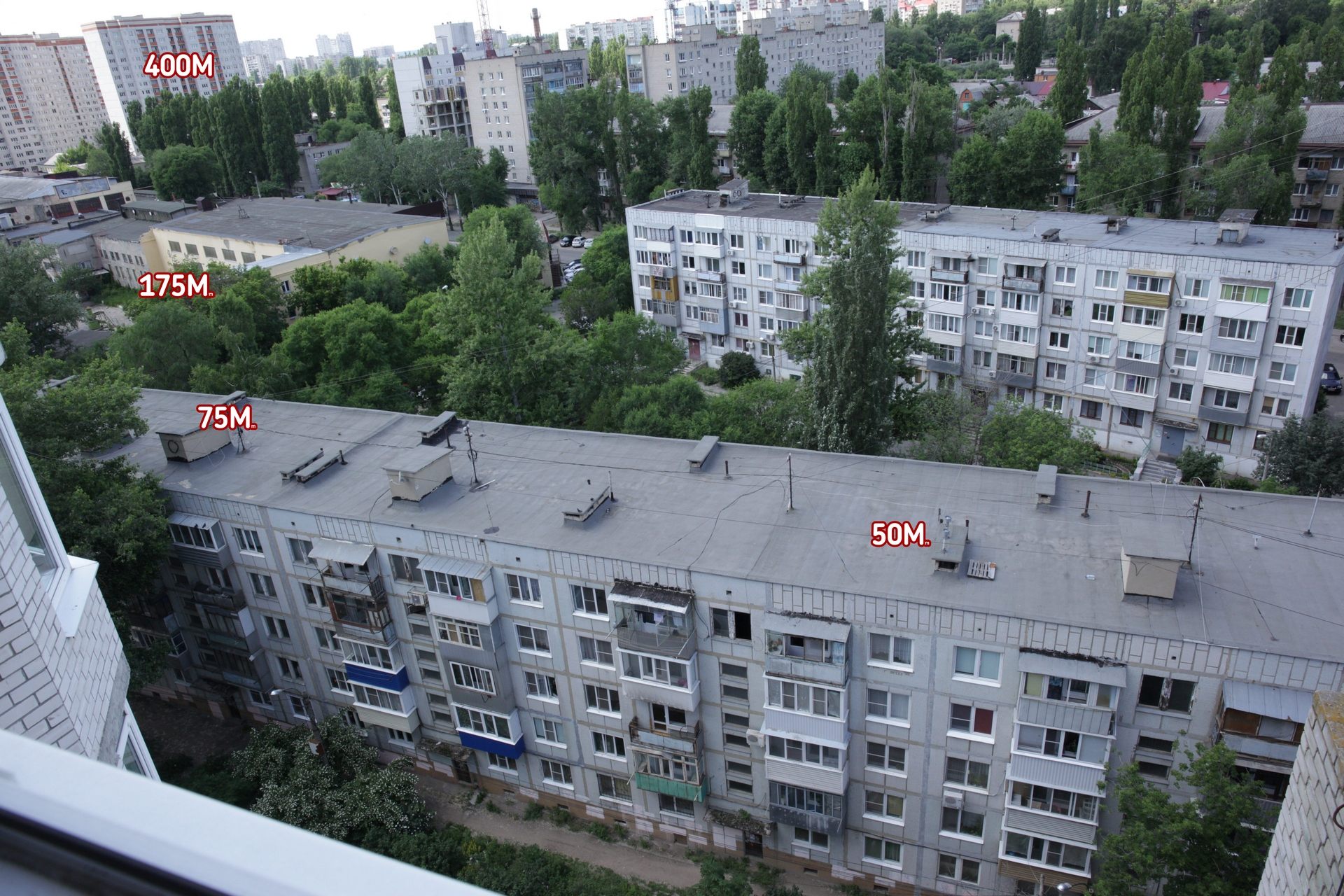 50m is an insignificant distance for such a flashlight, even Low here gives clearly visible light.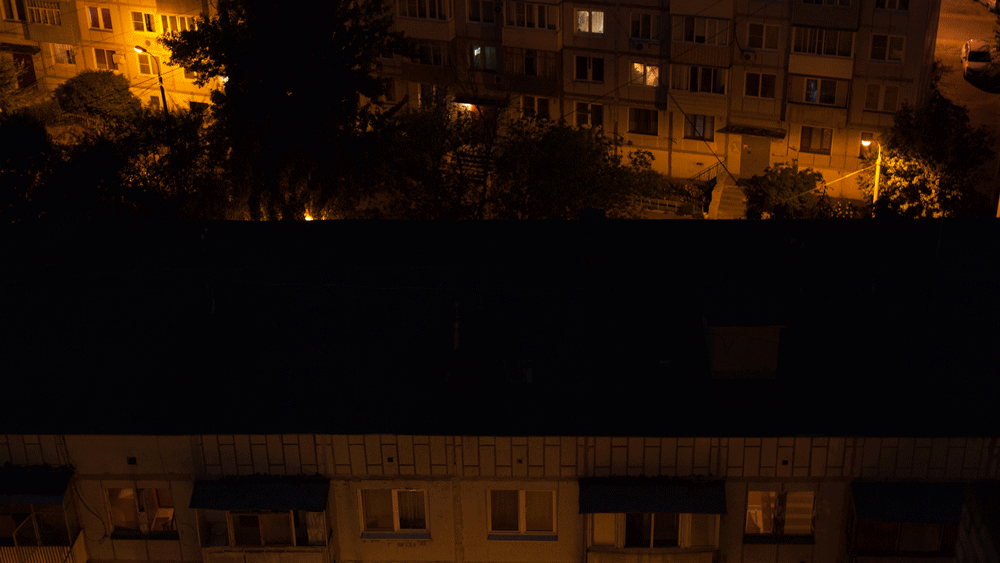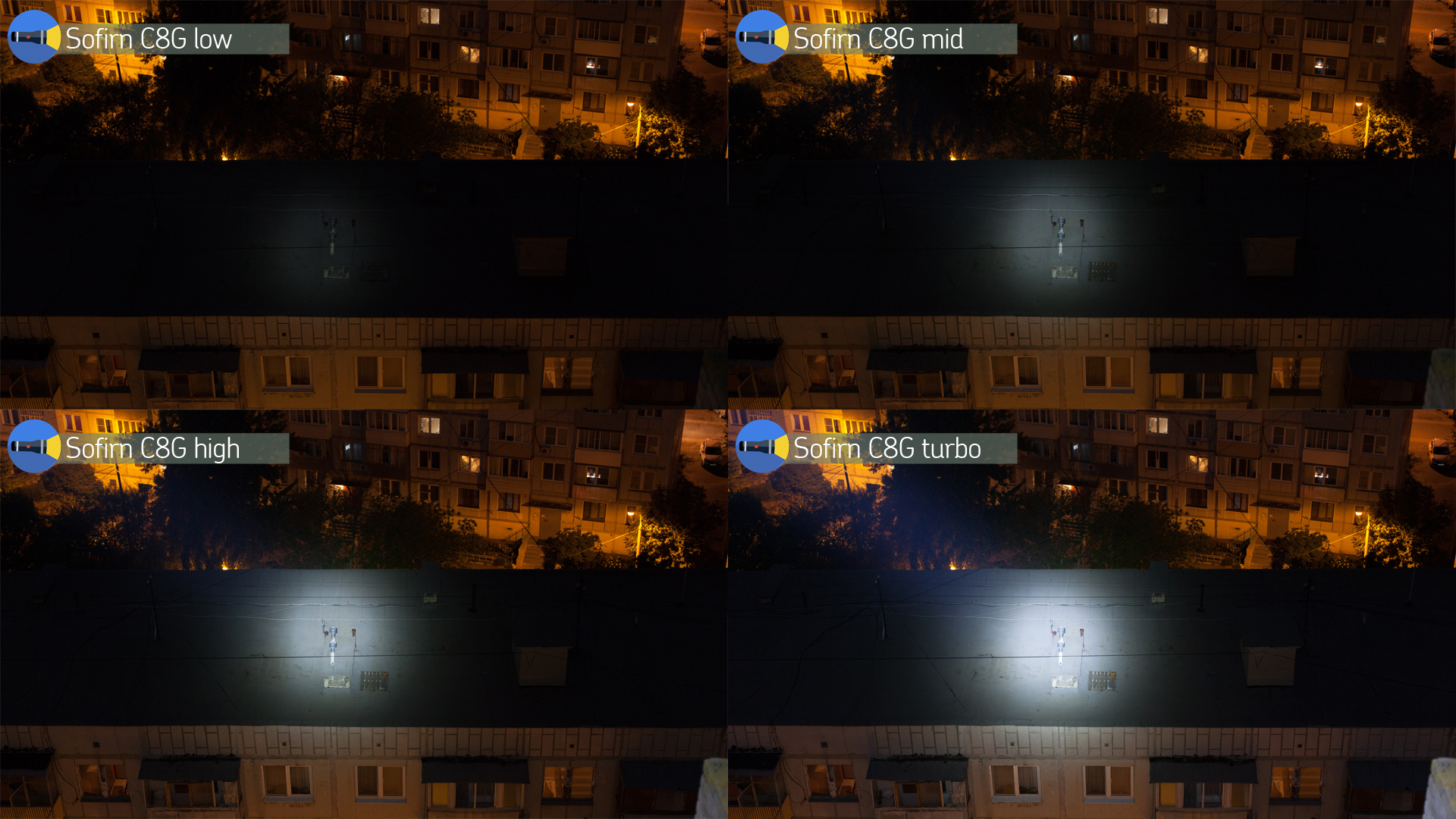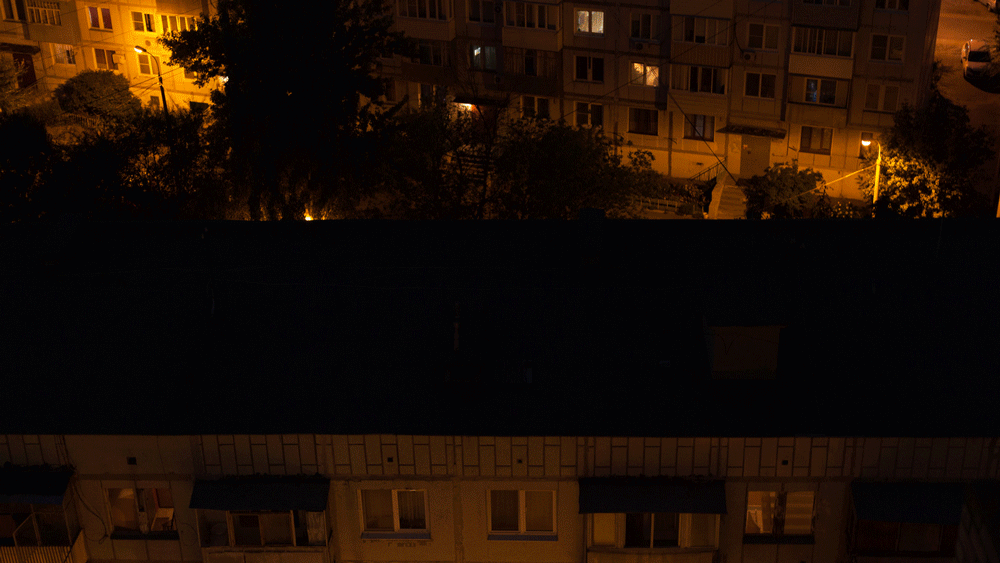 75m
Again, Low is quite visible, but is almost useless. Indoors, like a warehouse, everything will be better.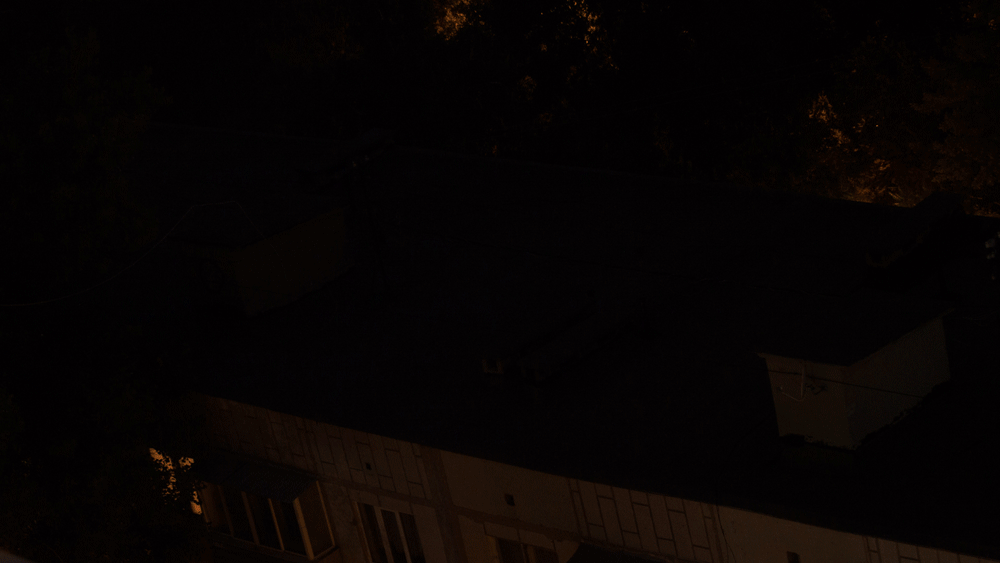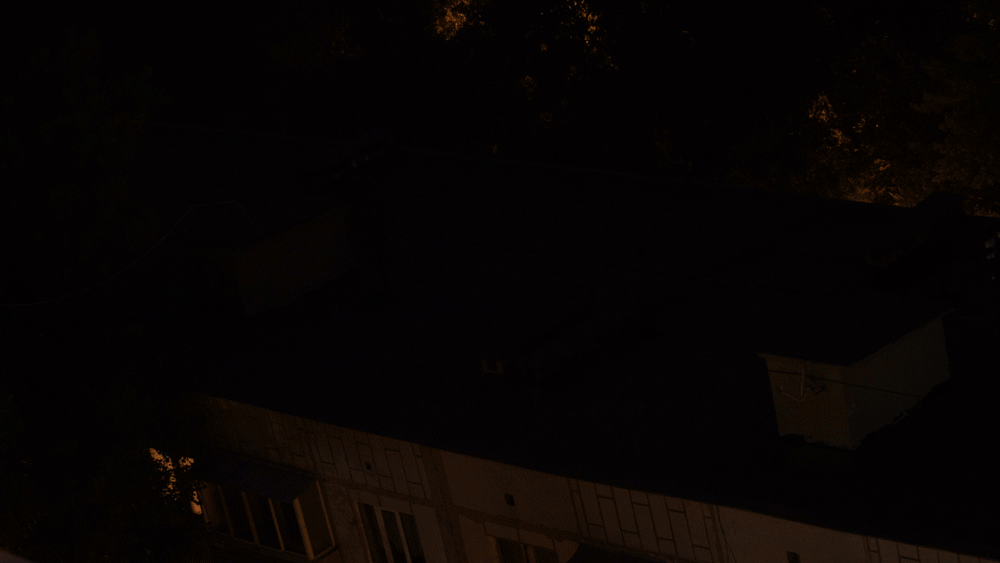 175m
low if invisible
mid is still ok. You will have enough rutime in this mode for the whole night, but you have to uderstand that you will get normal detailing at this range at high mode. 3 hours of excellent light in this high, then change the battery and enjoy the light.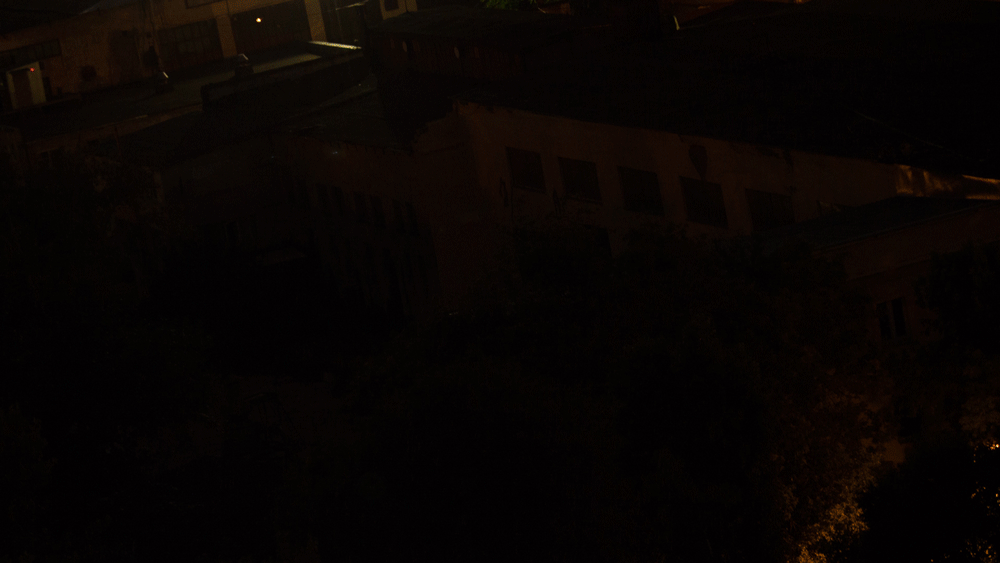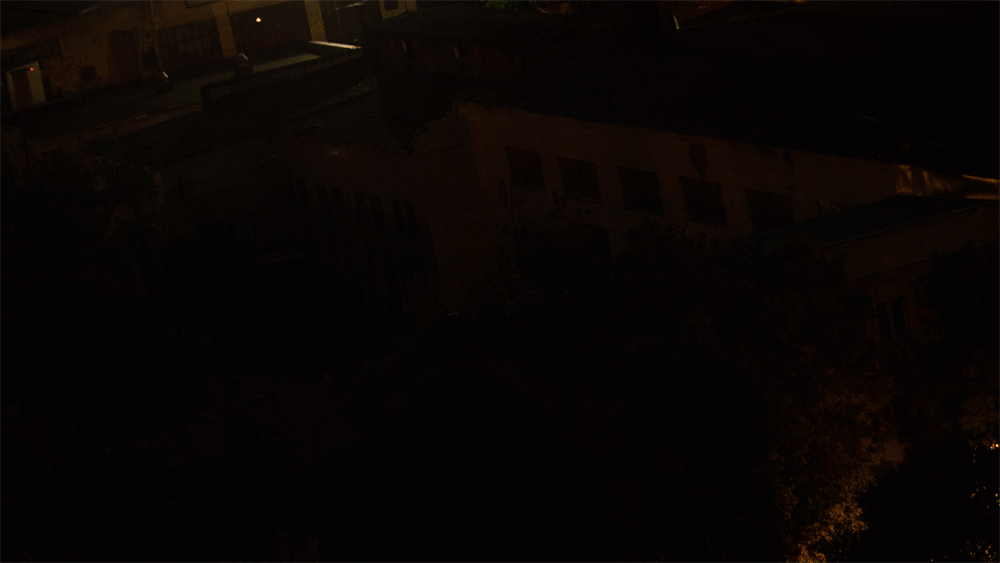 400m
well, there is only high \ turbo.
Few people need to work at such a distance, but, as you can see, flashlight is definitely feasible. convoy c8 + is also useful here, but after about 20 minutes the brightness will significantly decrease.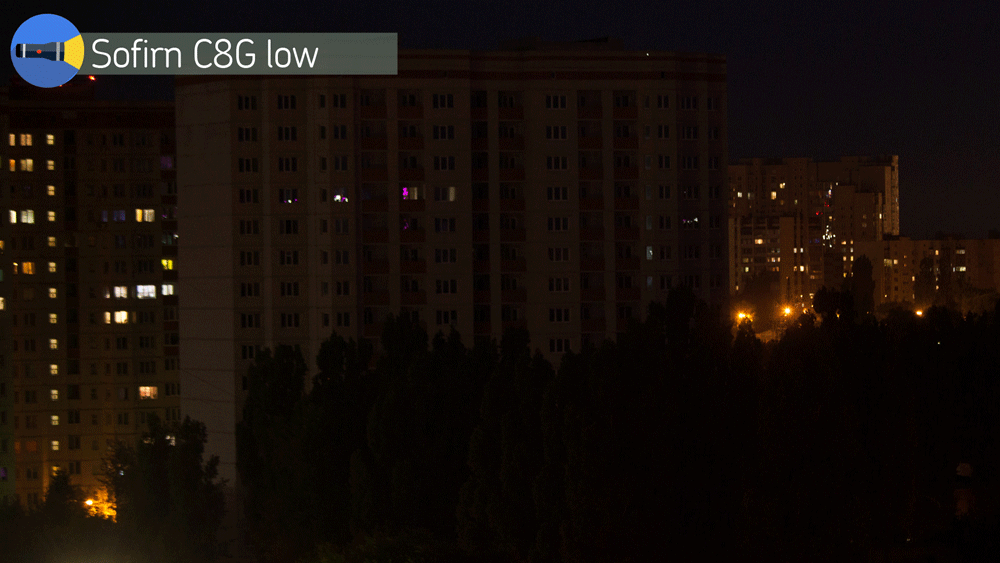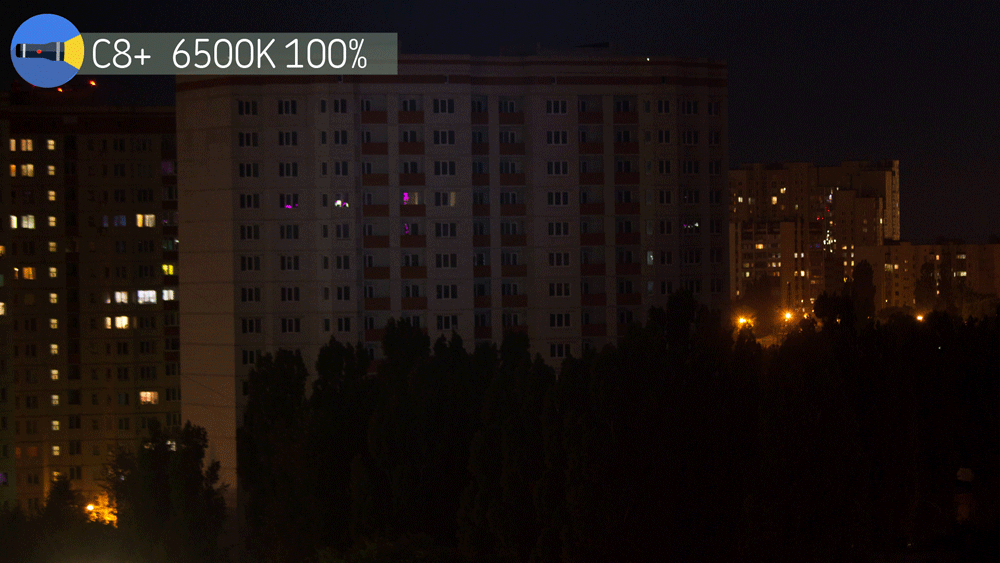 Traditionally, there is video review. i plan to add subs tomorrow, but you still can see how Sofirn C8G work.
OVERALL IMPRESSION
Once again, Sofirn is one step away from making the *perfect *budget flashlight. Sofirn C8G has every chance to become this one , all they have to do is make an optional neutral light and modify UI a bit. (upd 5000k was added for XHP35 version).
Nevertheless, as it is, for its price, this flashlight is very, in my opinion, good - it has everything you need and even more.
+ 21700 battery ->
wonderful runtime
compact pocket sizes
brightness is fully stabilized and does not fall as it discharges.
Maximum brightness covers the vast majority of all household needs and dramatically exceeds that of the Convoy C8 +.
affordable price for everyone
albeit primitive, but indication of charge level
- cold light
the specification has mistake about by rutime (I think that a typo) and brightness (rather consciously)
A significant advantage of the convoy is the choice of color temperature, which is important for long-range needs. Well, it`s UI, albeit not flexible, but gives access to a bunch of preliminary sets of modes.
UPD 2021. After a while i reconsidered my impressions about UI. that is really, really good one. And the same about SST40 LED version, which turned to be well stabilized and is better for mid-range work. Flashlight lost some throw with SST40, but still you, normally, have more than you need.
If you are not afraid of the cold white light in the long-range, then the Sofirn C8G looks an unambiguous favorite in the battle with the Convoy C8 +. The fully-equipped option will be a good gift to someone you know. The mass of compact branded long-range truck is also implemented in a cold light, and does not work out such a difference in price.
The bottom line is, if you want to buy an inexpensive powerful and bright long-range LED flashlight, then the Sofirn C8G seems to me the perfect option. There are certainly brighter and longer-range lights. But by the combination of price, functionality and convenience, this flashlight seems to me the undisputed leader among low-cost long-range flashlights. If you do not need to shine further, that way, 400m, then you can safely rely on this model.