Windyfire IMR14500 600mAh (Red)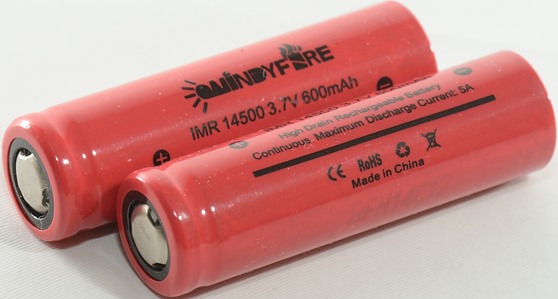 Official specifications:
Type of Battery: IMR 14500/650mAh
Size(mm): 14mm(Diameter) x 50mm(Length)
Positive Shape: flat top
Weight(g): 20±1g
Nominal Voltage: 3.7V
Nominal Capacity: 670mah(0.2 C Discharge)
Minimum Capacity: 650mah(0.2 C Discharge)
Discharge Cut-off voltage: 3 V
Standard Charge: 0.4 A /4.2V
Maximum charge current: 1.95A
Quick Discharge Current: 6.500 A
Max Discharge Current: 9.750 A
Initial Impedance: Max:20mOhm
Cycle Life: 310times: discharging capacity >85%, 510times: discharging capacity>60%
Temperature Characteristics: -10°C/0.2C >80% Capacity; 20°C/0.2C =100% Capacity;60°C/0.2C >95% Capacity
Charging Time: Standard charge : 5-7hours, Rapid charge : 2-3hours
Operating environment: Charging, 0°C ~ 45°C ; 65±20%RH, Discharging, -20°C~60°C ; 65±20%RH
Storage environment: Temp(-20°c ~ 35°c) / Relative humidity (45-75%)



This is a high power 14500 cell.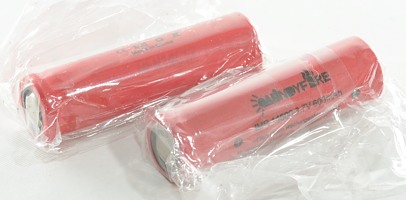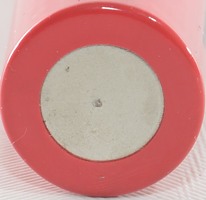 The curves tracks fairly well, but there is a small capacity difference between the two cells. They are very impressive in their handling of high currents, capacity is nearly the same, even at 7A and the voltage is fairly high.






Conclusion

These cells are fairly low in capacity, but better than specified. Their high current handling is very good.
I will give them an acceptable rating.



Notes and links

How is the test done and how to read the charts
How is a protected LiIon battery constructed
More about button top and flat top batteries
Comparison to other LiIon batteries