Hi everyone,
We have been working hard with Ric from CNQG (and Helen from Blackshadow) to provide you with a BLF Edition of the Starry Light SA-22: A non-expensive, bright 4xAA light.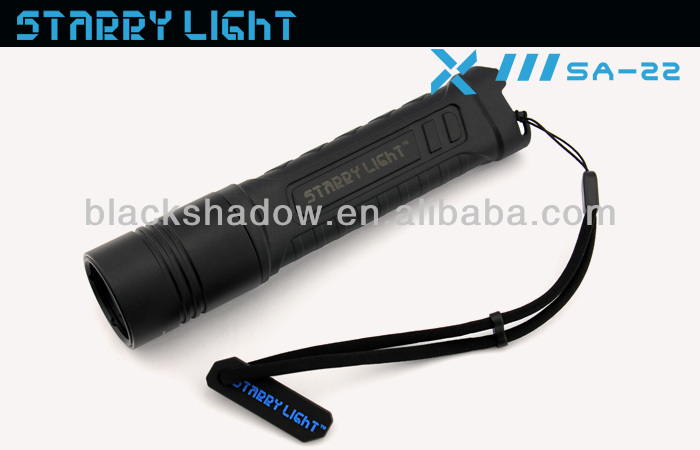 SA-22 has it's flaws, but we decided to make it better. Manufacturer is currently making the first sample according to our specs, and I'd like to announce the GB already now. The sample will be tested & reviewed before the GB starts. Disclaimer: If anything goes wrong, this GB might be delayed or canceled.
Details:
- Minimum number of lights to make this GB happen: 50pcs
- 4 modes, LL-L-M-H (0.2%, 2%, 25%, 100%), with memory, no blinky modes!
- Fast >2kHz PWM, making the lower modes usable
- Longer runtimes due the better mode selection
- Neutral white XM-L2 T6 emitter (3C or 4C, to be checked from Blackshadow)
- Holster included
- BLF logo for free, other logos possible (add $2)
- Price $23 each, free shipping (add $2 for tracking number)
Would anyone be interested in this?
UPDATE: GB STARTS NOW!
Lights are now in production, GB starts! Estimated manufacturing time is about one week.
Purchase link here: http://www.cnqualitygoods.com/goods.php?id=1980
Note: The light is sold only to BLF members until the GB ends. Please include your BLF user name to the message field on checkout (Other info / Order postscript).
Both NW (XM-L2 T6 3C, up to 200pcs) and CW (XM-L2 U2 1A, up to 100pcs) are available.
GB lasts until March 15th. The remaining ones (if any) after the GB will be sold for about $30 "for anyone interested", meaning also non-BLF members.
Update 2014/03/24: GB closed, some lights still available for $23/24 + shipping.