I got all excited seeing these lights and thought as a few others did that it would make a good host so a couple were ordered. Here is a link to another post on these mini imposters. The flashlight is nothing special except for its good looks. Anodizing is patchy at best and the threads and o'rings are ok. light output is a bluish very dim beam with a small hot spot. I am going to mod the other light with the standard reflector. It has a plastic 21mm lens standard which I did not want to use so have ordered an AR 21 mm lens. I think the standard reflector will work with either a XP-G or XM-L. The round hollow part (see other thread for pictures) can be filed down so that it sits over the led and the hollow part left will fit over the square base of the XM-L. If you used an XP-G I would file the hollow part of completely and it should sit on the star ok.
Enough waffle. Here's some pictures.
A standard C8 against the imposter. The mini actually looks a lot smaller than it does in the pictures.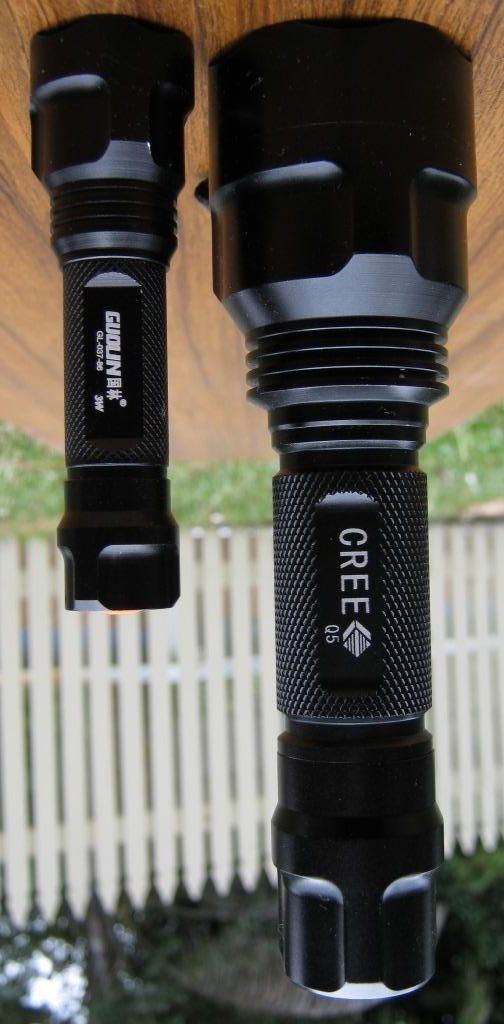 The parts used were a custom pill, 10 degree TIR lens, IOS single mode AA driver and XM-L U2 LED I had kicking around.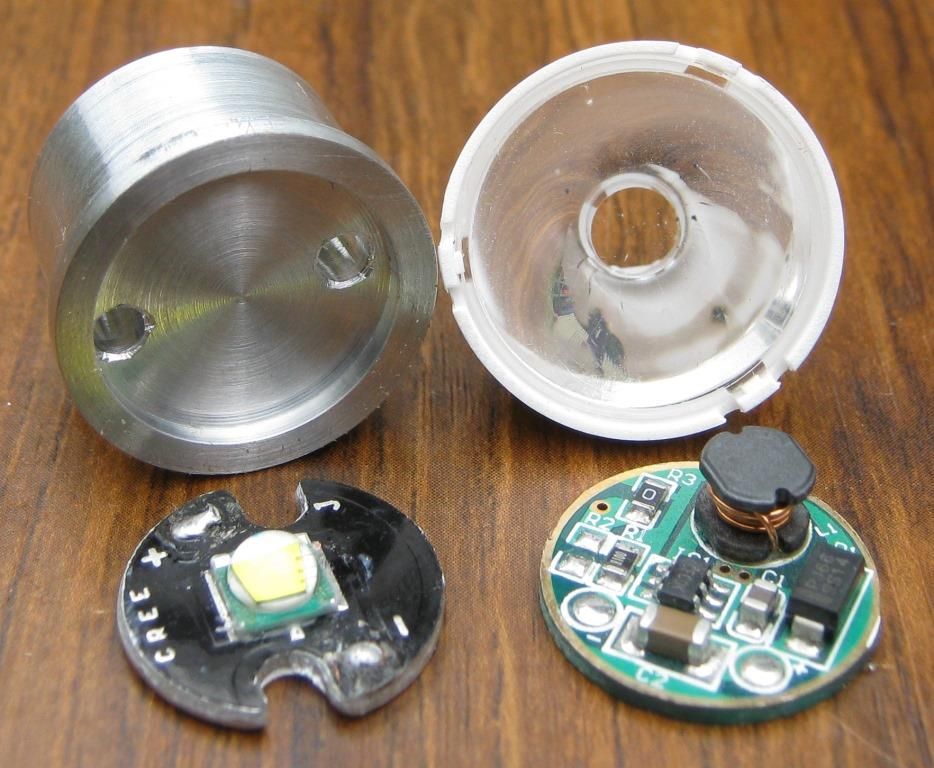 The flashlight had to be bored a couple off mm deeper to fit the TIR in deep enough so that it did not stick out the end.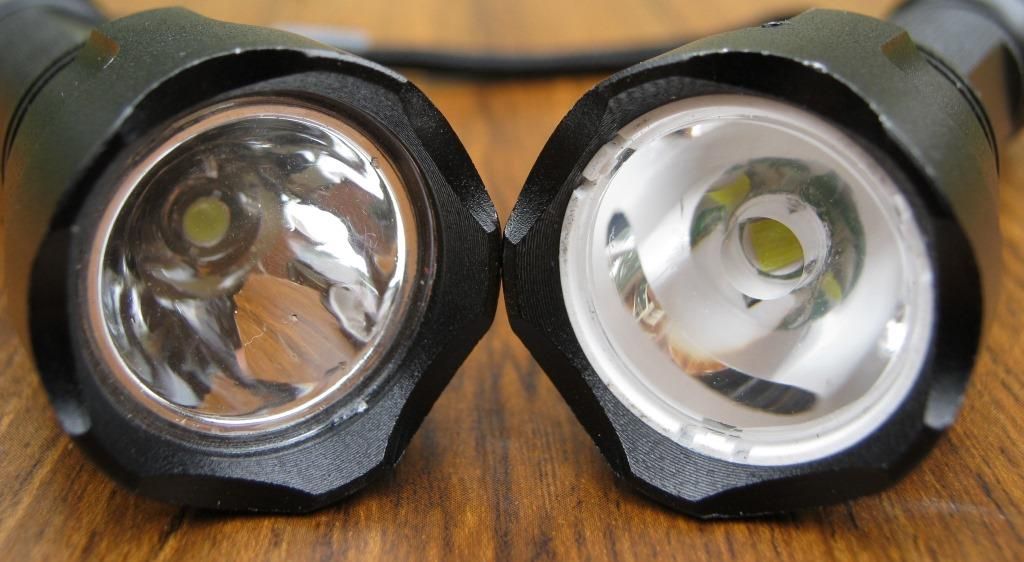 Another shot to give you an idea how small this thing is. Unfortunately I do not have another AAA torch to compare it to.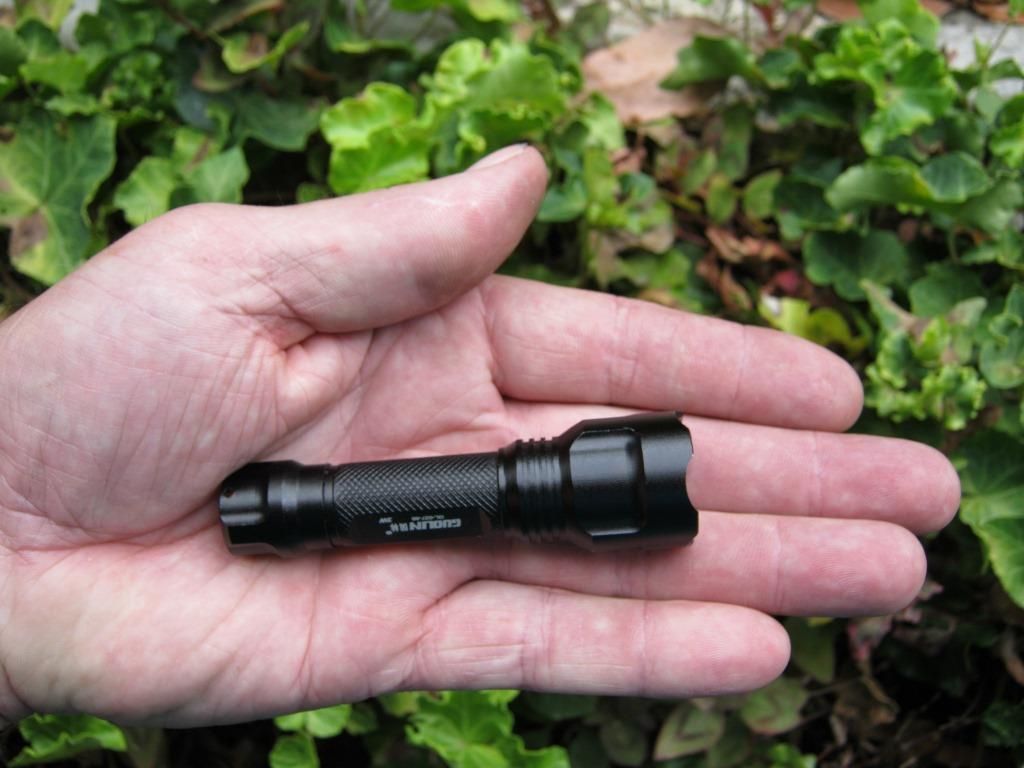 And finally the beam shot. guess which one is the modded light. At the tailcap the std light draws .35 amp and the modded light is 2.2 amps with a Turnigy LSD AAA.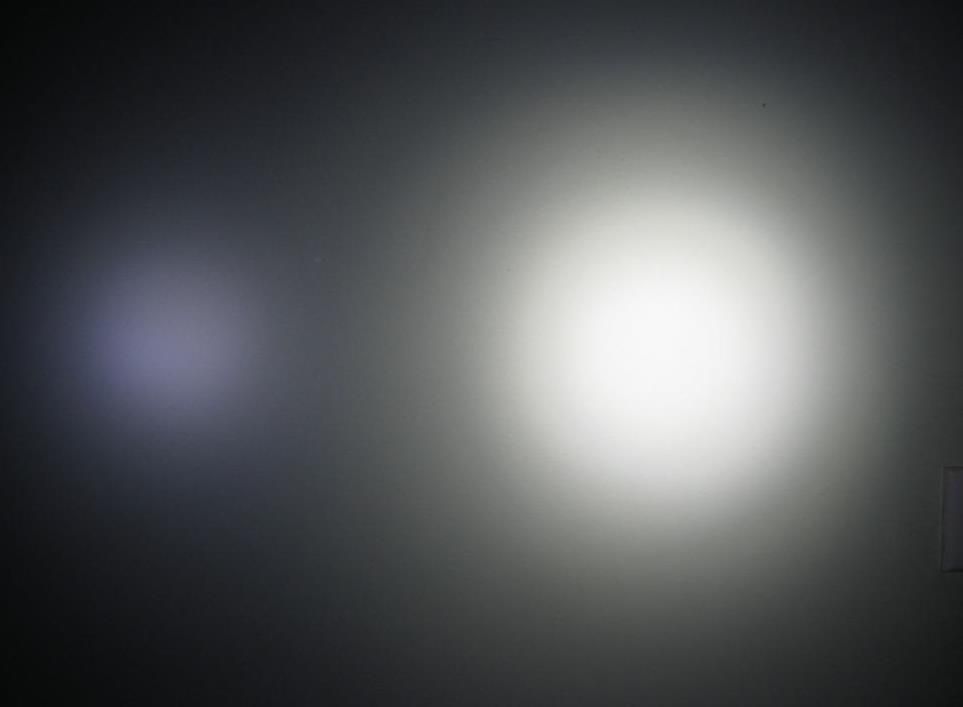 I decided to use Old Lumens trick of using an XM-L TIR with an XP-G2 LED. The results to say the least was surprising.
The Fence shot. The XM-L on the left has a lot larger hot spot and a far bigger spill than the XP-G2 on the right which is a lot brighter in the hot spot. Both LED's were driven by identical single mode AA drivers.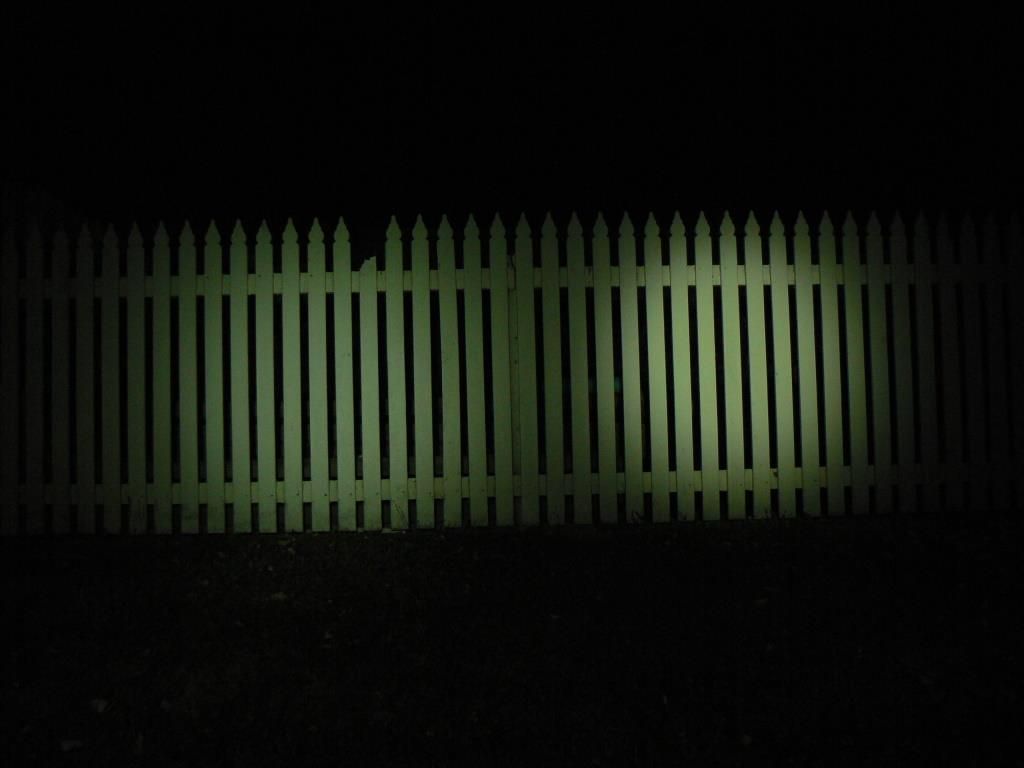 The plants in the middle were about 9 to 10 meters away. To me the difference was astonishing and the TIR worked perfectly with the incorrect LED being used in it.
Firstly is the XM-L U2 which I would describe as a cool white.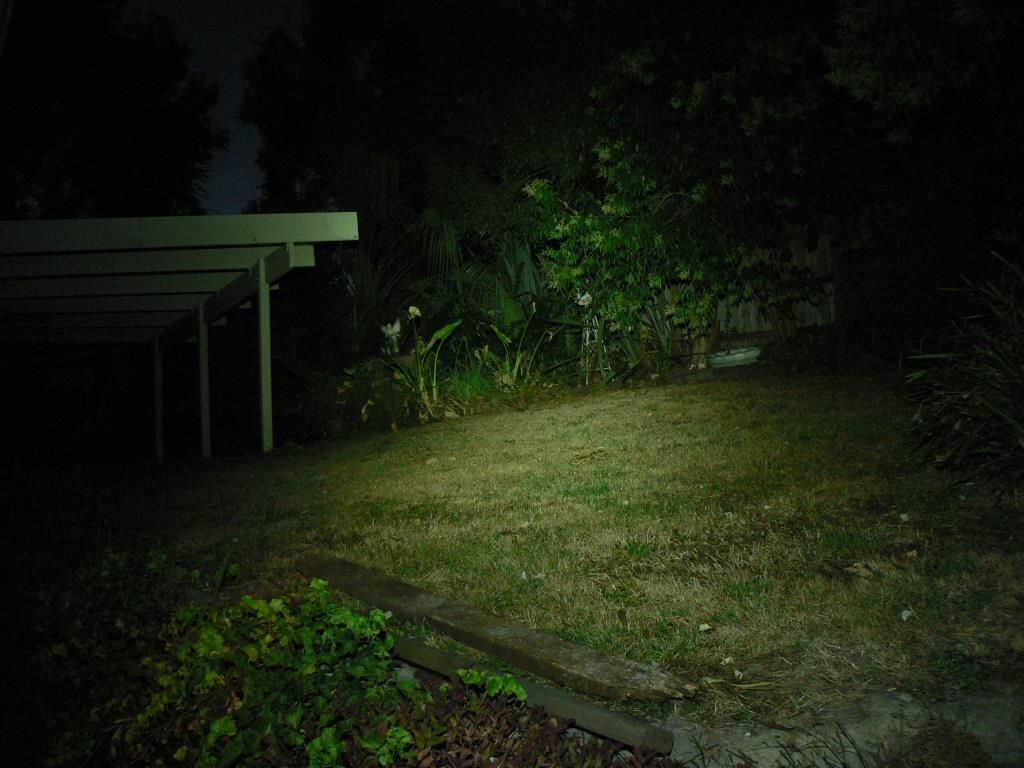 The XP-G2 is supposed to be a 1D tint. The light itself is a lot warmer in color.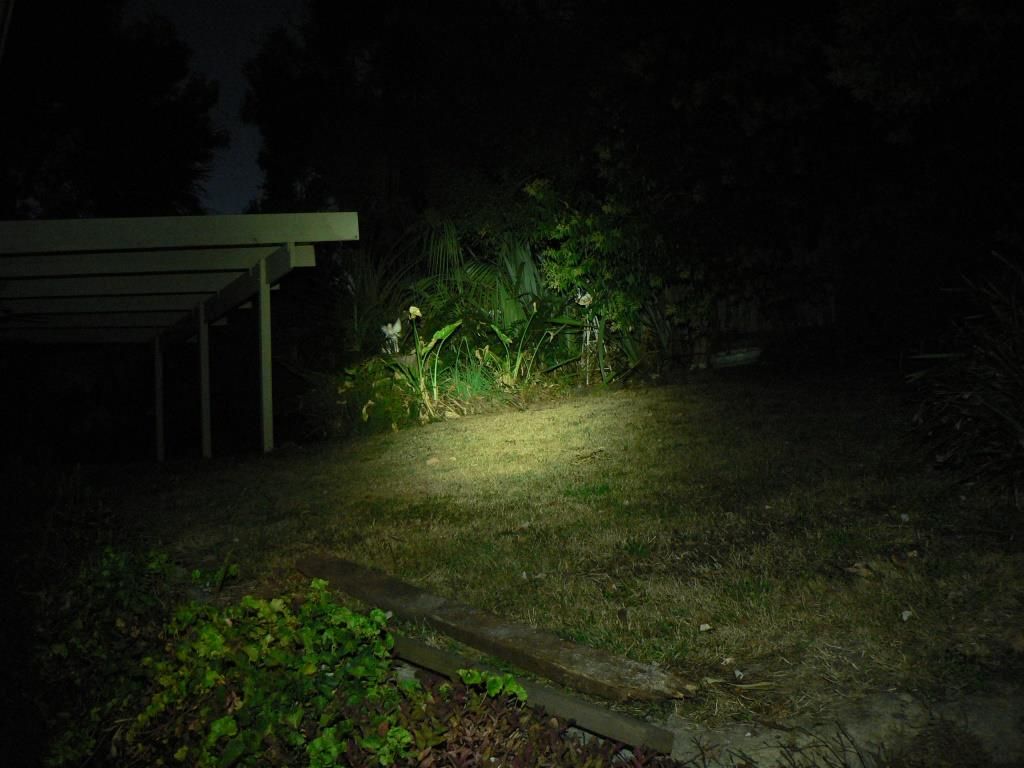 With the XM-L in this light I was a little disappointed. The XP-G really brings this flashlight alive.