This is a review of the new HaikeLite, a new manufacturer, model MT07 Buffalo. It's a XHP70 thrower with a big reflector that can get a lot of light down field. HaikeLite provided the light for this review. So far I'm very impressed with it - the quality and styling, plus it's real easy to take apart and get at everything. It's a big light, no doubt, but you need a big reflector to get distance, and a lot of mass to handle the power and heat the LED puts out. The 4 18650 cells do well, but it would be nice to have an extension option to double them up to 8.
Here's some reference links:
Manufacturer's thread: https://budgetlightforum.com/t/-/41589
Manufacturer website product listing&sales: http://haikelite.top MT07 Buffalo
Manufacturer's Specs (my notes in italics):
—Emitter: CREE XHP70 N4 CW 6500K 75 CRI or N2 5000K NW 80 CRI (my sample is the N4 CW)
—Aluminum Alloy body with HAIII Anodize black surface Finish
—Battery: 4x High Drain >10A Flat Top 18650 - only fit standard flat-top 18650, Single light do not include battery (more on this)
—Double Electric side switch ; One for ON/OFF , One for mode-changing
—Deep and Big Aluminium light-OP Reflector
— Ultra Clear Double-sided AR coated toughened Glass lens - 99%light transmittance
—Double O rings; IPX8 Waterproof, tested and passed
—With standard Tripod hole
—Max Brightness: CW 5000 Lumens ; NW 4500 Lumens
—Shot distance: 750 meters
—Max Runtime: 98 days on moonlight mode
—Current Regulation; Without Visible PWM
—Brightness Level:
Low Low 50lumens 228hrs ;
Low 450 Lumens 32hrs ;
Middle 1200 Lumens 18hrs ;
High 2300 Lumens 10hrs;
Turbo 5000 Lumens 8hrs ;
Moonlight 0.3 lumens 98 days
— Timed Thermal regulation Step down; Turbo 5000Lumens -- 5 minutes (thermal control) step down to 2800 Lumens
Mode memory in above levels Double click Turbo—5000 Lumens (quick access to turbo at any status)
Hidden moonlight--- 0.3 lumens ;
Hidden Stroble – Hidden SOS
Size: 173mm length x 86mm Head x 55mm body
Weight:750 Gram (998g w/batteries)
User Interface:
Switch 1:
Single Click-on ; Single Click-off ;
Quick Access Turbo (Double click switch 1 in any status to acess; easy to access)
Long-press to Strobe; Long-press again to SOS; Single click to previous memorized mode
Switch 2:
Low Low-Low-Mid -High-Turbo (single click to change modes ; with last mode memory)
Hidden Moonlight 0.3 lumens (fast double click switch 2 to acess moonlight, Single click to previous memorized mode)
Memory modes: Low Low-Low-Mid -High-Turbo + OFF
Lockout function: Click+hold switch 2 to lockout the light; Repeat to unlock. Loose the head a bit to lockout also available
Power Indicator:
100%~50% Blue LED ON
50%~9% Blue LED flash twice every 10 seconds
9%~Turn off Red LED flash twice every 10 seconds
Indicator LED is off on Moonlight mode to extend the max runtime.
Internal parts:
72mm inner wide x 68mm deep Reflector - makes it a super thrower
35mm Haike Copper DTP Emitter board (held down by 1 screw)
18 AWG thick copper+silver wires (confirmed)
8mm thick internal emitter-sitting disk (I believe this is the thickness of the shelf the MCPCB sits on)
Double Silver-plating copper-alloy springs (double only on main driver spring)
My Measurements
Lumens: On Samsung 30Q Button Tops @4.22v using my own calibrated PVC light box: 5,000 at start, 4,730 at 30 secs
Throw: 132 kcd taken at 5 meters, 727 meters
Parasitic Drain: 0.280 mA
*** Note: Readings will vary based on cells
In the box w/supplied lanyard, spec sheet, and UI sheet: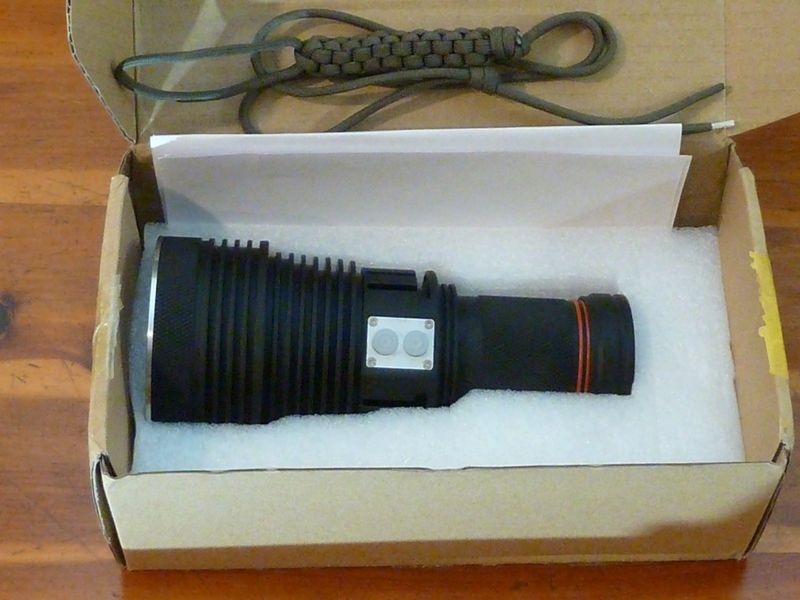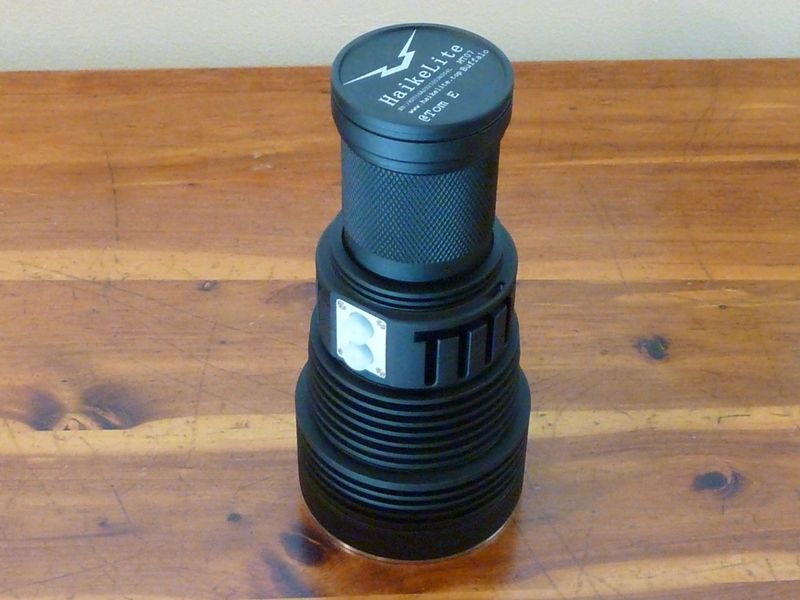 Nice personal touch added: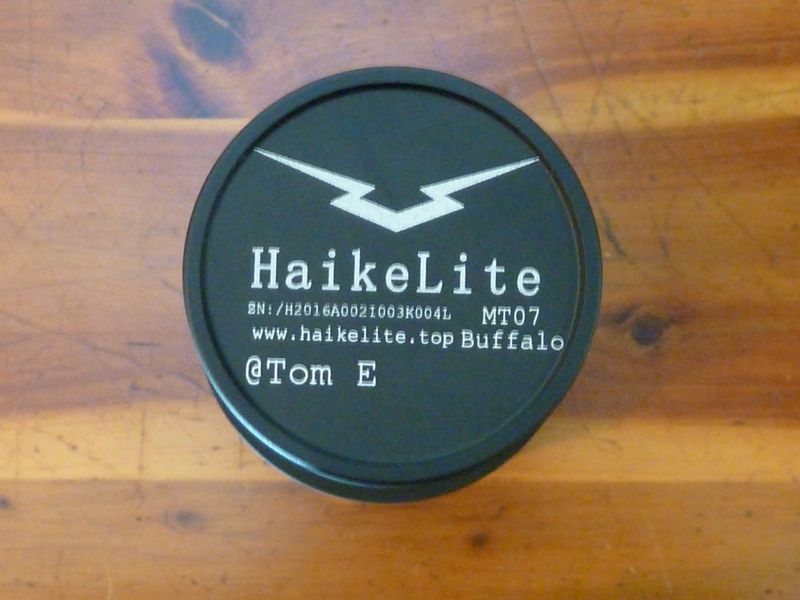 Next to a Convoy L6, clear ano: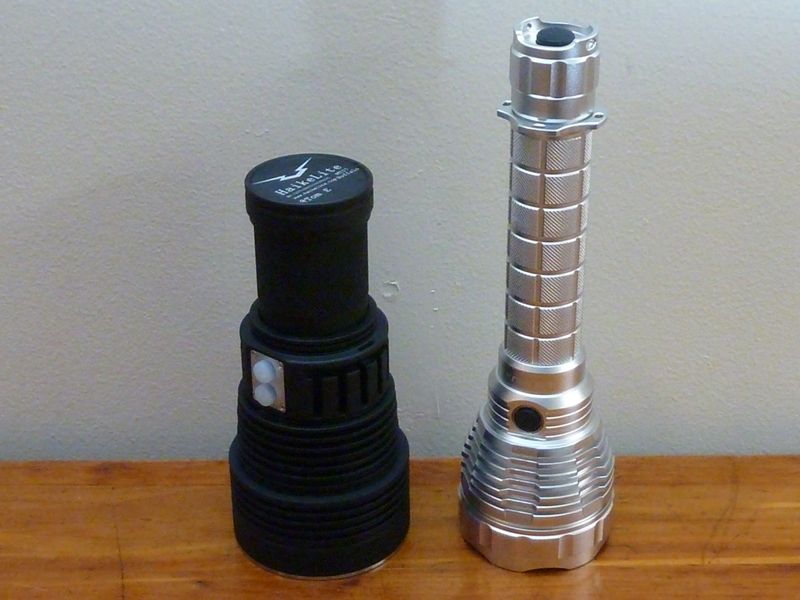 Also with a similar 7G10:
Beauty shots:
Business end, nicely fit centering piece: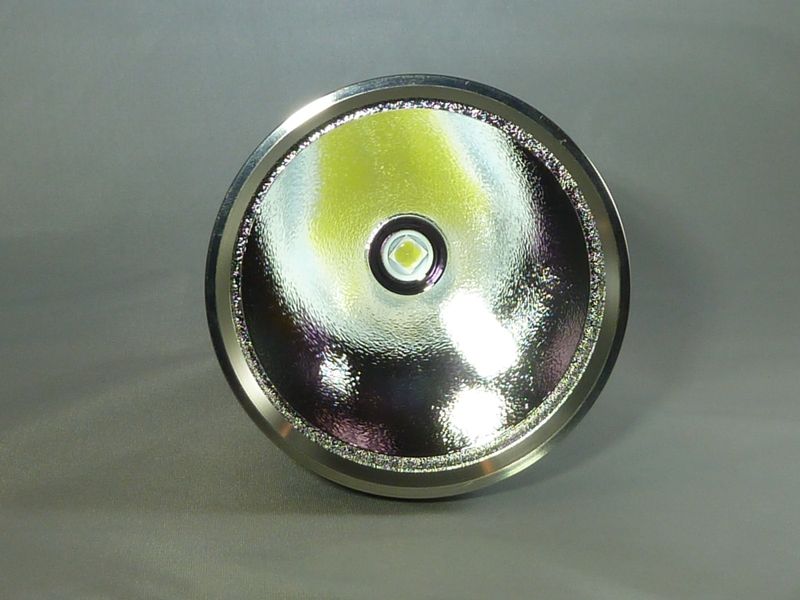 Tripod mount, opposite side of the switches. Nicely set in SS piece:
The round plate below is floating, swivels so it stays locked in place while screwing on the end cap. Those springs are beefy and tight. The Batt+ ends are protected by a black hard plastic guard - true flat tops won't make contact. The alignment rods are two different sizes so can only go on one way:
Showing the 30Q BT's all set to go. It's a 2S2P arrangement - the light can actually be run on only 2 cells, one pairs of 2S: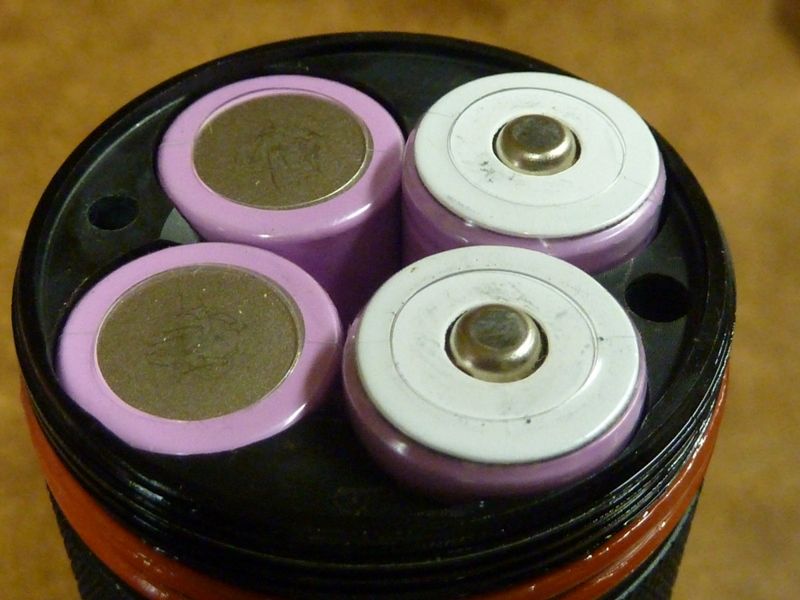 True square threads, good quality double up o-rings:
Double spring on the back side of the driver. Heavy duty plate that holds down the driver: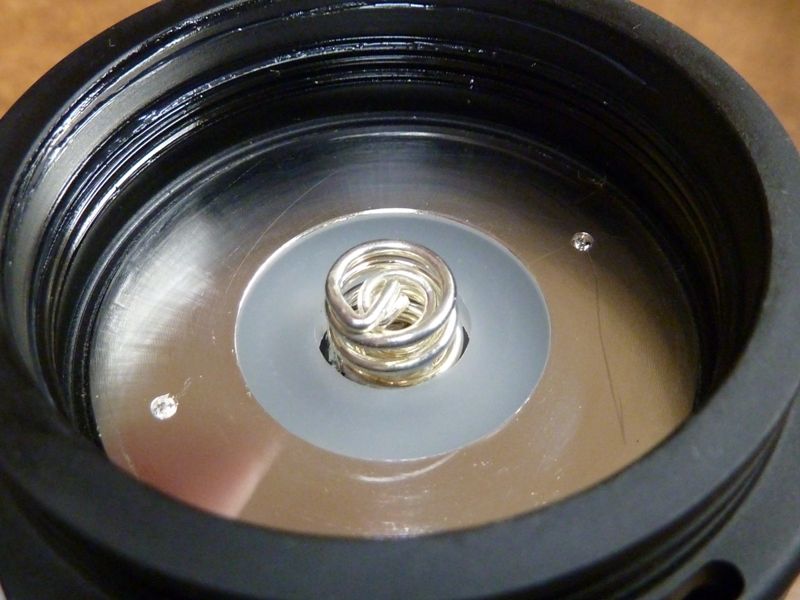 This is the battery tube, the end butting up against the driver springs shown above: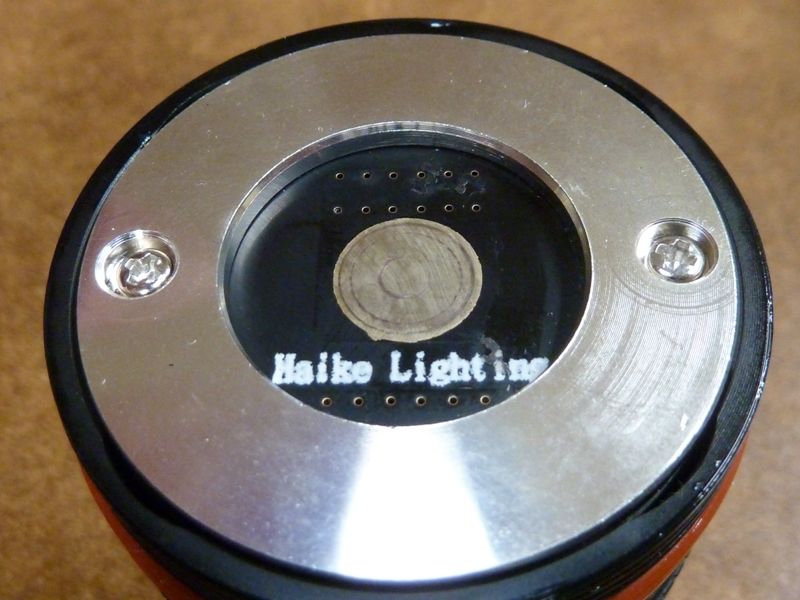 Showing these 3 assemblies: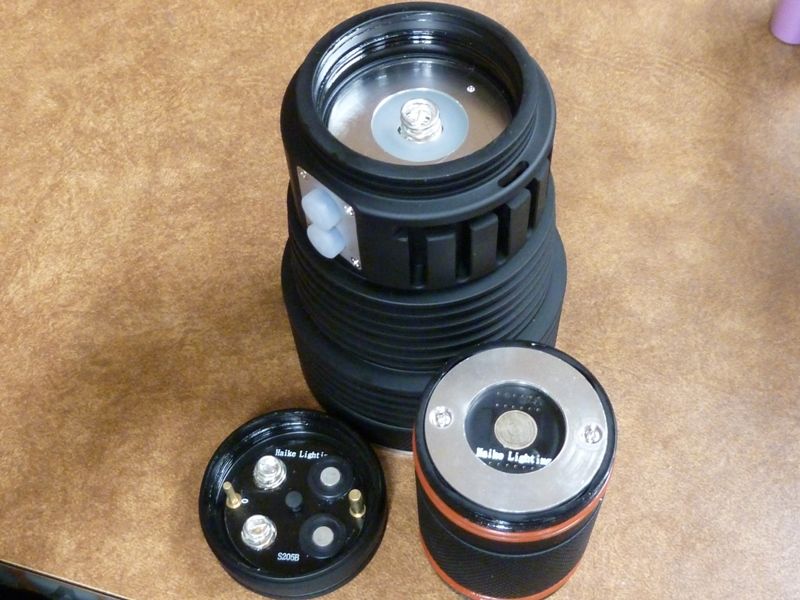 A look down the battery tube. The cells fit snugly in there:
The S.S. bezel came off very easy, but still tightens up well enough not to accidentally loosen. The double AR lens looks well made, plus a big o-ring between the glass and reflector: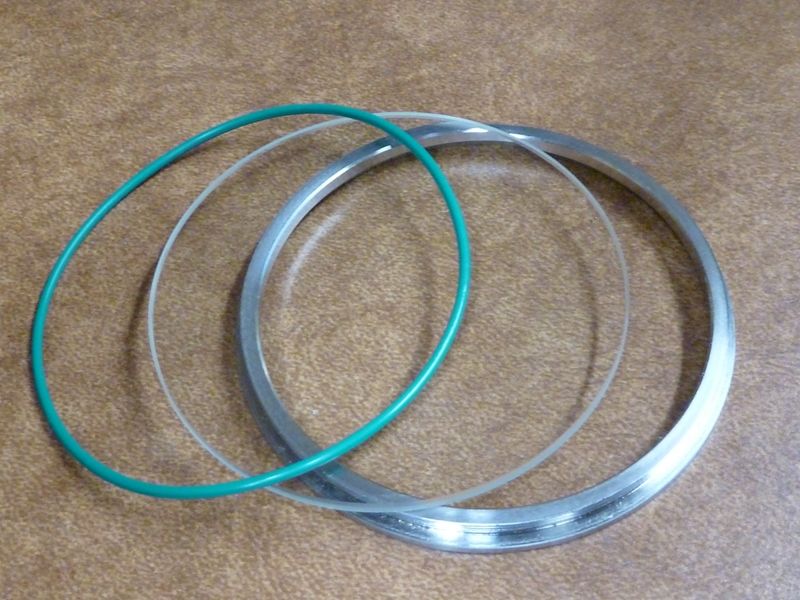 The reflector and centering piece: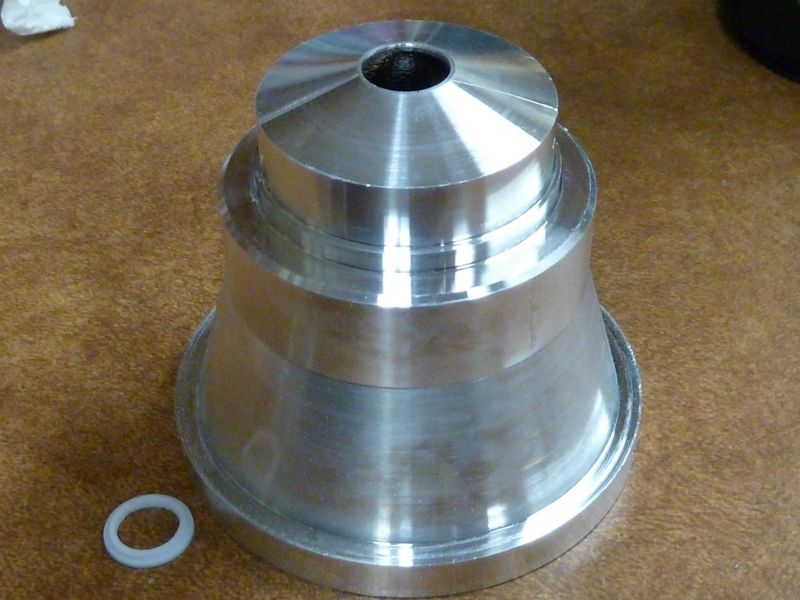 Close look at the angle, allowing clearance for the wires. The wires are pretty far apart on the 35 mm DTP copper MCPCB:
Solid one piece head, thick shelf, over sized MCPCB: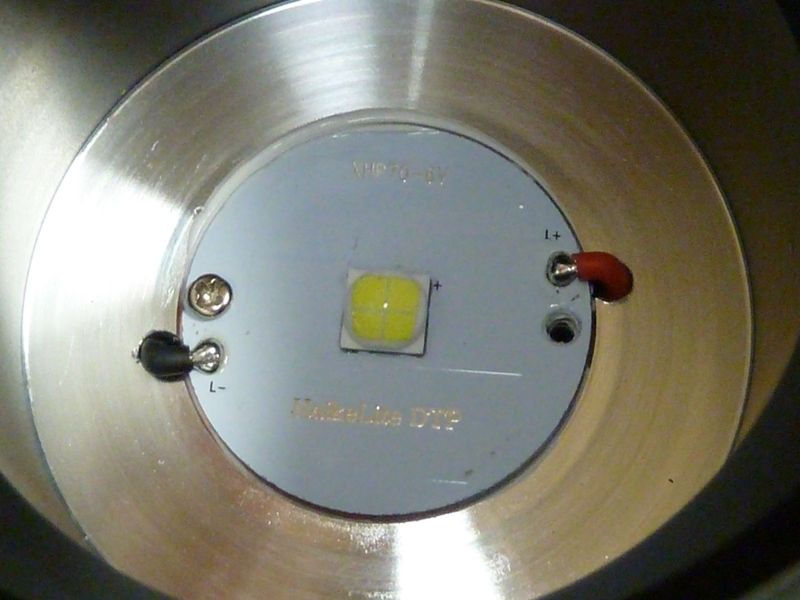 Dimensions: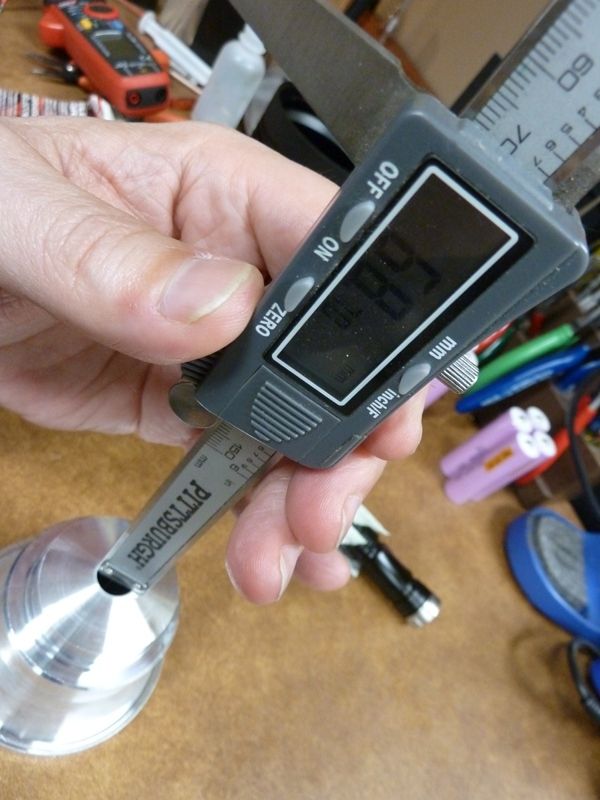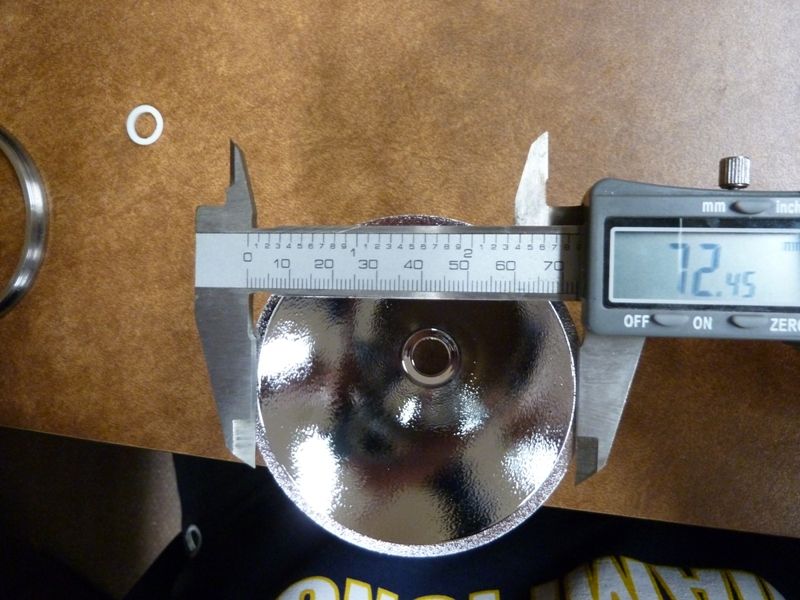 Driver, showing the 5 wires from the switch assembly w/LED's, and the two large 18 AWG wires: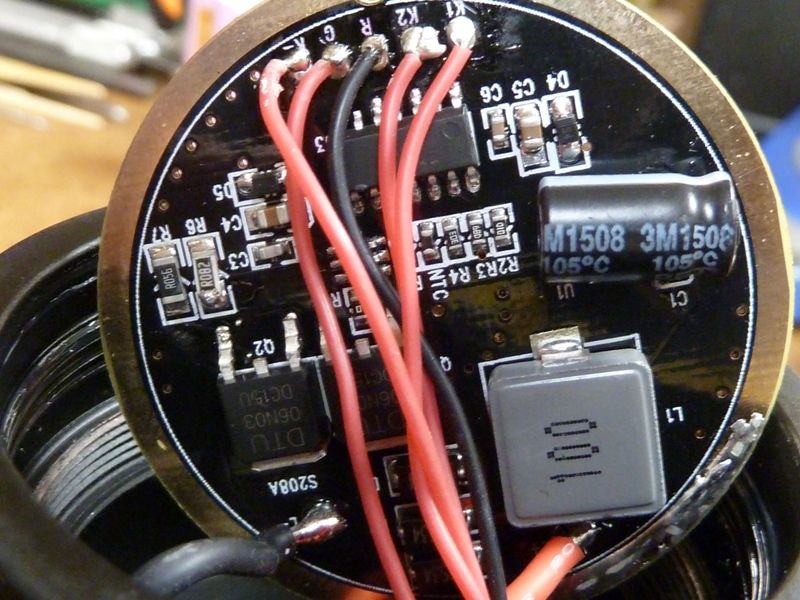 Close up of the resistors:
close up of the double nested springs: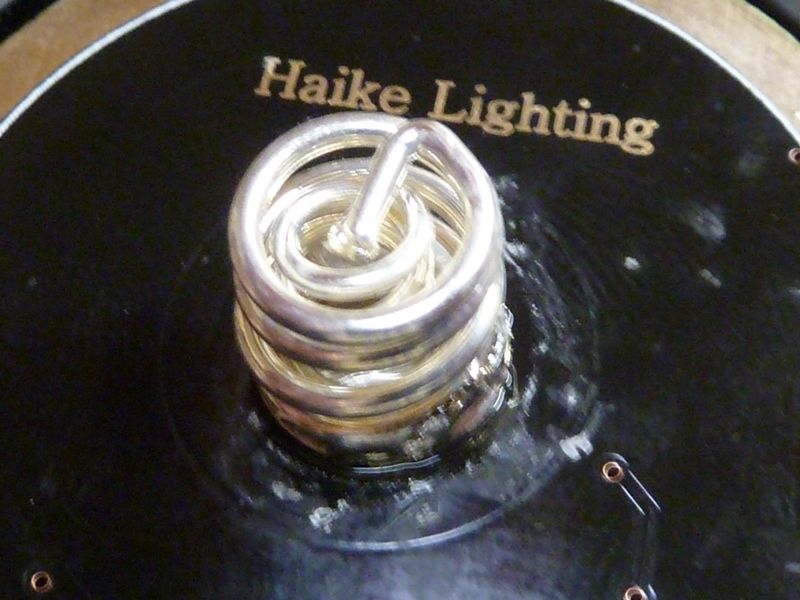 This driver retaining ring is one of the heaviest I've ever seen. It's either SS or plated brass, but weighs a ton HaikeLite said it's silver coated copper! Wow!! That makes more sense considering it's weight. The finish is flawless so could not spot copper anywhere: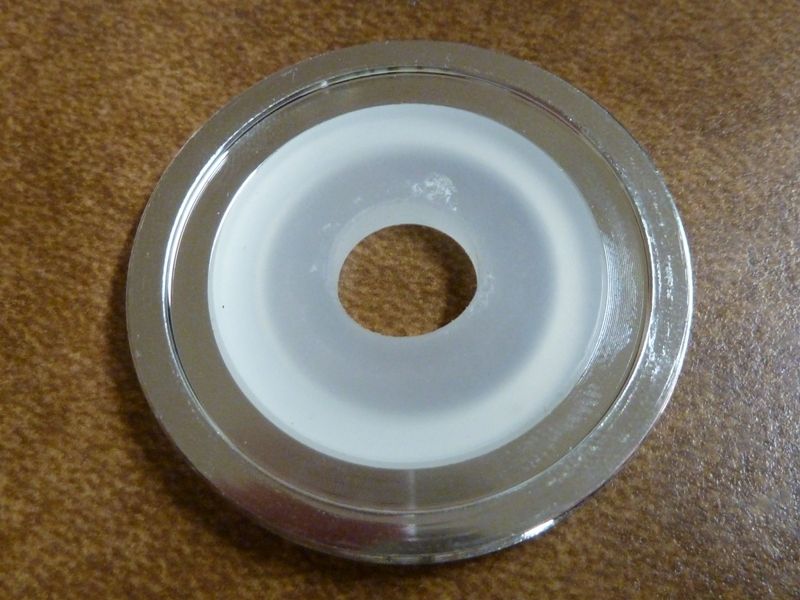 Driver size:
Proof of it's heftiness: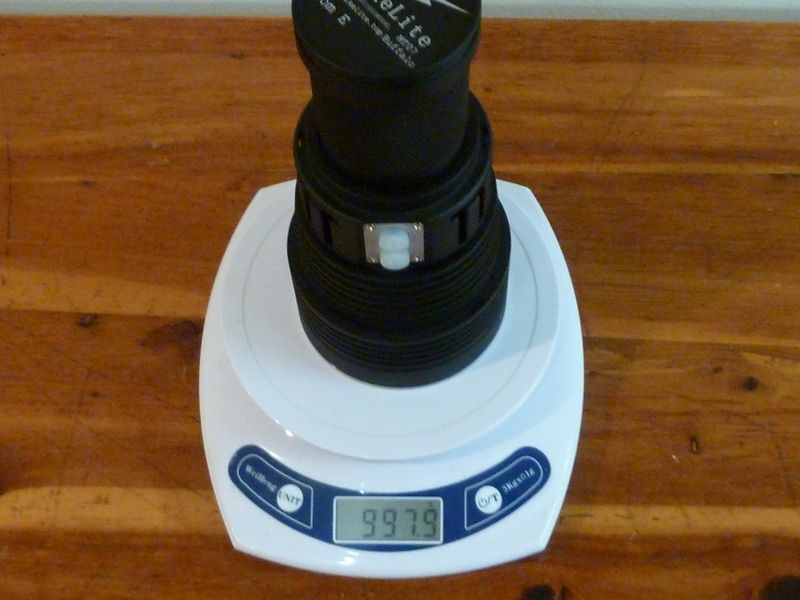 User Interface
It's described pretty well up top, and it's pretty simple. Pretty nice two button UI, where the lower one is ON/OFF and upper one is mode changing. It has mode memory, quick access to turbo via a double-click on the ON/OFF button, and a double-click on the upper mode button display moon mode.
So there are 6 levels of output total, with 5 (not moon) in the main mode cycle.
In addition, a press&hold on the ON/OFF button activates strobe, then the next press&hold activates SOS.
The mode change button has LED's behind it, and indicate a crude battery level status, using a blue and red onboard LED. I haven't tested this yet, but the blue LED stays on when the light is on, with the cells being over 50%.
Impressions
Well, this sure does remind me of a Shocker - a large light with a lot of power. But really it's a modernized version with a quite a bit more class and style, more powerful LED setup, and an improved power source of 4 cells instead of 3. In it's stock configuration, the sheer amount of lumens and throw is impressive.
It's also a style very familiar to me - reminds me of an up sized BTU PK26 with it's short battery tube, and styling of the head area - similar look. What I really like about these short and stocky, powerful lights is their tail standing is ideal,and the MT07 is rock solid with the head up.
For the reflector size, the XHP70 really throws well. Of course a SMO reflector could help improve it further, but then you have will probably have the dark lines in the hot spot.
It appears to be top heavy, but I find it quite well balanced in the hand, but you do have to hold it on the fins for a balanced carry, then it's prone to getting your hand uncomfortably warm/hot on turbo.
I did do a 6 minute run on turbo with the head temperature rising to about 110F (42C), worse spot, when I shut it off.
The parasitic drain of 0.280 mA I measured was running on just one pair of cells. It should be noted the 0.280 mA is across 2 cells, double the cell voltage, so equivalent to a 0.560 mA in a parallel configuration. It's a little high - I measured my modded Convoy L6 at 0.062 mA across 2S cells, using a Texas Avenger LDO tripled channel board, so the MT07 is little more than 4 times as high as the custom FET and LDO based board running Narsil firmware.
Another issue worth noting is the battery size and type configuration support. They clearly state high drain flat top cells, but' I've found the more common flat tops don't seem to work. SANYO GA flat tops work well, and some unprotected button top cells, like the 30Q seem to work well, though not sure if the end cap can be screwed/tightened down as much as with the SANYO GA's. The GA cells have a protruding top, so it's almost a 1/2 button top. HaikeLite has had more luck than I using flat tops, so we need to understand this better. Ideally I would have liked to see exposed contacts for the batt+ connections rather than the plastic ring around the contact surface. I believe the intent is a mechanical reverse protection, but it doesn't seem to work well with true flat tops. I've already had discussions with them on this issue - hopefully we can clarify this further. I just might remove the plastic pieces altogether, unless there's something I don't understand, or my one piece is different somehow.
Overall though, I'm very impressed with this light. It has all the advanced features and performance they specified. The lumens and throw are right there, well within the margin of error. My throw #'s were measured at 5 meters - too short for proper focusing of a true thrower, and I'm almost certain at 10+ meters, the kcd would be a little higher. As a stock light, it's an outstanding value for the cost, and as a light to mod, real easy to dis-assembly and work with, specially with the 2S2P configuration, and it's thermal design, it's made for a high performance 6V LED FET based driver design, or possibly experimenting with the current limiting resistors.
Update 11/11/2016:
Runtime discharge curve for Turbo mode. Samples were taken at 30 secs in the beginning, to every 15 minutes towards the end. Chart is properly scaled now, and tempterature in C has been added:
---
They'll be more to come to add here, including some white wall comparative beamshots. Just an fyi, the spill area is tighter than a Convoy L6, but clearly the spot is more intense. The deep reflector will tighten the spill width, and the larger reflector width increases throw.
---
Edit/Updates 11/15/2016 - Wallshots:
This first series is of the MT07, N4 CW, in all 5 modes, followed by the Convoy L6, N4 CW, in all 4 modes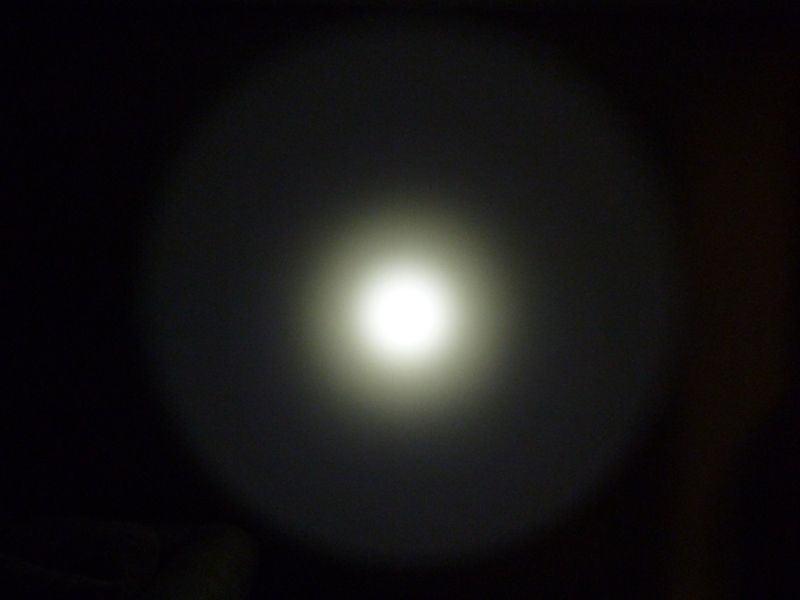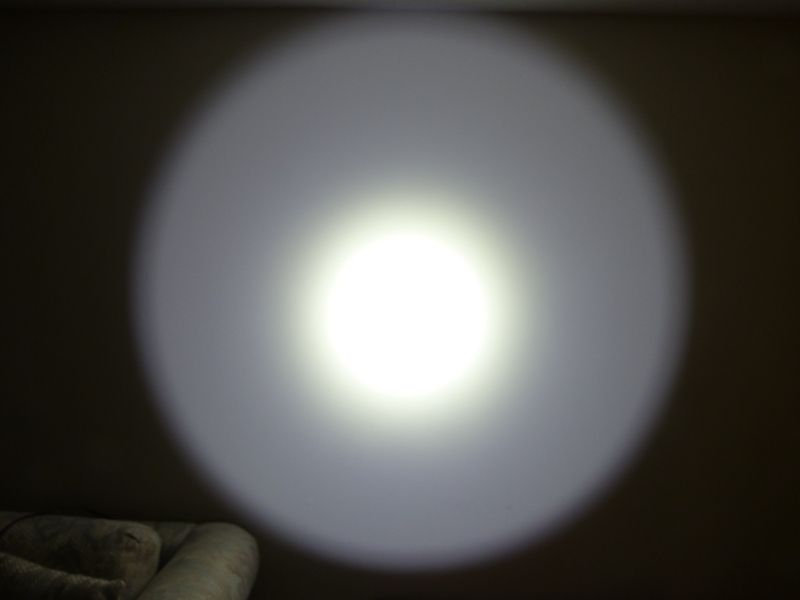 Now the L6: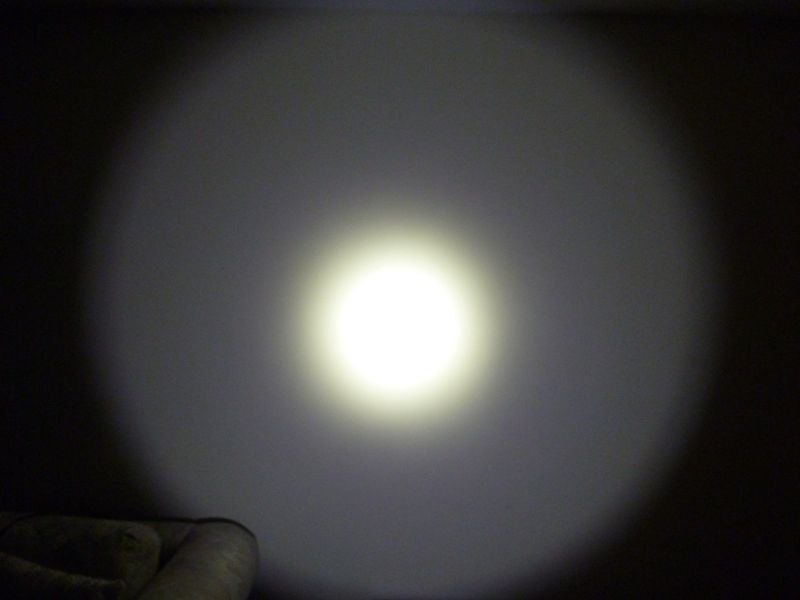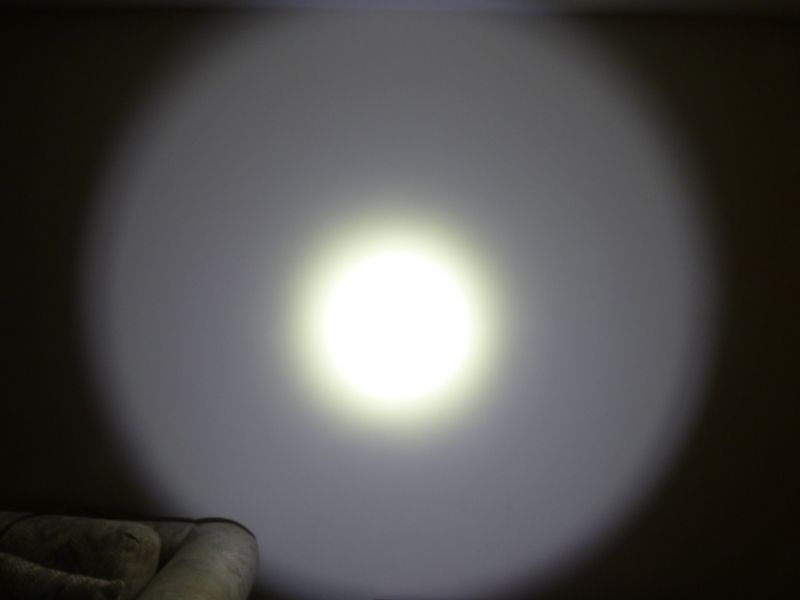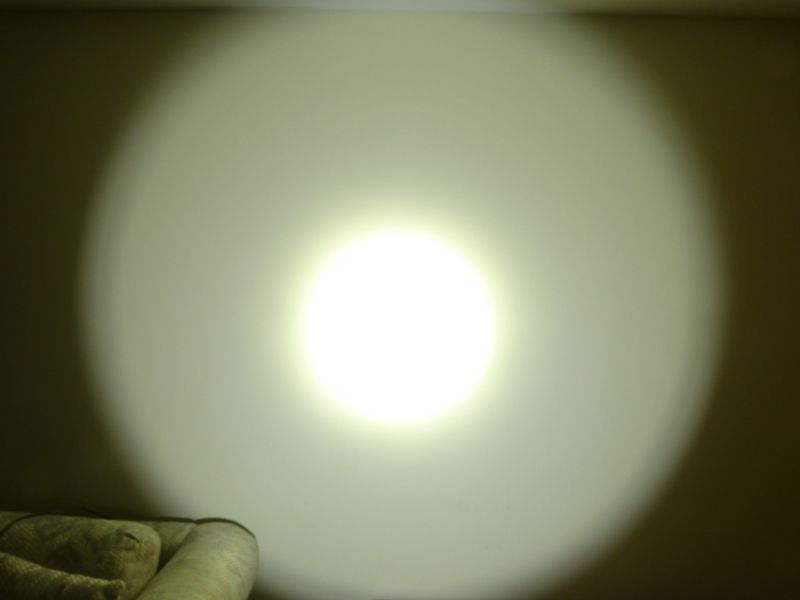 Update 11/17:
These are taken from a longer distance back, comparing the MT07 to a Convoy L6 (another one - black N4 2A). I think it represents the hot spot better, from what I' seeing, though the rings shown around the hot spot in the pictures I can't see in real life.
MT07:
Convoy L6: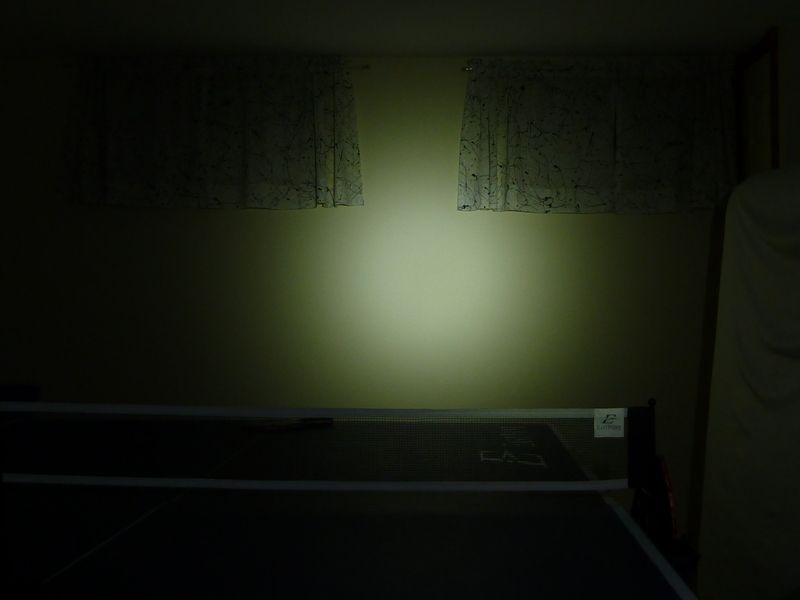 ---
November 20, 2016 Update:
Took some outdoor shots last night at a local park - Edgewood Preserve, site of an old hospital long since demolished, and rumored to still have some spirits haunting the trails (info). The park closes at dusk but can still access it, just dunno if I'd get kicked out, but last night was all quiet. Here's the old hospitial from the 40's:
Took a few lights with me, mostly throwers, to compare with - all modified. I'm not pleased with the quality of the shots. Will be spending more time on improving my setup. hey didn't look this bad when previewing on the back of the camera - should have brought my close up glasses.
For this sequence, here's the range at the site, 536 feet, about 163 meters:
First up, Manker U21, modified w/dedomed XPL V6 0D, ~240 kcd, ~1,700 lumens:
Next is a UniqueFire 1504, dedomed XP-G2 S4 2B (good one), ~540 kcd:
BOSS1, dedomed FastTech XPL V6 0D, ~700-740 kcd: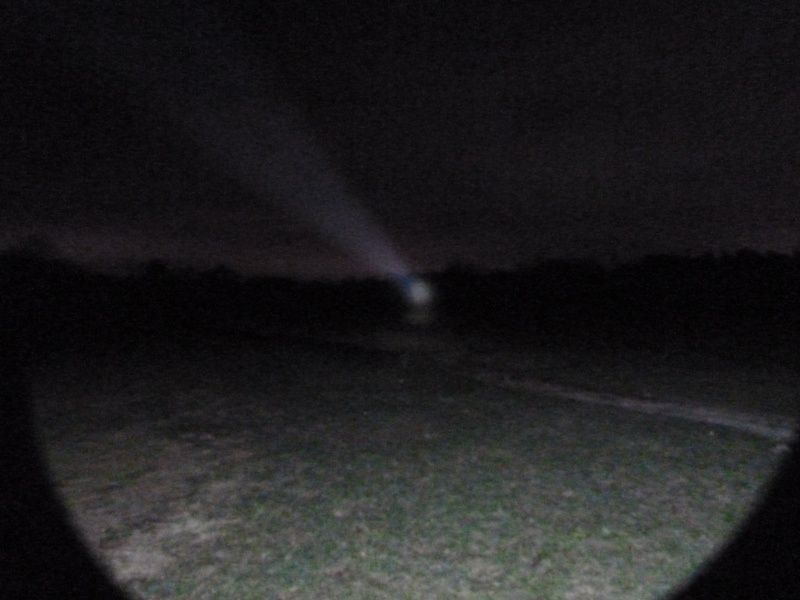 TrustFire 9X, plunger style, ~6,500 lumens: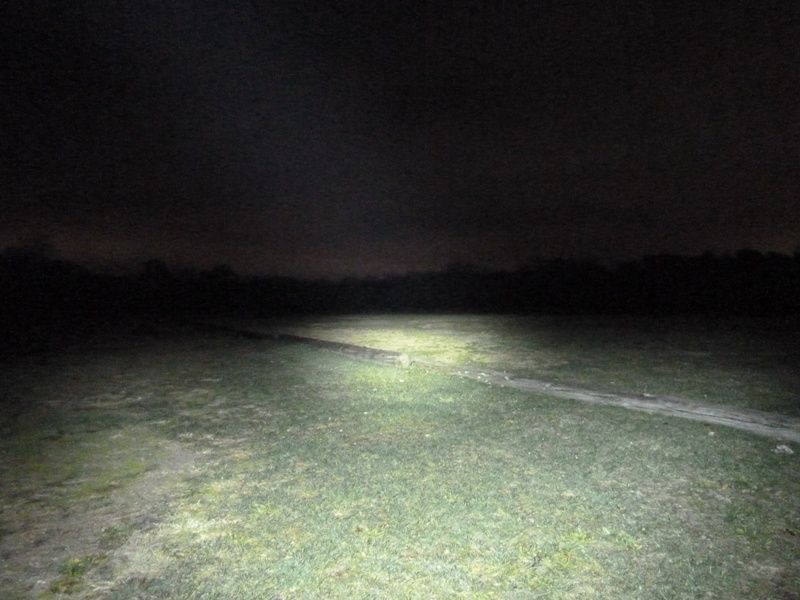 Convoy L6, supposed N4 2A, but warmer, maybe N2, modded with FET+1, LDO, Narsil, ~5,800 lumens, 124 kcd:
Finally, the MT07 stock, N4 CW, ~4,730 lumens, ~132 kcd:
The 5 modes of the MT07:
Here's the modes shown at a shorter distance, about 75 feet: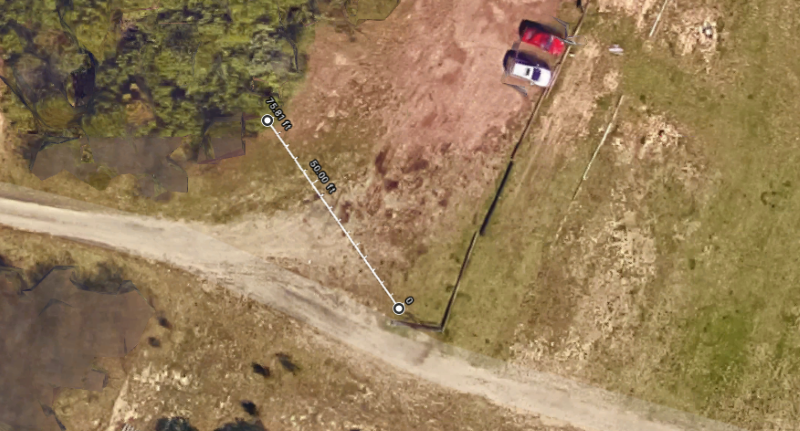 The lights tested/compared: