Hello again BLF. BlueSwordM here.
So, I've noticed something interesting here.
We've had BLF group buys, for flashlights, for individual flashlight components, and even battery GBs in some rare cases.
So, why not make a BLF charger, the ultimate charger from companies that we know, trust, and have confidence in their skills and experience?
It would be the best charger on the market, with amazing features such as these:
COMPLETE FEATURE LIST
FEATURE SET HAS BEEN FROZEN.
1. Adjustable charging current: (0.03A - 0.05A - 0.08A - 0.12A - 0.18A - 0.25A - 0.35A - 0.50A - 0.70A - 1.00A - 1.40A - 2.00A - 2.50A- 3.00).
Limited to 2,5A for NiMH cells.
2. Support for multiple chemistries (Lithium-ion 3,6V-4,2V/3,8V-4,35V, LiFePO4, NiMH, NiZn)
3. Temperature monitoring (45C below 2,5A, 60C below 3A).
For NiMH, if temperature excees 45C, drop charge current.
4. 4 cell channels, with support for 10180 cells all the way up to 78mm 21700s.
5. Active cooling if temperature exceeds 45C, or/and if all channels are active above 2,5A.
6. Full current cut-off according to charging current (8%).
7. (5-10V)–30V input voltage compatibility. Stops charging if voltage goes below 10V, but keeps charging settings. DOES NOT RESET ON CHARGING INTERRUPTION.
8. Nickel plated brass rails for accurate internal resistance measurements. Or nickel plated A3 steel just in case. I have a backup plan for that last one
9. Internal resistance measurements.
10. Manual low voltage recovery for lithium-ion cells. Numbers based on 18650 capacities
- Below 2,5V: maximum charge rate of 100mA
- Below 2,0V: maximum charge rate of 50mA
- Below 1,75V: has to be manually activated
Below 1,0V: maximum charge rate of 25mA
11. Adjustable max charging voltage for lithium-ion: 3,50V-(n1+0,1V)…(n6+0,1V)–4,2V-4,25V-4,30V-4,35V-4,40V
12. Storage charge/discharge mode: 3,6V
13. Individual channel selection
14. 8 button UI (4 for voltage control, 4 for current control and other functions)
15. 100-200-350-500-700-1000mA constant current discharging functionality for measuring capacity and internal resistance.
16. Automatic charging current adjustment available.
OTHER BASIC FEATURES AND EXTRAS*:
1. Factory voltage calibration.
2. Reverse polarity protection.
*3. Charging/discharging data to USB drive.
Wouldn't that be great to have? Our own perfect little charger.
BLF INTEREST LIST
Instead of an interest list on the forum, here's a spreadsheet where you can see how many of each you want.
SecondLifeStorage Interest List
1x BlueSwordM
Target price: 49$US
UPDATE 1
UI is in conception. With an 8x button UI, all functions should be easily attainable without going close to Anduril levels of customization.
Now that we are in the UI design stage, this shouldn't take too long actually.
It's the 2nd stage, being external charger design, which would be rather hard.
People that will be testing and reviewing the charger:
-HKJ (Waiting for response)
-Mooch (Confirmed)
-BlueSwordM (Confirmed)
-Maybe Lexel
UPDATE 2
UI is in progress. Waiting for feedback from DLYFull, and wondering if they could use Cheali as a base.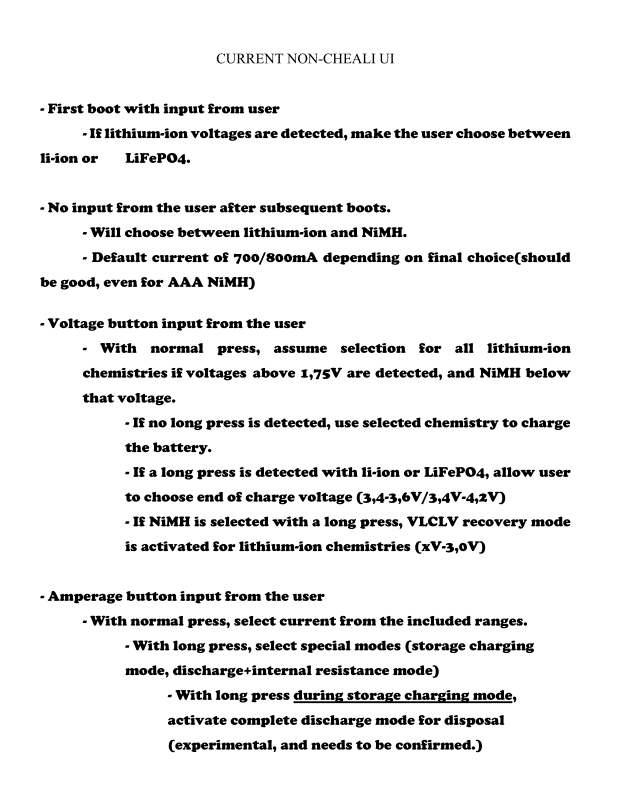 UPDATE 3
Physical design is currently in process.
UPDATE 4
Project has been put on hold.