I have a lot of the cheap 18V Ryobi ONE+ tools. Originally these tools had Ni-Cd battery packs and they are total crap. The tools themselves are decent. They best part of the line is the availability of many, many different tools that can run on that same battery pack. I have 3 of the drills, a mini vac, 2 small circular saws, 2 radios, jig saw, , a couple of reciprocating saws and even a little table saw! What is not well known is that for a short while, Homelite made a set of outdoor tools that used the same battery pack and charger. In that line I have a tree pruner, chainsaw, and hedge clipper. Of all these tools, the most useful to me now is the hedge trimmer. the problem now is that the battery packs are all shot, and to trim some bushes, I would have to drag out 4! of the chargers and a bunch of batteries and start them charging so that when I started I could change out a pack every 5 minutes or so.
Why am I telling you all that?, well because I painted myself into a corner with this line. Here I was with all these tools and no batteries to run them on! On Black Friday this past year, Home Depot had a promo on the new Li-Ion ONE+ drill and battery and charger. Price was $39.95. I saw that and stood there for about 5 minutes, trying to decide if I should throw good money after bad and get 1. I certainly didn't need another drill, but I could use the battery pack as it is backwards compatible with the older tools. Besides, this deal was the same price as the battery alone, and it included the special Li-Ion charger that I would need. So I bought 2.
Now the LUCKY part of this whole story. A friend of mine in Ohio, who has some 12V Ridgid tools, had a couple of his packs go bad. I offered to repair them (replace the junky Chinese cells that I know they contain) if he could find me some old Li-Ion packs for parts. I suggested he look in the recycle bins at his local Home Depot and Lowes for some packs. A couple of weeks later he called me to say he found 3. I asked him what brand they were, and he told me they were Ryobi. I shot right back and told him they needed to be Li-Ion packs, not the older Ni-Cad. He told me they were Li-Ion, it said so right on the units. Then he continued and said one of his sons was going to Rhode Island and he could drop them off with his spent Ridgid packs as he went thru Connecticut. Sure enough, a couple of days later I have his spent Ridgid packs and the 3 Ryobi's in my hand. First thing I did was take the Ryobi's apart and checked out the cells. All were Sanyo's and one of the packs was the 10 cell version. I was surprised to find that all cells measured at 4.1V. Then I noticed that all 3 packs looked practically new!. Later I figured out that they must have been used in one of the displays at Home Depot, and when they broke down the display, they threw the packs in the recycle bin!
So now I have 5 Li-Ion packs for all my older ONE+ tools, one of those being a double capacity pack.
Back in business!
That's the back story, now onto the 10 minute flashlight mod.
Because my ONE+ line of tools is now a viable option It turns out that in addition to all the ONE+ tools i have, I also have 3 of the flashlights. They are all incandescent and I NEVER even bothered to unwrap any of them because I knew they were not going to be that good anyway. Because my ONE+ line of tools is now a viable option, it would make sense to mod one of the included flashlights to LED. I know from past experience that some of the 12V MR16 LED bulbs can run on voltages from 12-24V. The 18V ONE+ packs could drive one of those directly with nod modifications. It happens that I had some nice MR16's left over from another build.
https://budgetlightforum.com/t/-/21483#node-24866
My 10 minute incandescent to LED conversion.
The original light and new 18V Li-Ion battery and stages of disassenbly.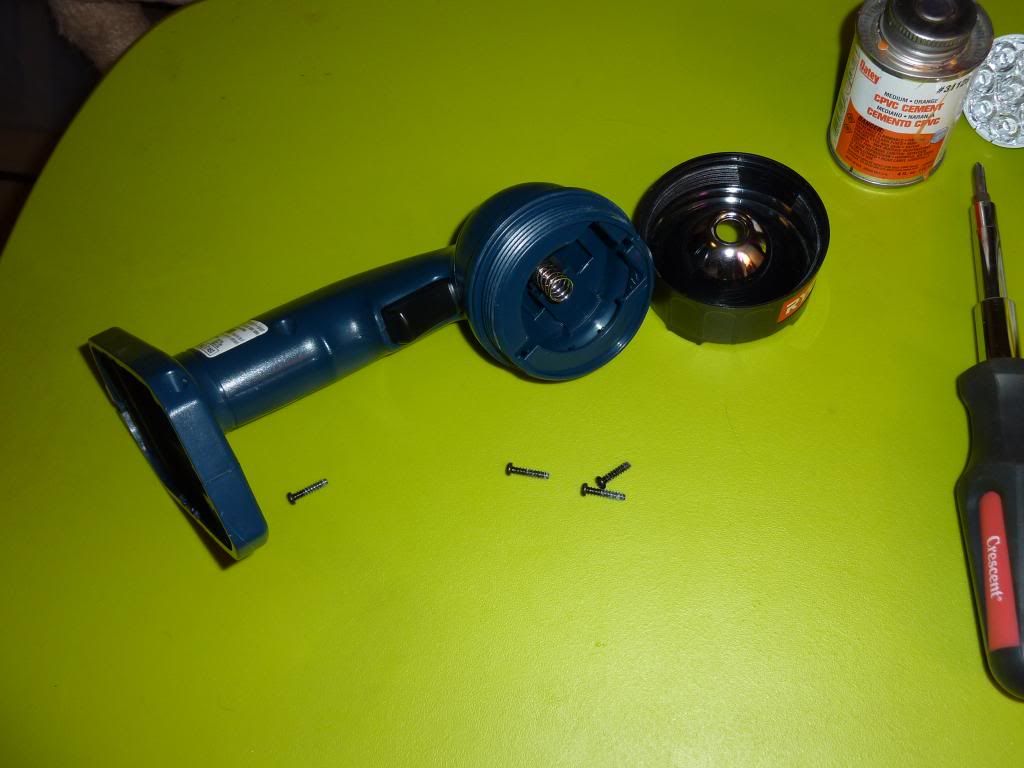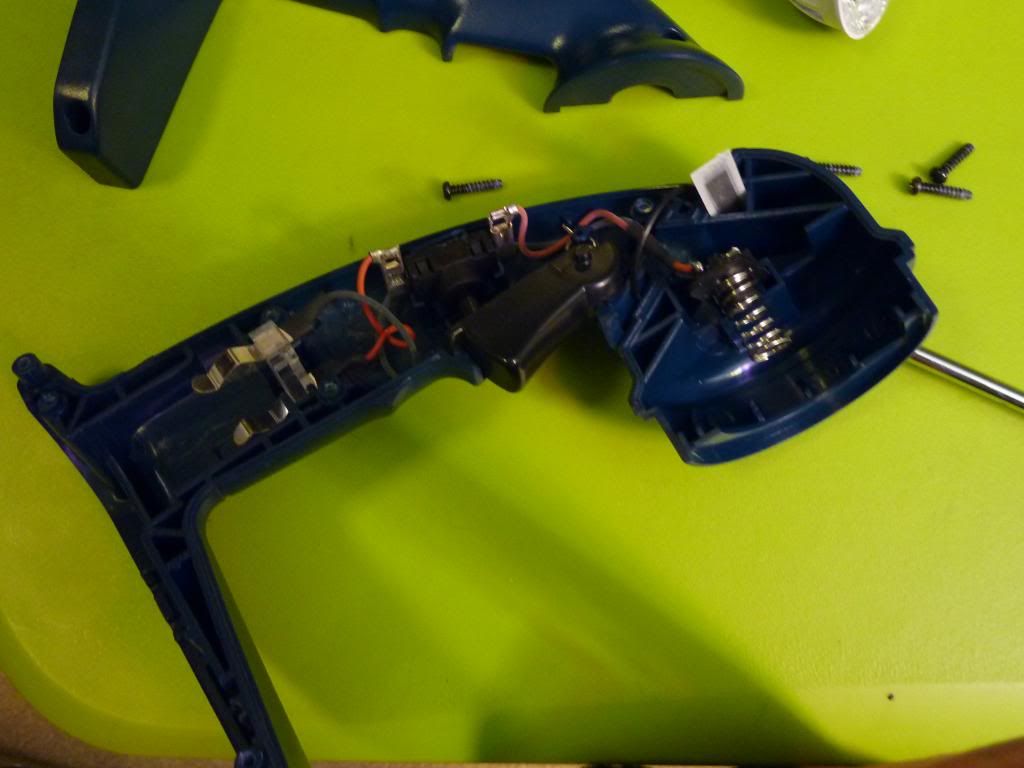 Next I un-soldered the spring and socket for the incan, the wires as is will reach the MR16 bulb.


With the old socket removed.


It must be that I am living right, the MR16 drops right in. Once again a perfect fit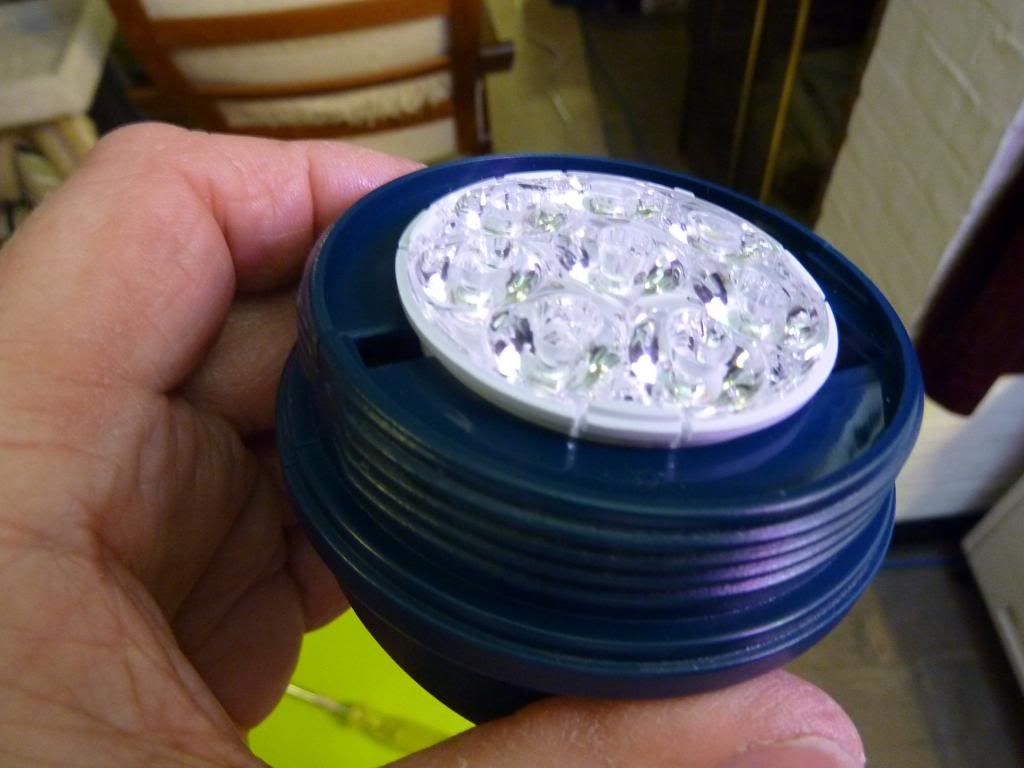 So I wired the bulb in and glued it in place.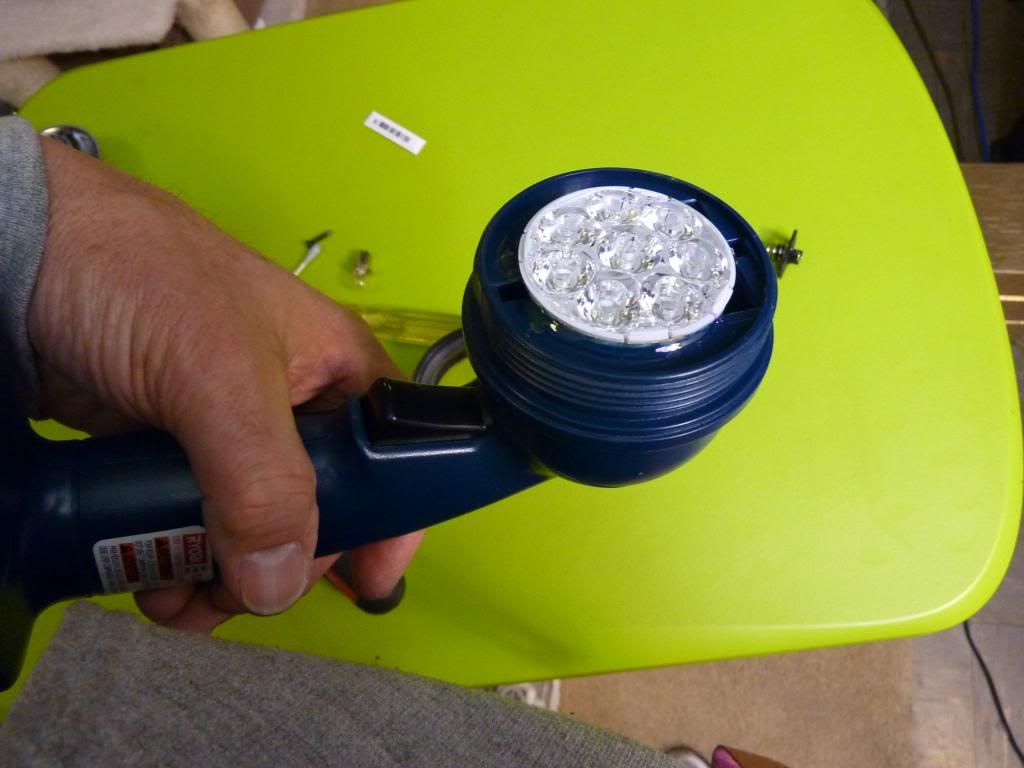 Now the question is, will 18V be too much for this MR16? As I said, I know that some of these MR16 bulbs can handle 12-24V, but the question is can this one. I searched the internet but could find nothing about the voltage range of this particular bulb. It's a nice one with 8 Nichia 119's for a total of 313 Lumen and a CRI 0f 83. I bought in on clearance for $1.25 at Lowes but I don't want to blow it running it on too high a voltage. So what I did is ran it at increasingly higher voltages and measured the current draw. Here are the results of that.
8V - 0.35A
12V - 0.55A
16V - 0.39A
At this point it is apparent to me that there is some sort of PWM driver inside. The question is how much more voltage can it safely take.
17.5V - 0.35A
An "18V" Li-Ion pack is really 21V fully charged so at this point I ran it on the fully charged "18V" pack
21V - 0.3A
All seems well and good.
BTW, the original incandescent bulb draws 0.8A and is nowhere near as bright. After the glue dries I will post beamshots.