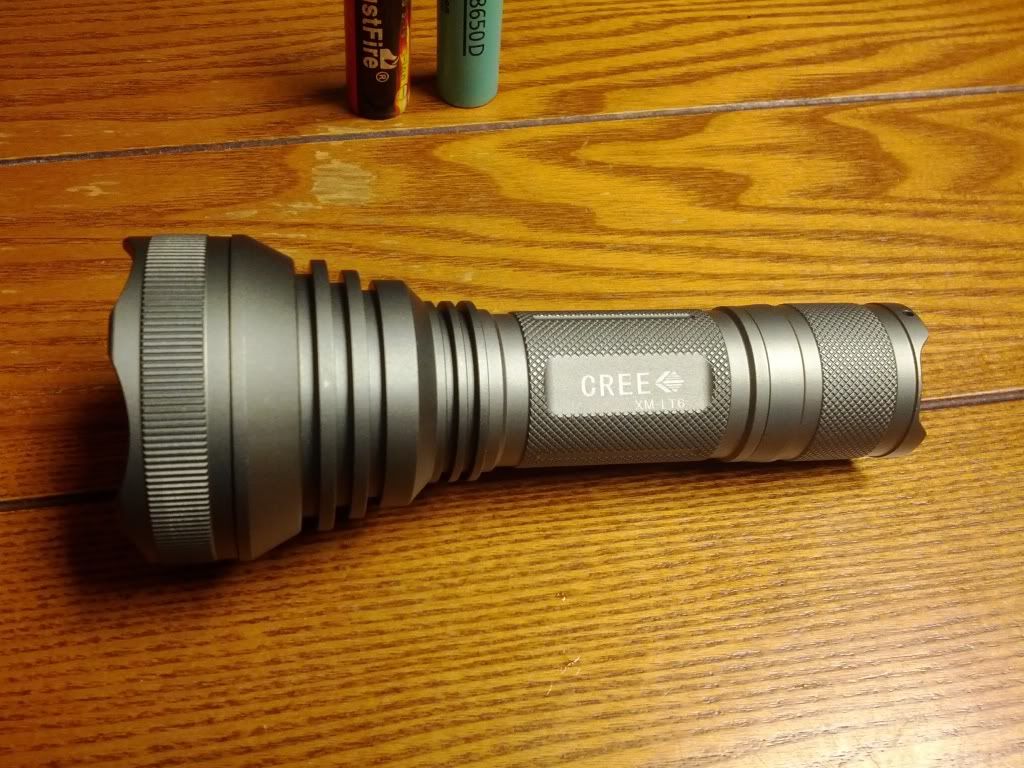 Purchase price $37 $34 with free shipping (after $8 discount coupon). Normally $45 $42 (price drop).
EDIT 5/19: After working with Louis, I suggested he reinstate the discount coupon since many more members wanted this light but the original coupon expired. Well I just got notice from him that they lowered the normal price to $42 and have reinstated the original coupon good for 30 more buyers. So, here you go! $34 after coupon shipped from US to the next 30 buyers that use the coupon below!
Tmart is offering an $8 discount code for only the first 6 additional buyers. I'm hoping that Louis can arrange to make more codes available in the future if the demand is high. At any rate, here it is. Jump on it while you can.
LL5GHUFU $8
Specs from Tmart's page:
Brightness 1300Lumens
Emitter Type CREE, XM - LT6
Light Color White
Bulb Quantity 1
Lighting Distance 300 m
LED Lifespan 10000 hours
Battery Configuration 1 x 18650 / 26650 battery
Input Voltage 4.2V
Power 8W
Switch Location Tail - cap
Switch Type Button
Modes 5
Mode Arrangement Hi > Mid > Lo > Strobe > SOS
Lens Coated Glass Lens
Reflector Aluminum Smooth / SMO Reflector
Dimensions 6.37" x 2.48" x 1.37" / 16.2 x 6.3 x 3.5 cm (L x Head Dia.x Body Dia.)
Material Aluminum
Weight 341g / 12.03oz
PREFACE:
Yesterday I received the HD2010 I had ordered from Tmart in order to do a review (plus I just had to have this one i my collection!). After trying to get a group buy going for the Skyray King but not having much luck do to a few issues they were having getting stock in time for fast delivery, I contacted Louis from Tmart about getting an HD2010 for review. I received an $8 coupon code for him to bring the price down to a more competitive $37 (normally $45) in return for an honest review and additional coupons for the members here on BLF if they should decide to get one. I will give them credit for trying to improve their flashlight selection and pricing but one thing they don't have to improve is the great service I've always received from them along with crazy fast shipping when the items ordered are in the US warehouse (North Brunswick, NJ). I ordered this on the 22nd, it shipped on the 25th, and it arrived today, the 27th. Just 5 days!
QUICK SUMMARY:
Pros:
In a word, FANTASTIC! In more words, a bargain of a light, especially if you are a fan of throwers. With it's 62mm head and a wonderfully designed smooth reflector with a 52mm inside diameter it really puts out a fairly tight hotspot with a decent corona and a crazy smooth spill all in a heavy, solid, compact light that takes 26650 or 18650 cells (with included adapter sleeve) you'd be hard pressed to find a better all around torch than this baby. It immediately became one of my top 3 favorite lights. Threads are deep and cleanly cut and work very well. The best part is it arrived in 5 days from ordering in the usual beatup box but the light itself was wrapped in bubble plastic and included a matching grey lanyard.
No memory in driver. Always starts in High mode if power is interrupted longer than 1 second. Perfect for a thrower and great if you hate cycling through the flashy modes.
Cons:
Not many, and nothing that can't be corrected. The threads were dry and free of any lube and the o-rings on either end of the battery tube were too small to provide any real water resistance. You will see in my pics that I put both o-rings together on the tail and changed the front o-ring to a slightly thicker, but not thick enough, GITD o-ring from my bin. A trip to the hardware store should remedy the o-ring issue.
The grey anodizing is consistent among all the parts but there are a couple tiny spots the size of small droplets where the ano is a shade lighter than the rest.
Like the DRY triple, the lens gasket is a touch too small in diameter but with a small pick you can work it in place easily as you tighten the bezel. No big deal really.
As near as I can tell, the lens does not appear to be coated. It looks like plain clear glass to me.
Almost forgot to add that the battery sleeve (for 18650 use) will slide into the space around the driver making a rattle if you shake the light forward and backwards. A bit of foam cut and fitted into the space resolved this for me.
SPECS & MEASUREMENTS:
Weights:
Without battery: 298.7g
Weight with battery (18650): 343.7g
Total weight of head: 173.5g
Body/Battery tube: 47g
Tail: 51.6g
Pill: 17.3g
Components:
Emitter: Cree XM-L. Judging from appearance, tint looks to be 1C.
Driver: East-092 5-mode (H-M-L-Strobe-SOS).
Switch: 20mm reverse-clicky
Dimensions:
Total length: 162mm
Head diameter: 63.9mm
Tail cap: 34.77mm
Switch boot: 16mm
Reflector width: 57.8mm OD/52mm ID
Reflector depth: 38.43
Emitter star: 16mm (will take up to 19.33mm)
Switch PCB: 20mm
Output:
For some reason no matter how hard I tried I couldn't take tail measurements on anything but High and low mode. With tail switch all modes work effortlessly but taking DMM measurements at the tail I just couldn't get them all. I'm sure PWM is there but was not really noticable to me but then again, I am not that susceptable to PWM. YMMV.
Update: Playing with the light some more tonight I realized something really nice about this light and it's primary purpose. Even though it has 5 modes including strobe and SOS, you never have to see them unless you want them. It really doesn't have any memory from what I can see. If I set it to any mode and leave it off for more than a second it comes back on in High mode. Half-press from any mode for less than a second and the light comes on in the next mode. Leave it off for more than a second and it comes back on in High. You don't want strobe or SOS? You never see them unless you want to. In Low and want to go to high without seeing strobe? Half press for more than a second and you are in High. Short of locking them out with a complicated UI it works pretty well.
High mode: 3.22A (Rev. Jim's unprotected Panasonic 18650)
2.6A (Protected Trustfire Flames 18650)
Low mode: 290mAh (either battery)
Temperature management:
I ran the light on high using the unprotected Panasonics and recorded temps using IR thermometer. As you can see from the results the temperature leveled out at 117f at the head and 108f at the tail after the 22 minute mark. This was done with no fan or breeze with the light tail standing on my table. Pretty darned impressive if you ask me. At no point did it get higher than roughly 47c at the head so no worries about the battery getting hotter than 50c. Temps listed for head and tail.
10 minutes: 110/102
15 minutes: 113/105
18 minutes: 115/107
20 minutes: 115/107
22 minutes: 117/108
25 minutes: 117/108
27 minutes: 117/108
DETAILS & PICS
Body:
Very solid and heavy with nicely machined standard threads. No lube on the threads from the manufacturer. Knurling is very nice with just the right amount of grip without being too aggressive. Machining on the bezel makes it very easy to grasp to tighten/loosen it.
The pill is not the heaviest but does a superb job of managing the heat created by the emitter and transferring it to the head and body. The pill threads into the head from the front and seats snugly thanks to a thin o-ring just below the lip of the pill. The driver is held in place with a thin, threaded retaining ring making it very easy to remove the pill for maintenance without having to solder anything to make a solid elictrical connection.
The tail cap is very thick and solid with a brass cap over the end of the spring providing good contact with the battery. The retaining ring on the switch is crazy thick and the GITD boot is very solid feeling thanks to the thick silicon, good texturing, and the solid feeling switch. It tail stands nicely from the 3 point crenelation while allowing easy access for thick fingers or thumbs. With a single lanyard hole having an attached lanyard will effect it's ability to tail stand stabily. Without the lanyard it is no issue.
Reflector & Output:
The smooth reflector is clearly designed for throw in mind as it provides a nice concentrated hot spot along with a solid corona. Side spill on it is crazy smooth even when white wall hunting. No ringiness at all which is pretty uncommon wiht a smooth reflector.
Where I am the farthest thing to test on is the apartment building 168 yds away from my front porch. Even with the street lights and other light pollution sources in the city it easily lights up the building. The tree line 100 yds away is easily lit up and is clearly brighter than any other light I have at those distances.
Tint, while clearly on the cool side, has no sign of green or purple. The hot spot is actually almost vanilla with a yellowish corona. I would have to hazard a guess that it is a 1C tint bin.
Now for the pics. Click on a pic to be taken to the full sized version. I have taken a ton of them and tried to include all measurements of all the parts.
Best part, if you live in the states, is that it comes from the NJ warehouse!
Logo is evenly applied and centered.
Very nice knurling. Not too aggressive but good enough to satisfy knurling fans like me.
Nice machining on the bezel and above average on the fins. Not SolarForce quality but not bad for such an affordable light. Above average I'd say.
I love this view! What a sweet piece to look at!!
Clean threads on both ends of the battery tube. All it needs is thicker o-rings on either end to make this safely water tight.
Very clean milling and anodizing on the inside of battery tube.
Beautiful anodized threading on the bezel!
Should fit most 26650 lights with very little rattling. I have a King Kong in the mail and am eager to use it in this baby!
Massive tail piece with great threading throughout.
Pill seen from the backside of the head.
Not quite enough room for a 20mm driver but possible with some light filing of the edge of a star.
Main part of the pill that does all the work.
Driver with threaded retaining ring removed.
Not the thickest seen but it sure does do a great job at wicking the heat into the heavy, well finned head.
East-092 driver. Looks like a basic 3A driver.
Very clean threading where pill threads into the head.
Hotspot & corona with light 1 meter from the wall.
Perfectly smooth spill with no rings. Simply gorgeous!!
Adjusted white balance to give an idea of hotspot with corona. My camera makes the light look bluish. It's not at all.
Included this because I liked the way it looked lit up.