Like many others, I struggled doing a successful dedome -
first attempt at cutting: only partial removal, ugly, improved throw but not doubling
went at it more seriously - tried the hot iron method: ok, dome softened up, tried the cuts around as shown in the viffer video, got the dome off - going good, then left with the gooey stuff, ok, removed the goo and the wires, hhmm. Tried again: saved the wires, but tearing off yellow phosphor - ok, I did my research, this means game over, blue flame beams, done. Try again.. Same thing, yellow goo!
acetone, Yes! This will work! Going chemical! Let the chemicals do it's thing, works for athletes, right? 40 minute bath, dome is real soft, comes off easy, but here we go again with the goo. Goo is still a bit hard, pullling it off - wait, what's that yellow stuff in the pulled off goo? Crap!! Try again, maybe less phosphor removed, try it - Ok - throw went from 19 kcd (stock U2) to 36 kcd (dedomed T6). Ok, but what is the deal with the multi-color beam? Oh, 3/4 nice tint, 1/4 blue, yes -just what everyone said... Try again - yellow goo, same old, giving up on the acetone...
Gasoline, a much better chemical! This time, an overnight bath, latest dedoming craze fresh from Germany (where we know all the high tech stuff is going on). Everything dissolves, just disappears right off the emitter, so they say (maybe Coca Cola would do the same thing?). Got a jar with a U2 on a star sitting overnight, check in the morning - the dome is sitting next to the star on the bottom of the jar! Wow! That was easy. I'll give it all day, then when I get home from work, all should be gone (hope the LED will still be there).... Ok, pulled out the emitter/star - hhmm, goo! Wait get the 10x glass for a closer look - goo! Crap! Carefully pulled it off the emitter (dejavu), but wait, this time it really is soft and just peeling off easy. Ok, cleared the emitter - don't dare touch those wires! Leaving the goo around the wires. Carefully dripped some isopropyl on this, let dry, take pics of this miracle birth, pop it in to the test light, beam looks really nice, lux reading comes out to 39 kcd - ok! We got a winner!! But can this be done again? And again?
Last acetone attempt: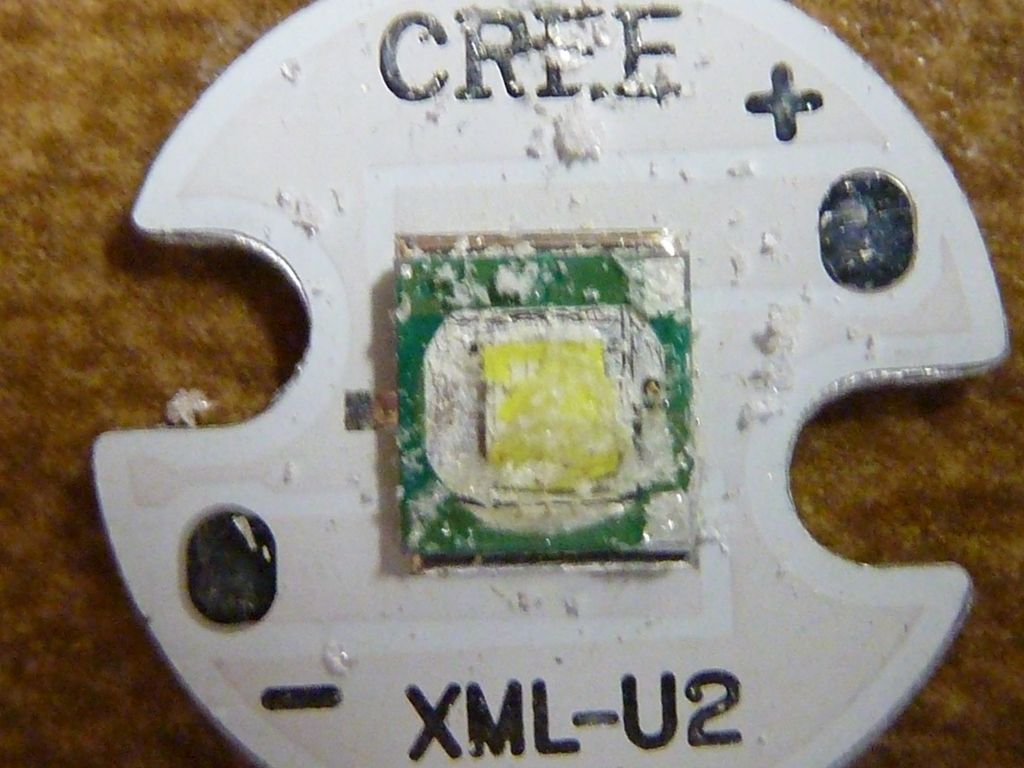 Gasoline, I'm on fire! Here's my new born:
Update Dec 24th, 2015:
MEM wrote up a really nice post on gas de-doming in djozz's thread. Please find his detailed post #131 here: https://budgetlightforum.com/t/-/32252.
I'm thinking some may disagree, to each his own, but I have trust in MEM.