Got the Supfire M6 today! :party: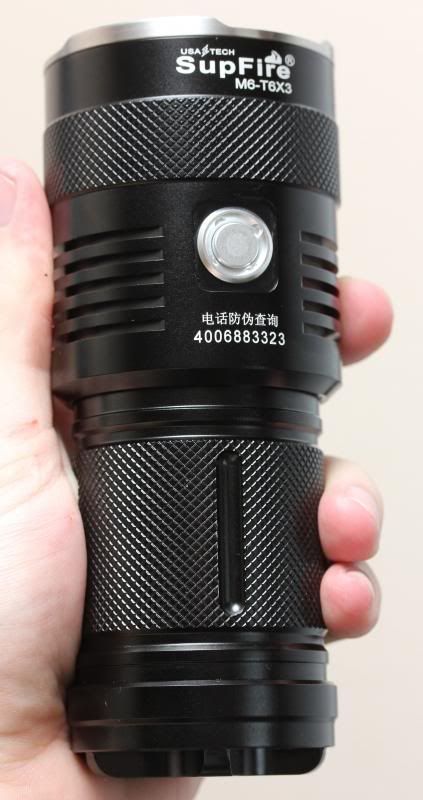 My DMM said emitter current was, 2,44A - 2,4A - 2,4A measured with NCR18650B @ 4,04V (resting). That is an average of 7,28A after around 20 seconds of on-time.
Comparing those results with my other SRKs when they were stock, this is slightly higher. And both of my SRK were well driven.
The emitter with the highest current was 2,44A high, 1,27A medium, and 0,27A low. Im not able to measure strobe, would not be surprised if it was the same as high. SOS seemed to be the same as high.
Now, lets take a peak at the driver circuit.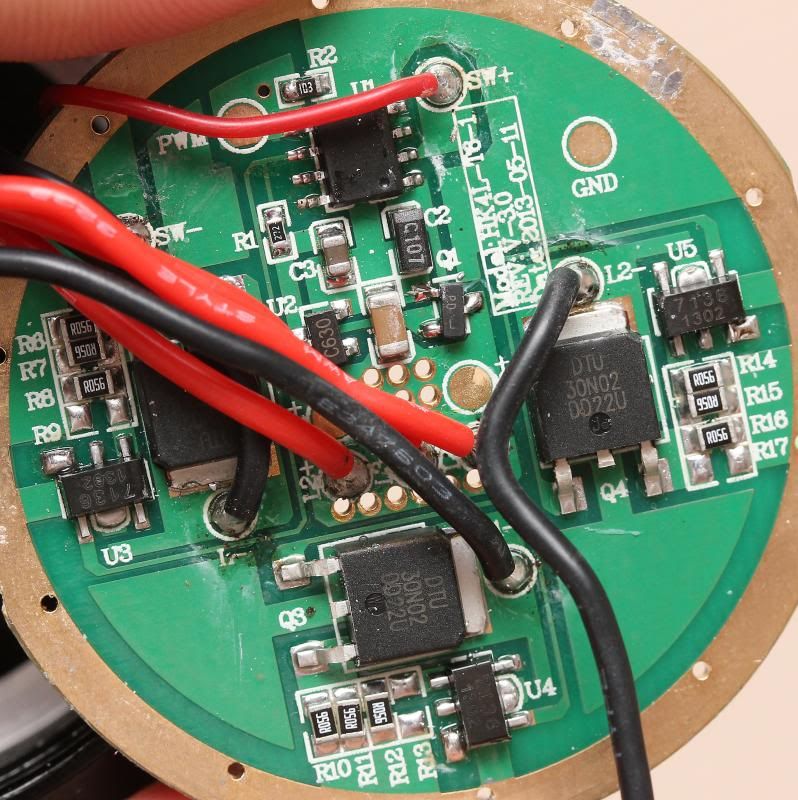 How friendly, they even made an empty spot for a one extra resistor on R9, R13, and R17. :)
0,12R was my lowest value resistor at the moment. 2 should do the trick.
That bumped up current from 2,4A to 3,21A. Perfect! ....now, lets add one more! J)
A total of 3 extra 0,12R resistors. (two on R17 and one on R16, see picture below)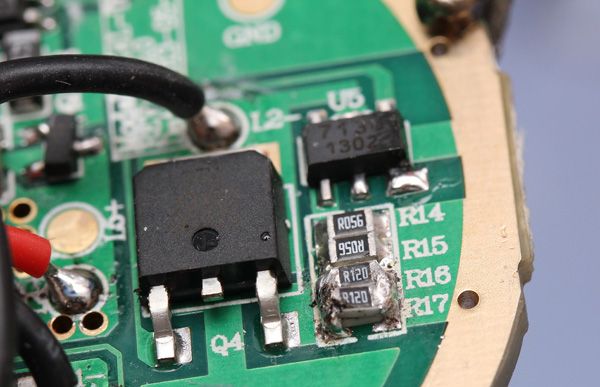 :party:
After that I added the same resistors to the other groups limiting current to the other LEDs (marked R13 and R9 on the driver circuit). I added a total of 9 0,12R resistors. Emitter current now looks like this:
3,63A - 3,52A - 3,58A - Average of 3,57A and 10,7amps total.
The emitter with highest current (which was the same as before) now had a high of 3,63A, medium 1,93A, low 0,38A.
Notice how high medium is... That is certainly not a "cool-down-mode"...
Lets take a torture test and see if something fails.. Tail standing indoors, no breeze or anything..
Start 29C (I would assume 24, not sure why it was that high)
1 min -37C
2 min - 42C
3 min - 46C
4 min - 49C
5 min - 52C
6 min - 55C
7 min - 57C
8 min - 60C
9 min - 63C
10 min - 64C
11 min - 65C
12 min - 66C
13 min - 67C
14 min -67C
15 min -68C
Nothing died...
I don't have any output numbers. But at after 9 minutes, it did not get that much hotter. I believe I read texaspyro or someone tested it, and it lowered output or something.. Either way, what is interesting to see, is how hot it gets within the first 3-4 minutes. That is hot! I don't mind hot on high, but maybe you do. After 5 minutes it starts to get into the stupid hot territory.
Based on first impression, resistor mod seemed to be a success! I have still to try it outdoors, at night.
More to come in the future...