Copper spacer for triple Convoy S2 and other long reflector models – not pretty look – $2.5, 34g. in stock

Copper spacer for triple Convoy S2+/S3/EagleEye X2/BLF A6*/Astrolux S1* – $3, 17g. in stock

Aluminum spacer for Cute-3 triple BLF X6/Eagle Eye X6/Astrolux S2/SS – $3, 17g. few in stock

Copper spacer Eagle Eye X7 for Cute-3 triple – $5, 36g. few in stock – can also modify them to fit X6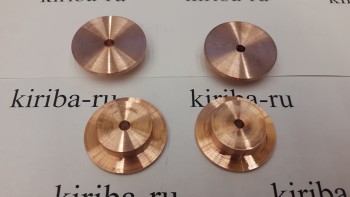 S2+ Copper pill single led with soldered triple spacer (triple pill substitute) – $8 in stock
Copper spacer Ultrafire F13 for Cute-3 triple – $6, 75g. 4pcs in stock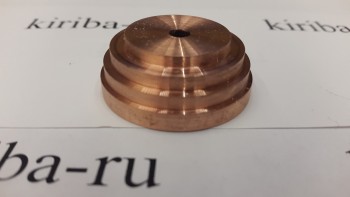 Copper P60 quad drop-in shell – 22.25…22.27mm size range – $13, 61g. in stock

C8TT triple heatsink head set (fits 18650 Convoy C8 v2+ or different manufacture C8 threads compatible host) – $29 shipped last one in stock


Set includes heatsink head, convoy ss bezel, AR glass lenses, Cute-3SS optics, retaining ring for 17/20mm drivers, required o-rings, drill bit for PCB. (Also you need XP32 PCB, 3x LEDs, driver. Place under driver PCB: Ф19×7mm).
I also have some heatsinks on hands, they can be sold in other sets, modded for anna optics by your request.
Other parts:
Special driver ring

– $3
16mm ID, 18.5mm OD, can fit convoys with 17mm driver place, my pills, drop-ins
you need to use spring on driver (not brass button) with this rings
Driver brass adapter: 28-30mm to 20/22mm press fit – $3

Safe way to mod Q8/SRK 2S2P or 4S DIY kit :


Tail+medium boards for 2S2P or 4S mod (both are oversized (47mm) so you need Dremel to sand them down)
4 x brass buttons
4 x springs
8 x M2.5×6 hex screws
2S2P set – last one in stock
4S set – several sets in stock
$1 set
Recommended to use with a pair of 2.5mm positive driver rings (one goes to the medium board, another to the driver board. Please remember that in this configuration big brass ring is outer (negative) contact while the positive pad is in the center).
50cm pure copper (small roll) (20mm width, 0.1mm thickness) – $2 in stock
Carclo 10622 24mm quad Narrow Spot Plain TIR (for M2, P60, U11 quads) – $1.5 in stock
Q8 positive driver ring (please choose between 2.5mm and 4.5mm thick) – $1.5 in stock

Shipping and payments:
I accept PayPal payments.
After your PM inquiry, you will get a link for fast payment in USD.
Wouldnt refuse to accept payments in EUR or GBP.
I ship worldwide.
You will get the tracking number.
Shipping & handling rates:
up to 100gr – $8
100 to 250gr – $10
250 to 500gr – $15 (not available for some locations)
Delivery to EU and US addresses takes two-three weeks.